Healthcare Costs May Hinder Retirement
Current retirees report medical costs are a key factor in retirement success.
Each week, Consolidated Credit searches for financial research that can help you deal with your debt and budget. This week…
The interesting study
The retirement specialists at MassMutual Financial Group conducted a study of retirement perspectives called the Health Wealth & Happiness in Retirement report. They surveyed over 900 retirees who were already in retirement and over 900 pre-retirees with one to 15 years lefts before retirement. All survey respondents were financial decision makers in their households, over the Age 40 with at least $50,000 in savings and investments.
The big result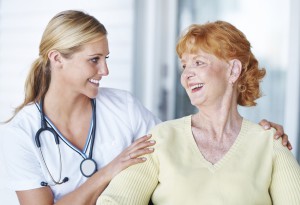 Retirees with fewer health concerns were generally happier and more confident in their ability to maintain financial stability during their golden years. In fact, concern about future health decline was the number one fear for all retirees – even those who were healthy when the survey was conducted. That coincides with the finding that most retirees encountered higher-than-expected healthcare expenses after they retired.
The fascinating details
Those findings may seem like common sense, but the impact of health on happiness during retirement goes beyond just feeling better every day.
Those respondents in excellent health responded that they were:
Enjoying their retirement
Able to afford a comfortable lifestyle
Experiencing new things
Financially secure and more fulfilled
Able to more time with friends
Found new opportunities opening open
Able to reinvent themselves during retirement
Meanwhile, those in poor health:
Felt anxious
Had high levels of financially uncertainty
Lacked a sense of purpose
Felt lonely
Interestingly enough, the result seem to indicate that health concerns trump even asset and investment holdings in terms of making retirees feel good or bad about their prospects:
76% of retirees with $250,000 or more in assets reported they were having a positive retirement experience, versus 68% with less than half that amount of assets.
However, 80% of retirees in good health reported a positive experience, while only 59% of those in poor health believe they're having a good experience.
What's more, 87% of retirees in good health felt financially security versus just 69% of those with poor health.
What's more, while declining health seems to be a big financial concern for those in early retirement, the data also shows the average healthcare costs for retirees remain largely consistent as retirees' progress through their golden years proceeds:
Of those retired less than 5 years:

50% had medical expenses of less than $5,000 last year
32% had expenses between $5,000-$10,000
13% shelled out more than $10,000

Of those retired 5-10 years for the same twelve months:

55% had total costs less than $5,000
26% spent between $5,000-$10,000
15% faced expenses over $10,000

And yet for those retired 11-15 years:

51% had medical expenses of less than $5,000
30% had expenses between $5,000-$10,000
14% paid more than $10,000 last year
What you can do
"It's unfortunate to say, but medical costs can really make or break your retirement plans," says Gary Herman, President of Consolidated Credit. "Treatment for major illness or ongoing condition that isn't covered by your insurance can derail your plans even if you did everything you could to ensure stability during your golden years."
Here are a few examples of medical costs can cause problems:
Many retirees are caught off-guard by the burden of prescription costs once they transition off their employer's health insurance into Medicare and private insurance plans. Whereas you might not know how much you pay when your insurance covers prescription costs, you can find yourself shelling out a few hundred bucks for a single bottle after you enter retirement.
In some cases for ongoing or chronic conditions, costs for things like physical therapy or in-home nursing are only available if the patient is showing improvement. If your condition doesn't improve, your insurance company may drop the coverage for ongoing treatment.
Emergency room visits may or may not be covered in your insurance plan. If you have coverage gaps and suffer a fall which is the number one cause for injury amongst seniors, the ambulance and ER costs can cause significant financial stress.
Retirees may also have issues when it comes to moving into comfortable and well-managed assisted living facilities. Often people don't plan ahead for these kinds of costs because they want to maintain their independence.
With all of this in mind, it's important to take steps to ensure your finances are protected from medical scares. This means talking to your insurance provider to make sure you're covered, as well as setting money aside to cover any expenses that may arise which won't be covered. From the study data, it may be a smart move to have up to $5,000 in savings earmarked for medical costs so when those expenses occur, you aren't faced with bills you can't pay. This will also help ensure you have the best care possible throughout your golden years.
And of course, stress does nothing to help your health condition. If your retirement is at risk because of debt or medical costs that caused problems for your budget, we can help. Call Consolidated Credit today at 1-888-294-3130 to speak with a certified credit counselor or complete our online application to ask for help through the web.