Future Homebuyers Overwhelmed by Mortgage Term Information
As the mortgage industry becomes more transparent, prospective homebuyers are dazed by the available information.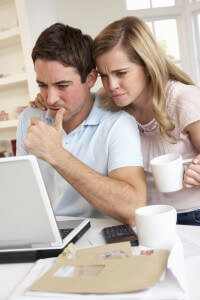 More homebuyers are reaching out to mortgage bankers, real estate agents and family and friends for assistance with the dizzying amount of data available to them on mortgage terms. First-time buyers are most impacted by the deluge of info, as 76 percent described themselves as "feeling overwhelmed" in a new poll by Discover Home Loans.
Cameron Findlay, chief economist at Discover Home Loans, says, "The sheer amount of information can lead to confusion and stress. Those looking to purchase should work closely with their lender and realtor to make sure they are comfortable with mortgage terms and understand the impact a loan will have on their finances."
Gary Herman, president of Consolidated Credit, believes attending housing education seminars is also a valuable tool, especially for first-time buyers.
"Homebuyer education and counseling is an ideal approach to learning the ropes of purchasing a house and finding the right mortgage," says Herman. "Most of these programs are inexpensive and instrumental, especially when so many homebuyers don't really understand the cost of purchasing a home."
As a matter of fact, 87 percent of those polled feel they will locate a reasonably priced home, but only 52 percent have established what their monthly payment will be. Other data includes:
Eighty-three percent of buyers are pre-qualified for a loan
Forty-one percent haven't estimated their down payment
Forty-eight percent don't realize the price of their mortgage payment "if they chose a more or less expensive property"
Reasons for house hunting
Another interesting aspect of this poll is the variety of reasons why these consumers decided the time was right for buying a home. They consist of:
Twenty-two percent gained adequate control over their finances
Twenty percent believed the market became fair priced again
Twenty percent increased their credit score
Seventeen percent have an appropriate amount for a down payment
Eighteen percent were impressed by the reasonable mortgage rates and lending choices
"These are all reasonable motives to initiate the home shopping process," notes Herman. "But educating yourself on the process before you start is vital, especially with this information glut. Buying a home will likely be the most significant purchase you ever make, so why not do it right."
In the market to buy a home?
Don't hesitate to contact Consolidated Credits housing counseling department. We are approved by the U.S. Department of Housing and Urban Development (HUD) and have certified housing counselors waiting to educate you on the home buying process.