60% of Homeowners aren't Saving for Repairs
A mistake that can jeopardize everything they've worked so hard to earn.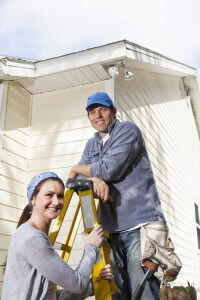 One of the most exciting – and costly – milestones in life is making the leap from renting to owning a home.
For months or even years, first-time homebuyers sacrifice to save up for the down payment and closing costs needed to purchase a home.– not to mention the countless hours they invest shopping for the house that not only suits their budget but their lifestyle, too. Amid all the excitement, buyers often neglect to think about one thing – saving for repairs and maintenance which could send their budgets into a tailspin if an unanticipated repair comes up.
This could mean a dire financial strain for homeowners who aren't saving for maintenance and repairs. Unfortunately, that's the reality for 60 percent of homeowners in the U.S. right now, according to a survey by HomeServe USA, a provider of home emergency repair service plans.
Interestingly enough, while homeowners aren't budgeting for repairs and maintenance, 55 percent monitor their home energy use for both cost and environmental reasons. This is good news for financial experts who advise consumers to cut down energy use in their homes to see light in their budgets.
"It's good to see Americans paying attention to their utility use but disheartening that so many homeowners aren't saving for the upkeep of their homes, since it's an investment they worked so hard to achieve," Maria Gaitan, Housing Manager at Consolidated Credit says.
Gaitan adds, "Maintaining your home is absolutely vital in preserving and increasing its value. With the housing market on the rebound and with home prices climbing, people who are considering selling or downgrading should begin to make modest home repairs to keep or otherwise increase the value of their home. And seniors who have taken out a reverse mortgage should also note that proper home upkeep is required to avoid issues with their loans."
Owning a home comes with a sense of independence, and extra financial responsibilities that renting does not require. Your landlord is no longer on speed dial for a leaky faucet or a leaky roof, a repair man moves in to fill that void and the bill is now yours to foot.
National averages from this Cost vs Value tool indicates that repairs and maintenance can set you back thousands of dollars, particularly if you fail to prepare and plan for them.
According to their 2015 estimates, the cost of a roof replacement averages $19,525 nationally, it's over $11,000 to replace a wood or vinyl window and a steel entry door replacement and a garage replacement runs over $1,000.
Fifty-nine percent of homeowners aren't worried about a major home repair in 2015, but these estimates are enough to wreak havoc on an unprepared or under-prepared budget.
Here's what you need to do to prepare now and beyond.
Allocate savings specifically for home repairs and maintenance. Experts say at the very least you need $1,000 in case of emergencies.
Even better, implement one of these two rules of thumb:
The 1 Percent Rule – that says to save at least one percent of the purchase price of your home for ongoing maintenance. If your home cost $200,000, you should budget $2,000 per year for maintenance. This doesn't mean that you will spend $2,000 for repairs on an annual basis, but the older your house and appliances get, the closer the time will come to use it.
The Square Foot Rule – says you should budget $1 per square foot annually for maintenance and repair costs. If you own a 3,000 square foot home, you should budget at least $3,000 a year for the purpose of repairing and maintaining your home.
Know the age of your home and appliances. Wear and tear occurs naturally and all the appliances in your home have an estimated life expectancy.  You may want to get a second opinion especially when buying a pre-owned home. This will allow you to get a truer sense of the age of appliances and the number of years left on them. That way you can adequately plan for repairs or replacements with no surprises.
Being privy to this information will also help you decide whether it's worth getting a more expensive brand name appliance versus the less well-known brand; whether to repair or replace, and estimate the timing on when they may just go kaput. Knowing can also potentially save you hundreds, if not thousands of dollars.
Here's the life expectancy of some popular appliances: 
Dishwashers – 9 years
Gas ranges or Stove  – 15 years
Refrigerators – 13 years.
Washer – 10-14 years, and Dryer – 10-13 years
Kitchen faucets – about 15 years
Roof – $19,525
Heating, Ventilation, and Air Conditioning (HVAC) – most components only last 15 to 25 years.
Tankless water heaters – more than 20 years, while an electric or gas water heater has a life expectancy of about 10 years.
Thermostats usually are replaced before the end of their 35-year lifespan due to technological improvements.
Of course, knowing the life span of your appliance is pointless if you aren't saving to maintain, repair or replace them when they stop working.
Consolidated Credit can help you if you need help creating a budget. Simply dial 1-888-294-3130 to speak with one of our certified credit counselors. For help with housing needs such as Homebuyer Education and Counseling, check out our Housing Department or dial 1-800-435-2261 to speak to a HUD approved housing counselor.