How Employers Can Help Employees Focus at Work
CFPB launches initiative to help improve worker productivity through financial literacy.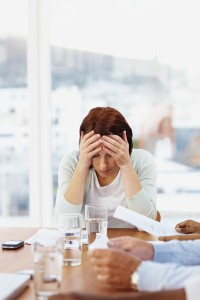 The Consumer Financial Protection Bureau (CFPB) published a report that shows employers how to enhance productivity in their businesses by helping workers achieve financial stability. The idea is that a worker who isn't stressed about financial issues at home can be more focused at work. Otherwise, employers risk having staff that is distracted – worrying about debt, checking account balances and taking calls to talk to creditors and collectors while they're on the clock.
"Financial wellness at work is increasingly important both to employers and to employees," said CFPB Director Richard Cordray. "A financially capable workforce is a more satisfied and engaged workforce that is also more productive. Today's report showcases some examples of how employers are helping consumers develop the skills they need to navigate a complicated financial marketplace."
Helping employees achieve financial freedom
According to a report by the American Psychological Association, "seven out of ten American workers say financial stress is their most common cause of stress, and almost half (48%) say they find dealing with their financial situation stressful."
This anxiety often follows employees to work and makes them less productive. To combat the anxiety and build financial wellness, the CFPB believes employers should engage workers as soon as possible and offer ongoing financial training and education. Some best practices include:
Starting the education process at orientation: "When employees are new to a company, they are generally more open to change. As a result, this can be a good time to work on financial wellness priorities as new employees are focused on making important decisions about tax withholding, retirement savings, and employer-offered health insurance."
Offering co-worker support: "Coworkers can help each other develop better financial habits. Work teams that go through financial wellness training together end up supporting each other and creating a more collaborative environment."
Gary Herman, president of Consolidated Credit believes financial wellness programs should be a part of every business.
"If one of a worker is dealing with financial turmoil, then they aren't focused on work," says Herman. "It only makes sense to offer the necessary tools and training to help employees build financial literacy. It's a win-win situation for everyone involved. The employee gains a sense of wellbeing and the employer has a happy, productive workforce."
Financial lessons last a lifetime
This idea of helping adults learn and continue their financial education throughout their lives is one Consolidated Credit promotes to both its workers and clients. "The education process to build financial literacy is really never ending," notes Herman. "The financial world is always changing so it's important to keep up and take advantage of the resources available to you. It will not only improve your financial awareness, it could save you from losing your job due to lack of production."
Consolidated Credit also offers a Financial Wellness Program to businesses. These types of programs help employers to provide the right kinds of financial education resources to their employees.