How Much Will You Have in Retirement?
Receiving income during retirement without bringing in a paycheck.
Each week, Consolidated Credit searches for unreported financial research that can help you deal with your debt and budget. This week…
The interesting study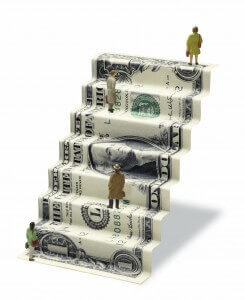 The financial services organization TIAA-CREF has released their annual Lifetime Income Survey for 2015. The survey, conducted each year, aims to assess how Americans feel about their lifetime income prospects – particularly as they near and enter retirement.
The big result
While 84 percent of Americans reported that a lifetime guarantee of monthly income is important and 48 percent also say having guaranteed income to cover living costs is key to any retirement plan, most people are taking the steps they need to make either of those things happen.
The fascinating details
TIAA-CREF is essentially making a case for products they sell – specifically annuities. However if you think annuities aren't as important as they're trying to make them seem, even Investopedia says, "Annuities are primarily used as a means of securing a steady cash flow for an individual during their retirement years."
Unfortunately, the TIAA-CREF survey reveals how little Americans actually know about this vital tool for retirement:
Only 14% of Americans have purchased an annuity.
65% of Americans "aren't familiar" with annuities, while 21% admit they don't have any clue what they are.
15% at least plan to purchase annuities, but 6% of that number plan to wait until after they retire to get one.
And there are other concerning statistics that are brought to light in the survey as well:
Most Americans (62%) believe they would only need 75% of their pre-retirement income or less. Experts say you need 70-90 percent of your income before retirement to live comfortably.
29% of Americans aren't saving anything for retirement.
Only 31% of consumers have sought advice on how to translate retirement savings into lifetime income.
What you can do
You really can't afford not educate yourself about your retirement. Establishing retirement savings is vital, but it's just as important to educate yourself on the various kinds of accounts and assets available, and how each can provide income during retirement.
Keep in mind that once you retire, the only regular income you'll have coming in each month is whatever you may receive from Social Security. Assets such as stocks pay dividends, but they're almost always paid out quarterly or annually. Bonds and CDs can take years to mature. In the meantime, you could be low on cash and unable to pay your bills. That's why things like annuities are an advantage, because you receive regular monthly income just like you did when you earned a paycheck.
If you're not sure where to start when it comes to retirement planning, we can help. Consolidated Credit offers a free guide to Planning Your Golden Years. Remember, if challenges with debt are keeping you from saving, call Consolidated Credit today at 1-888-294-3130 to speak with a certified credit counselor or take the first step with a request for a Free Debt & Budget Analysis.