How to REALLY be Happy at Work
Hint: It's not just about getting a raise.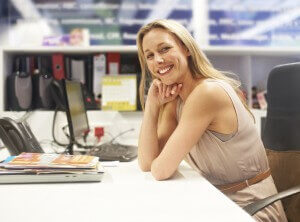 We work to pay bills, but it turns out who we work with is important, too. A recent survey by employment site Monster.com reveals we're happier with our coworkers than we are with our paycheck.
"More than 65 percent of employees are not satisfied with their pay," Monster learned. "Despite the unhappiness with wages, the majority of employees in the U.S. (77.6 percent) are relatively satisfied with the work relationships they have with their colleagues, showing interpersonal interaction may trump wages."
Of course, one poll could be wrong. However, this isn't the first study of workplace happiness. Exactly one year before Monster investigated the topic, a company called TinyPulse conducted its own research and found, "people/co-workers" were five times more important to job satisfaction than anything else – including "freedom," "variety," and "opportunity and growth."
"When we asked What do you love about your work? the responses overwhelmingly focused on an employee's immediate team and colleagues," TinyPulse concluded. "That was the No. 1 response by far."
The biggest drain on our work happiness? Our bosses.
TinyPulse followed up with a New Year's survey that asked, "If you could change one thing about your manager in the New Year, what would it be?" Interestingly, handing out raises came in fourth, at just 8 percent. In first place was "become a better, more open communicator." Second place was the harshest: "Have the boss quit or retire."
What can we learn from these studies? While we all need money to live, and our jobs provide that, we also need to happy in those jobs. While Consolidated Credit offers financial advice on topics ranging from Budgeting for Kids to Planning Ahead for Your Golden Years, don't forget to look at who you'll be working with when you apply for your next job.