What NOT to Buy on Black Friday… and when
If you're going out at all, make sure you're actually getting a deal.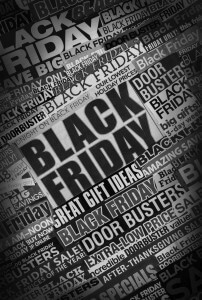 Some experts say the best time to snag a deal this week is between tonight and Thanksgiving morning; others say don't waste your time and money
As you contemplate ditching your family on Thanksgiving to go dashing for deals, some studies are telling people not to bother. A survey by NerdWallet says the deals you think are bargains this year, are really just last year's prices. Many electronics being sold as "Black Friday discounts" are spin-offs or derivatives of the original so retailers can afford to sell them for less.
Each year, Americans are trading more and more time for bargain hunting. In the past Black Friday was actually on Friday. These days, stores open at 6 p.m. Thanksgiving Day, and many retailers have been running Black Friday promotions all week.
Year after year Americans go all-in on the holiday hype and live to regret the spending sprees once it's all over. So how do shopper feel heading into the official 2014 holiday shopping season?
Parents may feel pressured to use bill-money on gifts: Data from a Sun Trust survey reveals 53 percent of parents feel pressured to overspend. By whom? Their children under 18 years old. Twenty percent will succumb to the pressure and use the money they have allocated towards paying bills on holiday shopping.
Parents aren't the only ones under pressure: The SunTrust survey also says nearly 40 percent of Americans feel pressured to spend more than they can afford.
Consumers will forgo saving and investing: A survey by Edward Jones, a financial services firm reveals 35 percent of Americans plan to shift their saving and investing strategies during the last few months of the year. The reason? "To accommodate for the holiday shopping season." Only 39 percent of Americans plan to pay off debt during this time of year.
Years ago, the start of the holiday shopping season was easy: You braved the crowds during Black Friday and enjoyed deep discounts. Now it's more complicated. Here's what we mean:
"The best time to shop online is actually late Wednesday night into early Thursday morning" say researchers at an online deals site GottaDeal.com. "While Thursday and Friday are by far the biggest days, online deal hunters should also keep an eye on the deals that occur earlier in the week." The same survey also, says the best time to get deals "rich in quantity and quality" of online bargains is on Thanksgiving.
Go Banking Rates, a financial services firm, says don't buy toys, jewelry home and patio ware, and high-end electronics like TVs and laptops on Black Friday, prices will go down in price as Christmas approaches.
With all this conflicting best deal days, what's a shopper to do?
NerdWallet says don't fall for the hype. Black Friday sales are a bust, not the best deal days and aren't only offered on the famed holiday.
Here's what they found:
93% of retailers repeat the same deals as last year
93% of this year's ads contain at least one item at the exact same price as in 2013
Black Friday deals aren't only available on Black Friday. Retailers also offer these sales throughout the year.
Retailers intentionally stock up on inferior products that were created for the purpose of offering illusory deals. Retailers charge consumers the same price as the superior versions.
Some retailers exaggerate the original price of items to make shoppers believe that they are getting a deal too good to pass up. For instance "Instead of comparing the Black Friday sale price to what it was selling for before the day, some stores will cite the manufacturer's suggested retail price, or MSRP, which is often higher."
Yet, the National Retail Federation (NRF) forecasts Americans will spend $616.9 billion this holiday season. According to data from NerdWallet: "77% of Americans say they typically shop on Black Friday (or the evening before), and middle-class families will take longer to pay off their purchases than either lower-income families or wealthy earners will."
Consolidated Credit urges consumers to control their spending and offers this Surviving the Holidays guide to avert a debt hangover in the New Year. Remember to budget, create a priorities list and stick to it. If you're feeling overwhelmed by the season and need financial guidance, dial 1-888-294-3130, our certified credit counselors are standing by to take your call. Or, to find out how much debt you're in take our free Debt and Budget Analysis online.