Is it a Smart Time to Buy a House?
Making sure market conditions,
your credit score and budget are compatible.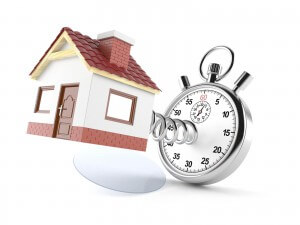 Conventional wisdom tells us the best way to lock in good interest rate on a mortgage is with excellent credit scores. Lower credit scores mean higher interest rates and the possibility of being denied a mortgage loan entirely. Armed with this knowledge almost half of all Americans (45 percent) who want to buy a home say they have waited to build up a better credit score according to a survey by Experian. 
"No one likes to go into a lender's office, whether buying or refinancing, and not know the state of their credit; it makes them feel helpless," Becky Frost, senior manager of consumer education at Experian Consumer Services says. "Our survey shows when people interact with their credit by tracking it and learning more about the factors that affect it, they feel more confident about their purchasing power." 
However, realtor.com® in their Opportunity Cost Report says considering low interest rates these days, waiting to buy a home could cost prospective buyers thousands in the long run. Projecting that interest rates and home prices will climb this year, prospective buyers who are financially prepared and have always wanted to buy a house may be doing themselves a disservice by delaying entry into the market.  
"Current market conditions give buyers the opportunity to build substantial wealth in the long-term, compared with renters and later buyers, in advance of the projected increase in mortgage rates and continuing price appreciation," Jonathan Smoke, chief economist for realtor.com says.
Just how much do buyers across the country risk losing? It roughly totals $217,726 over 30 years – that's $54,879 in the first 3 years and $18,672 in the first year alone, according to the survey. 
For potential buyers who have been taking stock of their credit scores, monitoring their credit rating and making sure they are in good standing; this is great news. As for those who haven't yet started a push to build credit, they face a real dilemma.  
"This really is a catch 22," Consolidated Credit's Housing director and Community Manager Maria Gaitan says. "While waiting to buy may cost you in the long run, so will paying higher interests on a loan because of a low credit score. Even if the economic conditions are ideal, if your financial and personal situations aren't ready for a mortgage, you may be doing yourself a disservice by risking default and even foreclosure." 
So if you don't enter the market now, you could stand to lose big if interest rates and prices increase as the market turns. However, you also stand to lose big if you enter the market with subprime credit scores. Yet according to the Experian survey some hopeful buyers go into the process not even knowing their scores. If you're one of those, you should go to annualcreditreport.com and request a free copy of your credit report from Experian, Equifax and TransUnion. Comb through and dispute any issues or inaccuracies. A higher credit score would usually lead to lower interest rates, lower monthly mortgage payments and a better likelihood of being qualified for the loan you want.
Just how much do you risk losing by entering the market with a low credit score?
Consider these scenarios….
Sally is a renter who wants to buy a house and has been taken copious steps to make sure she gets the best interest rates. She makes timely payments on her credit lines, keeps her debt balance low, seldom requests new lines of credit, and has a mix of different types of credit and a long credit history – all factors that typically add up to an excellent credit score. 
She's taken steps to build credit over the past year, so her FICO credit score is above 785. She qualified for a $150,000 loan at 4.5 percent interest rate for a 30 year term, and puts down the required 20 percent on a fixed-rate traditional loan. 
Using Consolidated Credit's Free Mortgage Calculator we found: 
Her monthly mortgage payments would be $760.03.

 

Over the course of 30 years her total payments at a 4.5 percent interest rate would be $123,610.07.

 

Her total interest payments would be $123,610.07 ($273,610.07 – $150,000)

 
Then we have Tim who also wants to move out of a rental and into a house but has done nothing to improve his low credit score. His FICO score is below 640 which by industry standard is subprime and therefore he will face a higher interest than Sally who has good credit. Using the same conditions as Sally above but at a higher interest rate, Tim's profile looks like this
Mortgage amount – $150,000

 

Interest rate 6 percent (higher than Sally's because of low credit  score)

 

Term loan 30 years (360 months)

 

20 percent down payment

 

His monthly payments would be $899.33

His total payments in 30 years would be $323,757.28

 

His total interest in 30 years would be  $173,757.28 ($323,757.28 – $150,000)

 
In the end, Tim would pay $50,147.21 more than Sally because she had a better credit score and received a more favorable interest rate.   Tim would also pay $139.30 more per month, so the mortgage may cause more of a strain on his monthly budget, too.
So what do you?
Do you enter the market now with a lower credit score or enter the market later with more favorable scores and risk rates and prices increasing while you delay? Well, it all depends on your financial situation and long-term goals.
While you have no control over the markets and cannot be sure that these projections will hold up, you do have control over your credit score.  If your scores are good enough, your budget is ready and you've been waiting to buy a house go ahead and enter now to cash in on both fronts, if not take steps to improve your credit score and then make your move out of the rental and into the buying the market. 
Still, just because waiting to buy a home can cost you big, it doesn't mean that you have to rush into owning or risk paying higher interests or being rejected because of poor credit. Take steps to improve your score.
Play around with this Credit Score Loan Cost Calculator to see how much you will end up paying with different credit scores.  You may also use the mortgage calculator linked above to see how much your mortgage will be at different interest rates. As you wait to enter the market, take advantage of Consolidated Credit's Free Homebuyer workshops, use the resources available online or dial 1-888-294-3130 to speak to a HUD-certified counselor for free.