Keep your risk of identity theft low this holiday season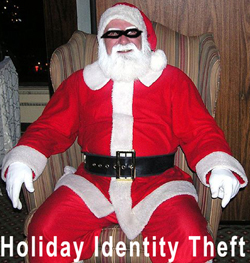 Now is typically the busiest shopping days of the year since most retailers offer steep discounts. While it is prime savings time for shoppers, identity thieves and fraudsters also take advantage of this time of year. This is primarily because few shoppers pay with cash, and instead rely on their debit and credit cards.
According to the Hanover Insurance Group, more than 15 million Americans are impacted by identity theft each year. In addition, the cost of resolving identity theft averages out to $3,500 per victim.
"As shoppers get excited about holiday gifts and bargains, it's easy to forget that there are people out there waiting to take advantage of what should be a joyful season," said Mark Desrochers, president of personal lines insurance at Hanover. " Because of the emotional and financial impact identity theft can have on an individual and their family, we thought it was important to offer some tips to help avoid identity theft.
Lowering the risk of identity theft
Being extra diligent about protecting credit and debit information is imperative during the holidays, and may help consumers lower their risk of falling victim to identity theft. First, consumers should try to conduct the majority of their financial transactions with cash. This may not only lower the risk of fraud, but it may also help consumers save and stick to a money management plan during the holiday season. Those who choose to pay with credit and debit cards should keep purses and wallets close to their person at all times. In addition, shoppers should be aware of their surroundings, watching not only other consumers, but also cashiers, to ensure their numbers are not being skimmed. It's also crucial that consumers review all transactions on their online statements to detect any suspicious activity.
Many consumers also shop online during Cyber Monday. When making purchases through a website, it's important that individuals make sure the sites are secured. There should be a security key or certificate in plain view on reputable websites. Shoppers may also benefit from reading customer reviews and researching the company on the Better Business Bureau to ensure that the website has not engaged in suspicious activity.