The "Hard Way" isn't the Right Way
Are you teaching the right financial lessons to your children?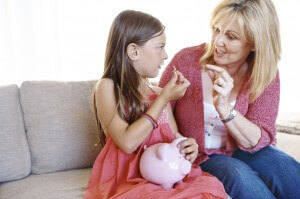 Historically, the job of teaching children important lessons about personal finance has fallen to the parents, but a new survey from the global investment organization T. Rowe Price finds more and more, parents want their children's school to teach them the financial lessons that they need.
T vice chairman of T. Rowe Price, Edward Bernard commented, "T. Rowe Price believes that financial education can be a valuable component of an educational curriculum. We're pleased to see an increasing number of schools incorporating it into their programs nationwide."
Of course, he also went on to say, "Financial education works best when schools and parents work together to teach money matters and reinforce lessons from the classroom in daily life."
Unfortunately, according to the Council for Economic Education, only 17 states in the U.S. currently offer a personal finance course requirement. So while 91 percent of parents may feel it's appropriate for their children to learn about financial matters in school and 80 percent don't feel schools are doing enough, the current lack of availability of these courses means millions of kids may be falling through the cracks when it comes to financial education.
Perhaps more concerning are the findings that show how at least half of parents expect their children to learn key lessons about debt and money management, in general:
58% of parents believe letting their children make bad financial lessons is a good idea so they can learn from their own mistakes.
52% of parents believe giving a child a credit card helps teach important lessons about money management, even though only 21% of children surveyed felt knowledge about credit.
61% of parents also believe their children taking out student loans is a good way to learn about debt, even though only 19% of children feel knowledgeable about how student loans work.
"Trial and error is not the right way for children to learn critical lessons about debt and credit," says Gary Herman, President of Consolidated Credit. "Allowing your children to go into debt in the hopes they'll learn the ropes before they get into trouble is just putting them behind the eight ball and leaving them at high-risk of financial distress right when they're supposed to be getting established after they finish school."
Giving your children a good financial start
While more schools may be incorporating personal finance education into their curriculum, the onus of educating children on financial issues still largely rests with parents. With that in mind, you need to take steps to teach your kids the right lessons when it comes to money, debt, credit, saving and investing.
"Giving children an allowance and budgeting for their own purchases, is a good place to start with money lessons," Herman advised, "but you should also give them glimpses into your own finances so they can gain valuable real world experience. While you might be reticent about sharing or want to protect your children from financial realities that can often seem harsh, they're better off learning from your mistakes than having to face their own down the road."
Consolidated Credit offers a range of resources for helping you start the money conversation with your kids. We have a section of our website dedicated to Budgeting for Kids, as well as Budgeting 101 for College Students if you're getting a late start. We also have a free publication on Talking Money with Your Kids. And if you're currently struggling with debt, one of the best lessons you can teach your children is when it's time to ask for help. Call Consolidated Credit today at 1-888-294-3130 or tell us about your situation by completing an online application.