Mapping a Paycheck Problem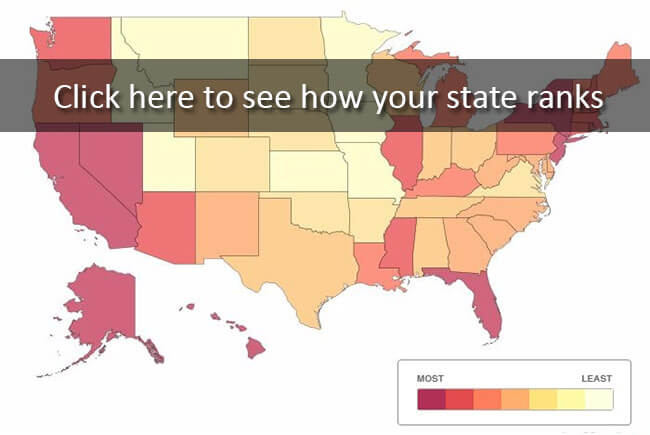 Which states have the most residents living paycheck to paycheck?
Alaska and Florida don't seem to be states with a lot in common. While they're more than 4,500 miles apart, they rank fourth and fifth on a new list of States Most Likely to Live Paycheck to Paycheck.
First on the list is the last state admitted to the union: Hawaii.
GoBankingRates, the financial website that researched the topic, reports:
Despite having the third-highest median household income in the nation ($71,223), the cost of food, housing, transportation and utilities per paycheck are all highest in the Aloha State. That breakdown results in a paltry $186 of leftover income, or less than 7 percent of each paycheck — the only state in single digits.
The states in the middle of the top 10 have slightly different problems. For instance, Alaskans earn "a decent median household income of $67,629" but face the same high cost of food as Hawaii because it's not cheap getting it there. In Florida, however, expenses are much lower – but so is income, which GoBankingRates calls "low" at $46,140.
It's not just about the paycheck
"Living paycheck to paycheck isn't necessarily a function of income," said GoBankingRates columnist Cameron Huddleston. "Plenty of upper-income households live hand to mouth because of poor financial habits."
In fact, an earlier GoBankingRates reported on the financial fears of those earning more than $100,000 – and found "fear of always living paycheck to paycheck" was right at the top.
"If you don't know how to spend responsibly, you'll almost always spiral into debts you can't get out of," says Gary Herman, president of Consolidated Credit. "That's why you hear so many stories of wealthy celebrities who declare bankruptcy."
Herman says in the 20-plus years he's been at Consolidated Credit, he's seen clients from both the high and lower income brackets.
"Their incomes ranged from minimum wage to middle six figures," he recalls, "but what they had in common were poor savings and spending habits. As we help them work their way out of debt, we also teach them these skills, and at the end of the process, these households are not living paycheck to paycheck any longer, regardless of income level.
The opposite of Hawaii is…
So which state has the best stats for not living paycheck to paycheck? Minnesota. Known as "the Land of the 10,000 Lakes," it has the nation's sixth-highest median household income ($67,244) but also inexpensive housing and utilities, as well as "the second-lowest average per-paycheck health costs in the nation."
In fact, the best states for avoiding paycheck-to-paycheck living happen to be in the middle of the country. They include Iowa, Missouri, Utah, and Idaho, to round out the Top 5.
The Paycheck-to-Paycheck Map
Here's a ranking of which states have the most residents who can barely make ends meet – and which ones have the least. Roll over your state to find its "paycheck-to-paycheck" ranking from worst to best. Click on the state to get more details from Consolidated Credit.
To see where your state ranks, roll over it on the map above. To learn more about what Consolidated Credit does in your state, simply click.
Source: GoBankingRates