Military Families Fall Behind on Financial Literacy
More than half of career military families are unable to pass a basic test.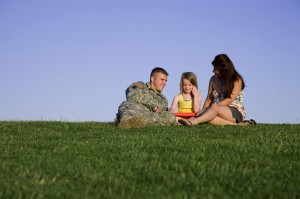 When it comes to day-to-day money management, military families tend to face more challenges than the average civilian family. From the financial challenges of PCS to changes in income depending on deployment status, military families simply have more to worry about that can impact their financial stability.
That's what makes the results of the fourth annual financial literacy test from First Command Financial Services Inc., and First Command Educational Foundation so concerning. For the first time since testing was launched in 2012, the average test score fell to a failing grade. Middle-class military families only scored a grade of 69, on average. What's more, 55 percent of the test takers in these families failed to answer at least seven of the nine questions on the test.
General population households at the same income level did slightly better at an average score of 71. Only 45 percent of test takers in these families missed at least seven of the nine questions. While military families are not that far behind civilian families, it's concerning when you consider the former have more challenges to face and often have to navigate a more complex financial environment.
"Military families often have to know more and work harder to maintain financial stability over the long term," says Maria Gaitan, Military Outreach and Housing Coordinator for Consolidated Credit. "This means there's even more need for financial decision makers in military families to have a high level financial literacy. Otherwise, you run a high risk of facing hardship."
The First Command Educational Foundation features a wide range of financial resources and self-help booklets in the Education Resources section of their website. Organizations like Consolidated Credit also provide specialized financial education resources for military families in order to help them achieve and maintain financial stability in spite of challenges they may face.
Testing your own financial literacy level
Whether you're a member of a military family or civilian, financial literacy is critical for your stability and success. April is National Financial Literacy Month, which makes it the perfect time to see where you stand and determine where you have room for improvement when it comes to understanding basic financial topics that are critical to your success.
Consolidated Credit has a selection of Free Financial Literacy Resources designed to help you understand what financial literacy is, why you need it, and how to build it. The resources include our own 20-question Financial Literacy Test to help you test your knowledge level and see where you have room for improvement.
If you have questions or need assistance to find the right resources, we're here to help. Call Consolidated Credit today at 1-888-294-3130 or complete an online application to connect with a certified credit counselor at no charge.