Ahead of Vesting Overhaul, Military Families Improve Outlook
Although still a proposal, reports show servicemembers are already exercising good financial habits and looking to the future.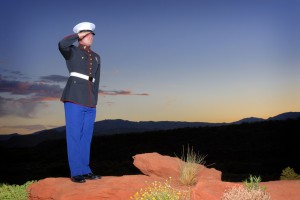 The military may offer retirement plans to servicemembers, but in order to qualify and begin withdrawing servicemembers must put in 20 years of service – known as a 20-year vesting cliff. If you serve 20 years or more then you receive a full pension, but if you spend less time enlisted then you receive nothing. As a result of this hurdle, the Center for American Progress says only 17 percent of service members receive pensions.
Earlier this year, the Military Compensation and Retirement Modernization Commission released a report that calls for an overhaul of this 20-year cliff vesting system that has defined military careers for generations.  At the same time, military servicemembers showed a drastic improvement in money management, financial optimism and confidence last quarter.
This is good news on both fronts.
Historically, the reports on military servicemembers' money management skills are not particularly glowing. However, the contents of this report paint a much better financial picture for our military members who – according to the survey – are feeling a surge of financial optimism these days. Those who were financially strapped seem to feel financially secure now and are optimistic it will remain this way in the upcoming years.
53 percent of middle-class military families with household incomes of at least $50,000 believe that their financial situation will improve in the next year. That's 5 percent more than those who did in the first quarter.
49 percent of career military families are more confident that they will be able to retire comfortably. That's up 10 percentage points from the first quarter.
35 percent of career military families feel that they are less likely to feel financially stretched month to month. That's down 21 points from the previous quarter.
"This growing confidence is particularly notable as it has occurred during a period of great awareness of proposed changes to the military's compensation and retirement system," said Scott Spiker, CEO of First Command Financial Services, Inc. "Our ongoing research reveals that the smaller monthly retirement checks and lump sum payments recommended by the Military Compensation and Retirement Modernization Commission were widely anticipated by career service members, who clearly understood the potential ramifications to their own finances. And these families responded by making meaningful changes to their financial behaviors – changes that are helping to alter their financial attitudes for the better."
These financial behaviors include enlisting the help of a financial advisor which led to changes in their savings habits.
The strategic edge of working with an advisor:
Military members saved more for both short and long term goals:
84 percent of military servicemembers put money into a short-term savings account compared to the 63 percent who did on their own. Both groups saved an average of $500.
72 percent of those with an advisor put an average of $424 into long-term savings, while 48 percent of those without an advisor saved an average of $275.
Military members also saved more for retirement:
80 percent of those with an advisor put an average of $500 into retirement savings. Of those without an advisor, only 67 percent save for retirement and saved $100 less. They saved an average of $400.
Despite this the financial optimism, 74 percent of respondents still worry about sequestration; understandably, they are also more anxious about cuts to defense spending than the general population. Three out of four military families expect to be financially impacted by sequestration and more than half are cutting back on everyday spending and saving more.
"It is very heartening to see our servicemembers taking steps to a brighter financial future, "Maria Gaitan, Military Outreach and Housing Coordinator for Consolidated Credit says. " It is apparent that they aren't the best money managers and frequent moves and overseas deployments are perhaps to blame.
"These servicemembers and their families face real challenges managing their finances which make it harder to save for emergencies and even retirement. An overhaul in the 20 year vesting cliff is a step in the right direction and is a move that could help military members live comfortably in their retirement years – an honor they all deserve whether they serve 10 or 20 years."
Gaitan says one of the reasons that servicemembers are poor money managers could be because they enlist at a very young age when they are financially inexperienced. Entrusting a financial professional to help could lead to a healthy financial life.
One of Consolidated Credit's primary missions is to help our servicemembers be in control of every facet of their lives – from finding affordable housing to using credit cards effectively and saving to helping veterans re-acclimate into civilian life.
If you're in the military or a veteran and need help managing your finances call 1-888-294-3130 now for free or request help online.