Financial Worries Decreases Employee Productivity
60% of workers are financially stressed. Bad for them, bad for business.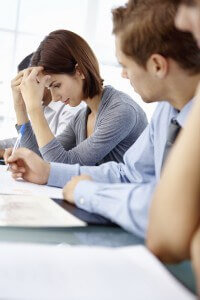 Stressors in our daily lives are abundant. From the occasional conflict at home, in the workplace and our social circle, to financial factors such as finding the funds to put food on the table, cover bills, pay down debt without struggling. In as much as we try to leave our problems at home and mask the effects in our daily lives, doing so is not always successful.
The result: A detriment to our wellbeing and distraction in our overall performance at work, school and play.
A survey of 1,000 employees between the ages of 20 and 69 confirms the notion that the distractions in our personal lives – whether financial or otherwise – is not something that most of us can leave at the door of the office. With that in mind, it isn't surprising that 60 percent of employees who are significantly burdened by financial stress experiences a decrease in their performance at work. 
37 percent acknowledged financial stress has caused their productivity at work to suffer

25 percent have missed work due to stress that stemmed from their personal financial situations

And nearly 50 percent are living from paycheck to paycheck

 
According to the survey the main sources of stress include student loans and mortgages, health care costs and the feelings of insufficient planning for retirement. A lack of a safety net to cover emergencies and the mortgages, car loans and credit card debt are the heaviest debt burdens of majority of respondents.
"We all know that financial concerns are usually top of mind for individuals and families, but the findings from this survey clearly demonstrate how much concern individuals have about finances," Fredrik Axsater, global head of SSGA Defined Contribution says. "Financial and workplace stressors have the greatest impact on work quality and productivity, which confirms what we are hearing from employers – we need to address workplace financial demands beyond retirement savings. A more holistic approach is needed, providing tools and opportunities for employees to reduce stress and improve their financial well-being."  
Today more companies are offering retirement planning advice and even enrolling their employees in automatic retirement plans to help set them up for their golden years. While this is a great initiative, some argue employers should take an all-inclusive approach that encompasses every aspect of financial literacy, not just retirement.
Employees will say 'yes' to free financial wellness programs at work, 'no' to paid
if heeded, these recommendations may only be worthwhile if companies absorb the financial costs. Most respondents cited high cost and lack of convenience as the top reasons for not engaging in a financial wellness program and will participate only if it's offered free.
Who profits from the opportunity and who doesn't is dependent upon the age of the employee. Given the reports that Generation Xers (30 to 39 year olds) are most likely to experience a more stressful and financially difficult retirement, it isn't surprising that they are most likely to take advantage of employer sponsored programs such as automatic savings programs, budget workshops, stress management courses and one-on-one financial planning assistance. 
"It would undoubtedly be a great initiative on the part of employers to provide financial literacy workshops to their employees. Not only will they help employees address their financial troubles to improve their wellbeing, doing so will also improve company productivity and performance. But what happens if they never do?" asks Consolidated Credit's President Gary Herman.
"Letting your emotions follow you from home to work infringes on your performance, which could lead to firings that may lead to more money problems. It is important that employees proactively seek help elsewhere, dedicate some time each day or week, to work on their finances – start with to-do lists, set their budget, establish goals and take advantage of the free financial programs and resources offered by debt management companies."
Consolidated Credit prides itself on offering free financial education to the public and has done so for over 20 years while also helping those overburdened by debt to get out and stay out of debt. Additionally, if you're an employer, Consolidated Credit offers KOFE a customizable financial wellness benefit program you can provide to your employees to help them meet financial challenges head-on.
Financially burdened employees can start by simply dialing 1-888-294-3130 to connect with one of Consolidated Credit's certified credit counselors or fill out an online request form to ask for help now. You may also take advantage of these financial resources in our Debt learning Center for free.