More Americans Saving Less
We've gone "from bad to worse" according to experts.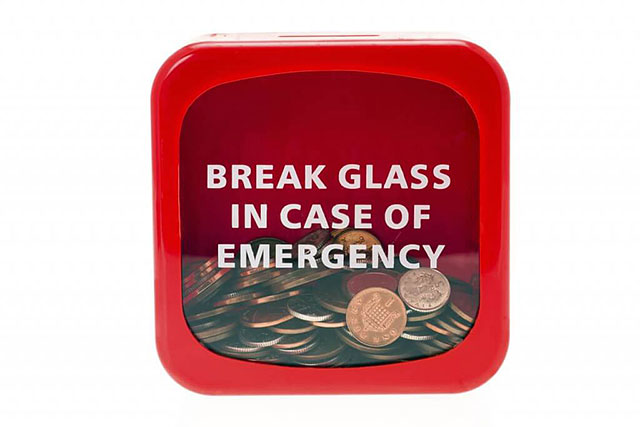 Do you have $1,000 in savings that you can readily get to? If you don't, you have a lot of company. And that company is growing.
Last year, the research outfit GoBankingRates found that 62 percent of Americans had under $1,000 in savings. That was bad enough for one of their experts to call "worrisome." This year's number rose to 69 percent, causing the study's lead researcher to use the words "extremely shocking."
"It shows that the majority of Americans are just one emergency expense away from being broke," said that lead researcher, Kristen Bonner. "Because there is no way to predict when a financial emergency can arise, it is crucial to make saving money a habit in case the worst happens."
Bonner has reason to be shocked. Among her other findings from last month…
Women are saving less – 42 percent had nothing saved, compared to 28 percent for men.
Seniors aren't saving – 1 in 3 have "no savings account at all."
Six figures isn't reassuring – 40 percent of those earning over $100,000 still don't have $1,000 in savings.
If there's any silver lining to this report, it's this single line, which isn't explained further: "Millennials aged 25 to 34 are more likely than Gen Xers aged 45-54 to have $1,000 or more in savings."
That gives Consolidated Credit president Gary Herman some hope.
"The only encouraging sign is that the generation who endured the Great Recession may have been shocked enough to realize how important savings are," Herman says. "They may be more sensitive to financial issues than their parents at the same age."
Herman also hopes that this will finally be the scary report that causes Americans to pick up the phone and fix their debts.
"There's so much free help out there," Herman says. "Not just Consolidated Credit, but many certified and qualified experts who want to help."
If you're drowning in debt and have nothing saved, you can easily find a credible credit counseling agency. Herman says to look for one with an A-plus rating from the Better Business Bureau, certified credit counselors, and a great track record dating back as many years as you can find. Of course, Herman boasts that Consolidated Credit possesses all those things, and you can call 1-888-294-3130 to learn more.