Most Blended Families Living Paycheck To Paycheck
Traditional families have over $100,000 more in savings and assets
Each Friday, Consolidated Credit searches for unreported financial research that can help you deal with your debt. This week…
The interesting study
Blended families – those with stepchildren or children from a previous relationship – have a blend of financial problems that "traditional" families don't, says a new survey from financial services company Allianz. But there was also some good news…
The big result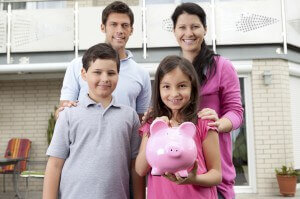 The good news comes in the form of communication. This study reveals blended families "are doing more than both traditional families and other modern families to teach their children about money."
Gary Herman, President of Consolidated Credit mentioned in a past post that blended families needed to make financial adjustments. By adjusting their view on how to better inform their children about money management strategies, blended families are ensuring a brighter financial future for the next generation.
Allianz seems to agree and offers a few tips to help blended families "improve their financial harmony":
Work as a team: Spouses from different relationships may have different philosophies on saving and spending. Talk with each other about different financial scenarios and, "ask your partner things like whether he or she would rather pay down debt or purchase a new vehicle." You'll come to understand each other's financial tendencies better and avoid arguments.
Choose a point person: Decide who's in charge of paying the bills. Don't dodge this important decision because it could lead to confusion and bills not being paid on time. If you both want to be the responsible party, it may be a good idea to keep separate accounts.
Combine your future goals: As long as you're working together, create a strategy for your long-term finances. "Reviewing wills and legacy planning strategies with an attorney is a good place to start."
The fascinating details
Even though blended families are discussing money issues with the younger generation, they don't seem to be doing the same as a family unit. The survey reveals a disconnect:
68 percent of blended family members said their "household dynamic" is more interested in "individual needs/goals."
35 percent believe "my spouse/significant other and I have different financial priorities that are difficult to navigate."
16 percent admitted to feeling less connected "now than when they were growing up."
What you can do
Blended families encounter a myriad of distinctive financial situations. It's no wonder, they are by definition two different families and they bring their own financial beliefs to a new setting. The results are sometimes confusing and many individuals decide to turn inward and disconnect. But there are free informational tools to help them confront their problems. For example, Consolidated Credit offers advice for growing families and blended families that may decide to merge their finances.
If you're a blended family and want to discuss your financial circumstances, credit card debt or budgeting issues with a professional, call us at 1-888-294-3130. We're here to help clear up your confusion and set you on the right financial path.