National Emergency about Emergency Savings
A record number of Americans have no money for emergencies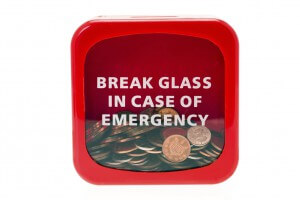 Here's a scary thought: Just 22 percent of Americans have enough cash on hand to cover six months of living expenses. That's considered the gold standard for an emergency savings account.
Here's an even scarier thought: More than that have nothing saved for emergencies. Bankrate's annual survey on the topic, called the Financial Security Index, found 29 percent "with no emergency savings whatsoever." That's up from 26 percent last year, and it's the highest in five years.
"While the economy is improving, this data shows individual personal savings rates aren't," says Consolidated Credit president Gary Herman. Bankrate experts agreed.
"These results are further evidence that Americans remain woefully under-saved for unplanned expenses," says Greg McBride Bankrate's chief financial analyst. "Rather than progressing, are moving in the wrong direction."
Herman and McBride both found a pleasant surprised in one key fact buried within the Financial Security Index: Those under 30 were more likely than any other age group to have five months' worth of savings.
"The common wisdom is that this demographic came of age during the Great Recession, so they know first-hand what happens when life catches you by surprise," Herman says.
That wisdom is borne out by another study, this one from T. Rowe Price. The investment firm's Retirement Saving & Spending Study declares, "Millennial 401(k) savers have better financial habits than Baby Boomers."
Says the study…
More millennials than baby boomers track expenses carefully (75% vs. 64%) and stick to a budget (67% vs. 55%). And while baby boomers on average are saving a slightly higher percentage of their salary for retirement than millennials are saving, more millennials have increased their retirement savings within the past 12 months (40% vs. 21%).
If you want to mimic these great savers, consult Consolidated Credit's free advice for Making Effective Plans for Retirement and Financial Planning for Life Events. If you're struggling with credit card debt and can't even begin to think about saving, you need to get back to break-even as soon as possible. A certified credit counselor can help. Call us for a free debt analysis at 1-888-294-3130.