Research of the Week: Home Sale Results are in for 2014
The National Association of Realtors reveals how selling data from last year.
Each week, Consolidated Credit searches for unreported financial research that can help you deal with your debt and budget. This week…
The interesting study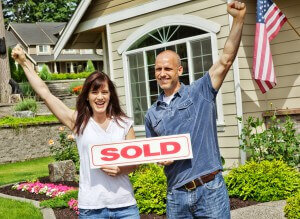 Last Friday, we looked at the annual report from the National Association of Realtors® with a focus on the profile of the average American homebuyer in 2014. However, the report covered more data than just about the buyers and the homes they purchased. It also profiled sellers and home sale trends. We'll be looking at that side of the survey today.
The big result
In spite of things like new regulations in the market and advances in technology, traditional logic about home sales seems to still hold true. Sellers relied on agents found through family and friend referrals, used traditional tools like MLS listings, and traded up to bigger and better homes after their sales.
The fascinating details
Here are some facts about home sales and sellers in 2014:
Although some reports show sellers are moving into rentals, the majority are working their way up the market.

40% purchased larger homes
47% purchased more expensive homes
53% purchased newer homes

88% of sellers still rely on a real estate agent, and about 38% of those agents are found by family or friend referrals. Most people (70%) only contacted one agent before selecting them.
91% of sellers used the Multiple Listing Service (MLS) to advertise their home.
Home were sold for 97% of the listing price, on average, but 45% of sellers reported going through at least one price reduction before the sale.
The biggest difference in the seller's market from past years? Sellers are holding onto their homes longer than they did before the market collapsed in 2008. In 2007, the median home tenure (number of years lived in a home) was 6 years. Last year, it was 10 years.
What you can do
If you've been hanging onto your property, waiting for the market to finally recover, this year may be time to get your home listed. Experts predict values will rise by about 4.4 percent over the course of 2015, but they also say it will take until May 2017 for the majority of homes in the U.S. to recover their full pre-recession values.
Thankfully, data shows us that currently appraised property values are close to what owners think their homes are worth. Look at the numbers, in some key markets, values are actually higher than the perceived values that owners have. So while you may think you're still stuck, you might be in the right situation to sell and move on.
With home values at this level of recovery, chances are better that you can avoid things like credit-damaging short sales. First use a free online appraisal tool like Zillow or Eppraisal to check the current estimated value of your home. Compare that to your remaining loan balance to ensure you can sell for more than what you still owe – keep in mind you may not be able to recoup what you originally paid or as much profit as you would have made at the peak of the market.
Still, the most important thing is that the sale will provide the means to make your next housing move. That means generating enough profit to cover the down payment on your next home or – if you don't plan on buying again – that it will cover rental deposits and moving costs. If the sale can get you where you want to be, then it may be the right time to sell.
If you're thinking of selling but you need to weigh your options with a professional, we can help. Call Consolidated Credit today at 1-800-435-2261 to speak with a HUD-approved housing counselor about your situation.