Stop Crying about Home Buying
The financial stress of buying a house leads to emotional stress – unless you take these precautions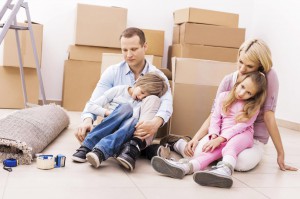 Summer is home-shopping season, yet new research from online marketplace Zillow points to some disturbing news – about everything from tears to fears.
In one survey of parents who were on a house hunt, "53 percent of parents report crying at least once during the process, and half say they fought with their partner one to two times a week."
Essentially, the survey points to the fact that parents who don't plan ahead and hunt effectively with kids in tow often make decisions during the home buying process that they later regret. The article goes on to recommend that doing things like getting a sitter while you house hunt and arranging a day care plan before you move can help parents reduce home buying stress.
Bigger problems than your children
Unfortunately, noisy kids in the backseat while you're housing hunting aren't the only challenge you'll face house hunting this summer. Another Zillow study finds low income earners couldn't afford even the least expensive homes on the market in roughly one third of the housing markets throughout the U.S.
So, for instance, if you live in Los Angeles and you're in the lower one third of income earners in the U.S. then you'd spend roughly 85 percent of your paychecks on your mortgage even if you bought the cheapest home possible.
These are the five worst housing markets for affordability this summer and how much of your income you'd have to realistically spend on mortgage payments:
San Jose, CA – 85.6%
Los Angeles, CA – 84.7%
San Francisco, CA – 72%
San Diego, CA – 70.1%
New York / Northern New Jersey – 59.3%
That's definitely bad news for California renters looking to buy. At least from a budget perspective, you may be better off just picking up and moving to more affordable pastures. These are the five best housing markets for home affordability and how much of your income you'd expect to spend:
Detroit, MI – 12.7%
Kansas City, MO – 16.1%
St. Louis, MO – 16.7%
Columbus, OH – 17.3%
Pittsburgh, PA – 18.0%
Of course, that doesn't necessarily mean that you should pick up and move to these areas – you may struggle to find stable employment or a good neighborhood with a low crime rate.
Lending regulations are less of a problem this season
Zillow does have a small bit of good news for homebuyers – one area where you may have less stress when it comes to home buying. One additional survey from Zillow finds almost half of lending experts believe mortgage lending regulations will get easier. That means as a potential homebuyer, you may face fewer hoops to jump through the get the mortgage approval you need for your dream home.
Of course, at the same time, roughly one in four experts believe lending will become "too lax" in the next five years. As a result, we may face a pre-crash issue where buyers get approved for a mortgage they can't really afford.
"Relaxed standards are great for homebuyers because it means the mortgage approval process may be easier to get through," says Maria Gaitan, Housing Manager for Consolidated Credit, "but the tradeoff is that buyers have to be careful and do their due diligence to ensure they're not biting off more than their budgets can chew."
For more information on home buying, visit Consolidated Credit's homebuyer education section. You can also call 1-800-435-2261 to speak with a HUD-approved housing counselor in a free, confidential consultation.