Student Loan Default Rate Better, but Not Great
Default rates remain high versus pre-recession numbers.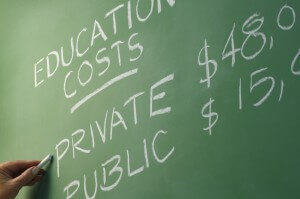 The default rate for student loans is measured in a slightly unique way. With most types of debt like mortgage or credit card debt, default rates are measured directly – how many loans or lines of credit are in default at the time the measure is made. But student loans are a little different.
Loan default is only measure for people who are in their third year or repayment. So the default rate only measures loans that had started the repayment process by Oct 1, 2010. With that in mind, the default rate declined to 13.7 percent from 14.7 percent at the same time last year.
This delay is meant to account for the high number of loans that a deferred in the first few years after the payment schedule starts.
On the other hand, some schools – particularly some for-profit schools that face the possibility of losing federal funding because the default rates for their institutes are too high – feel the system isn't fair.
Why for-profit schools are right to be concerned
If any institute has an individual default rate greater than 30 percent for three consecutive years (or over 40 percent for one year), they lose access to federal funds. That means no federal student loans can be used to attend that school – which would often be a critical hit to that institution's ability to keep its doors open.
Broken up by type of institution default rates look like this:
12.9 percent for public colleges and universities
7.2 percent for private, nonprofit institutions
19.1 percent for for-profit schools
In fact, the Department of Education has named 21 schools who risk losing their funding if their default rates don't improve. The DOE essentially sees a high default rate as a sign that attendees of that school are not able to achieve an acceptable income – hence they're not living up to the commitments they've made to their student body. As a result, they lose their federal funds.
Of the 21 schools, 20 are for-profit. These include business and trade schools that you commonly see advertised as a better alternative to a traditional college education. They're packaged and sold as more affordable, more flexible and more targeted to providing education that translates into real world experience. However, such high default rates seem to disagree. As a result, many are beginning to question the validity of these kinds of institutions taking federal student loan money.
"You can't just assume that a trade school advertised on daytime TV is a more affordable education option versus a traditional community college or 4-year college," argues Gary Herman, President of Consolidated Credit. "The right education is the one that helps you get on the career path you want. In some cases, a traditional college may be the better option."
If you're struggling with student loan debt and need help avoiding default, Consolidated Credit offers free education on student loan consolidation. With the right consolidation program, you may be able to reduce your monthly payments so you can avoid default.