The Costly Truth about Student Loan Repayment
U.S. government set to forgives $108 billion in coming years.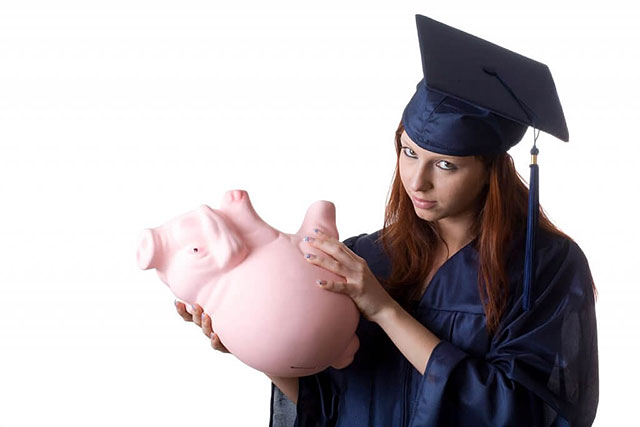 Student loan debt is definitely a burden. It's now the second largest source of debt in the U.S. – second only to mortgages. It's also responsible for the average student graduating roughly $35,000 in debt. However, a new report from the Government Accountability Office finds repayment programs may cost our government (and as a result, taxpayers) more than expected, too.
The GAO finds the government is on track to forgive at least $108 billion in the coming years. This is a combination of loans forgiven under the Public Service Loan Forgiveness program and balances reduced by income-based repayment programs.
"Enrollment in such plans has more than tripled over the past 3 years to 5.3 million borrowers, who owe roughly $269 billion, according to Education Department statistics."
In theory, federal student loan repayment programs paid for themselves. However, it now seems these programs could end up costing the government over $108 billion in the coming years.
What you can expect with student loan repayment programs
The GAO also indicates that there is growing evidence that these programs are not helping the most at-risk borrowers and may be helping borrowers who don't really need the assistance:
"Growing evidence suggests many of the most hard-pressed borrowers – college dropouts who owe less than $10,000 – aren't taking advantage of the programs, while workers with graduate degrees, such as doctors and lawyers who don't necessarily need help, are."
This fact paired with high costs mean federal student loan repayment programs may be revamped in the next four years. President-Elect Trump said during his campaign that he supported helping student loan borrowers. His proposals include:
Setting payments at 12.5% of income
Forgiving balances after 15 years
Shifting away from federal programs in favor of private sector lending
Currently, the federal government offers 3 income-based repayment plans, with monthly payments that range from 10-20% of the borrower's Adjusted Gross Income, depending on family size. Remaining balances are forgiven for public servants and after 25 years for everyone else. It's unclear how much President-Elect Trump's 12.5%, 15-year plan would change things for borrowers and the government.
However, moving toward private-sector borrowing would definitely impact people's ability to borrow effectively for higher education.
The problem with private sector student loan debt
Unlike federal student loan programs, private sector student loan approval depends on your credit score. You qualify for a set loan amount at a certain interest rate based on how high your credit score is. However, most student loan borrowers are just starting out and often have little to no credit.
By law you can't get a credit card until you're 21 without a cosigner
Most teens don't take out loans
As a result there a few ways to effectively build credit before you borrow for school.
Another challenge is that it's up to the lender whether they offer debt relief programs to overextended borrowers. Eligibility for student loan consolidation, repayment plans and forgiveness for federal student loan debt is based on your income and family size. In other words, its need based.
However, your ability to qualify for consolidation or relief on private student loan debt is based on your credit score and the willingness of the lender to work with you. And private student loan debt still can't be discharged during bankruptcy. As a result, moving all student loan borrowing into the private sector could hurt many consumers' ability to borrow effectively.