Summer Break without Breaking the Bank
Most of us plan to travel over the next few months. But how many will go broke doing it?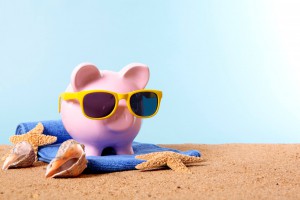 This summer, 80 percent of Americans will take a summer vacation, and they'll spend an average of $941 per person doing it.
That's just one of the findings in a new American Express study called Pack Your Bags, America. But at the bottom of the study, below some other interesting stats — like the fact that 35 percent of us will go other places for Fourth of July — are some encouraging ones…
38 percent will save money by driving instead of flying
30 percent are "dedicating more time to bargain-hunting for deals on air, hotel, etc."
27 percent will save by "planning a shorter trip."
If there's one negative to the AmEx report, it's this: 75 percent "set aside money for their planned trips." That sounds like a good thing, right? Yes, except last year, 81 percent did.
Still, if they can't save money for their summer vacations, Americans are getting creative about finding economical destinations. While the staycation craze of the recession may be over, 72 percent of travelers this summer aren't venturing far from home: 72 percent "are planning stateside getaways" while only 15 percent are heading overseas.
In fact, many are heading outdoors, which is healthier and cheaper. We're talking beach trips (40 percent, hiking and camping (21 percent), and national park visits (21 percent).
If you're looking for unique and painless ways to save on your summer vacation, check out Consolidated Credit's Vacation Budgeting section for a long list of tips.