The Risk of Outliving Your Money
Many adults believe they don't have enough assets to live through retirement.
Each week, Consolidated Credit searches for unreported financial research that can help you deal with your debt and budget. This week…
The interesting study
Northwestern Mutual, a nationwide insurance and investment company, surveyed 2,092 American adults. The participants answered questions regarding their financial future, how they are preparing for it, and how confident they are about their prospects after retirement.
The big result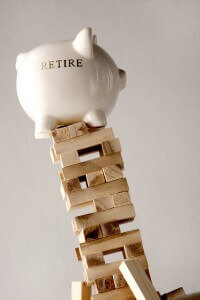 Although nearly half of those polled say they "feel financially secure" just over a quarter of adults 25 and older "do not believe they'll be financially prepared to live to the relatively young age of 75."
As life expectancy increases so does the percentage of people who think they'll be financially bereft.
Northwestern Mutual reports, "32 percent don't believe they'll be financially prepared to live to 85," and, "39 percent don't believe they'll be financially prepared to live to 95."
What's stopping them from preparing for the future? "Debt, unexpected expenses and a lack of effective planning" are mostly blamed for their financial woes.
The fascinating details
When looking deeper into the survey, it's clear that poor financial planning is a major issue for those polled. 67 percent have a savings account but their savings strategies sputter from there:
A mere, "27 percent own stocks and only 14 percent own bonds"
Only 23 percent have mutual funds
39 percent invest in an IRA
24 percent "own term life insurance"
Only 6 percent "have a college savings account"
What you can do
Saving for the future is a necessity if you want to retire on time and live out your golden years the way that you want, but many people need guidance. That's why Consolidated Credit has created a helpful retirement savings guide that can help you get started on paving a smooth road into retirement.
We also have resources for developing effective saving strategies that can help you free up cash flow in your budget to boost your monthly savings. That way, you have more money available for short-term and long-term savings, for things like retirement.
And don't forget, if you have credit card debt that's keeping you from reaching your financial goals call to speak with a certified Consolidated Credit counselor at 1-888-294-3130. We can help you get started on road to financial success with a free Debt and Budget Analysis.