Throwing Money Away on High Rent Payments
Total rent payments increased $21 billion in 2014.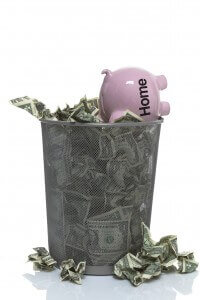 Traditionally, property rentals are usually seen as a stepping stone to homeownership in a consumer's financial life. Most people rent property early in life, eventually becoming homeowners once their financial lives are stable enough to support a mortgage.
However, a new report from Zillow might make you wonder how useful renting actually is if you eventually want to become a homeowner. That's because rent increased by $21 billion in 2014, for a total of $441 billion collected in rent payments over the past twelve months. Nationally, that's an average increase of 1.9 percent, while the median rent payment increased by 2.9 percent.
Here's a breakdown of the Top 10 biggest monthly payment changes from 2013 to 2014:
San Francisco, California $163
Denver, Colorado $86
Seattle, Washington$76
Miami / Ft. Lauderdale, Florida $59
Washington, DC $59
Boston, Massachusetts $58
Pittsburgh, Pennsylvania $56
San Diego, California $55
Chicago, Illinois $50
Portland, Oregon $46
For renters in San Francisco, Denver and Pittsburgh the percentage was actually in the double digits – in other words, your payments increased by 10 percent or more.
"High rent payments cause a number of problems for consumers who rent property," points out Maria Gaitan, Housing and Business Development Manager for Consolidated Credit. "First, rent eats up a higher portion of the consumer's income, which can then make it harder to save up for things like a down payment on a first mortgage. It also means youth often have to move back in with their parents or find roommates because they can't find affordable housing."
What's worse, in many places monthly rent payments are actually outstripping mortgage payments in the same area. So as a renter, you may end up paying more than a homeowner would on a comparable property.
In the past, the biggest advantage of rent was that the monthly payments were usually lower, so you had more money available to save. This gave American consumers a clear path to follow towards homeownership. Mortgage payments were historically higher, but the tradeoff was that you owned the property and had the advantage of building equity.
Now, renters are paying more without the benefit of earning any equity, so you're spending more without gaining anything extra. Essentially, the system is out of balance. This makes it even more imperative for consumers to achieve homeownership goals as soon as possible, so they can stop throwing so much money away.
3 tips to become a homeowner in 2015
Homeownership doesn't work for everyone, but it's often the best solution if you can afford to make it happen. If you're tired of feeling like you're throwing money away on high rent payments, follow these three tips to see if you can achieve your dreams of buying a home in the coming year:
Streamline your budget to generate a down payment. The biggest roadblock most people face in making homeownership a reality is generating the money needed for a down payment. Cut all unnecessary expenses from your budget and close up spending leaks like dining out or high entertainment costs so you can get the money you need as quickly as possible.
Consider FHA lending options. In the past, you needed 20% of the purchase price for your down payment, but the Federal Housing Administration offers several lending solutions that could get you into a home with as little as a 3% down payment. These options can dramatically reduce the time you need to get the money together because you don't need as much.
Use HUD-approved housing counseling services. Housing counseling is a good idea because it can help you find lending options and government assistance programs that you may not even know exist. Not only that, in some cases you can get a discount on things like mortgage insurance if you take a HUD-approved course.
If you have questions or want to enroll in our next Homebuyer Workshop, call us at 1-800-435-2261 and we'll connect you with a HUD-approved housing counselor.