Total New Credit Card Debt Jumps Over 25 Percent
New credit rises to six year high, but can consumers really handle the debt?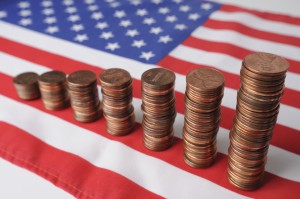 The latest National Consumer Trends Report from Equifax proves that Americans aren't all that scared about taking on new debt in the post-recession era. Total non-mortgage / non-student loan credit originated through May of this year topped out at $365 billion. That total includes auto loans, bank and retail-issued credit cards and other consumer financing options.
This is the most new debt we've seen in the past six years – effectively, since just before the real estate market collapse that started the recession in 2008. It is also an 11 percent increase from the same time last year. Bank-issued credit cards alone generated $96.4 billion in new debt – a 25.4 percent increase from last year.
Still, it begs the question of whether the average American consumer is really prepared to handle that much debt or if we're simply falling back into bad habits now that the economy is in recovery. This uncertainty has experts like Gary Herman, President of Consolidated Credit, concerned.
"When things got tough and the economy was weak, most consumers started to cut back, pay off debt and focus on savings," Herman points out, "but now in the recovery, at least some consumers are backsliding. If we don't take away the lessons we learned during the recession, we may be doomed to repeat the financial panic of a few years ago."
5 tips for financial stability
If you don't want to repeat the mistakes of the past, Consolidated Credit offers these five tips for maintaining financial stability no matter what happens with the economy: