Vacation Saving Strategies for Servicemembers
Fear of sequestration and a shaky economy has turned servicemembers into savers.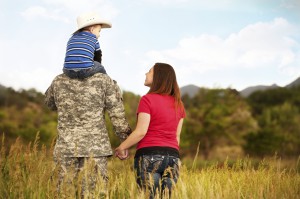 Servicemembers say sequestration and economic issues are forcing them to make significant changes when planning for vacation. Luckily, servicemembers are trained to adapt even under the most difficult conditions. As a result, many servicemembers are now taking steps to adjust their outlook in the face of an uncertain financial environment.
Fifty-nine percent of "middle-class service members" ("senior NCOs and commissioned officers in pay grades E-6 and above with household incomes of at least $50,000") said they use "one or more" saving strategies to keep costs low when preparing for a vacation in the recent First Command Financial Behaviors Index®.
The most common strategies include:
35 percent drive to their destination instead of flying
27 percent cook on vacation instead of dining out
25 percent don't travel far from home
23 percent go see family and/or take shorter vacations
22 percent take "staycations" and/or bunk with friends
Scott Spiker, CEO of First Command Financial Services, Inc. says "Roughly seven out of ten military respondents say they feel anxious about sequestration and expect to be financially affected by anticipated cuts to defense spending. These families have made spending less and saving more a permanent part of their financial behaviors. Cutting back on vacation spending is a reasonable and frugal response to an uncertain financial future."
Optimism for servicemembers
The news is not all bad for servicemembers as 52 percent say they are "feeling extremely or very confident" that their finances will get better in the next 12 months. Forty-six percent reveal feeling "extremely or very confident" that they will be able to "retire comfortably."
"It's great to see servicemembers rallying from a financial standpoint even though they're clearly worried about sequestration and the economy," says Gary Herman, President of Consolidated Credit.
"Servicemembers are taught to adapt when confronted with hardship and adversity," says Herman. "It's inspiring to see them do it in the face of financial adversity, too. Unfortunately the families of servicemembers also have to deal with these worries, which could mean changes at home that can impact everyone."
To help service members alleviate financial concerns and build better strategies, Consolidated Credit offers a customized financial resources section just for military servicemembers and their families. From dealing with deployment to housing advice and tips on savings, this informative resource can help ease the stress felt by our country's servicemembers.