Sweethearts Spend Less than $100
Valentine's Day spending expectations focus on moments instead of gifts.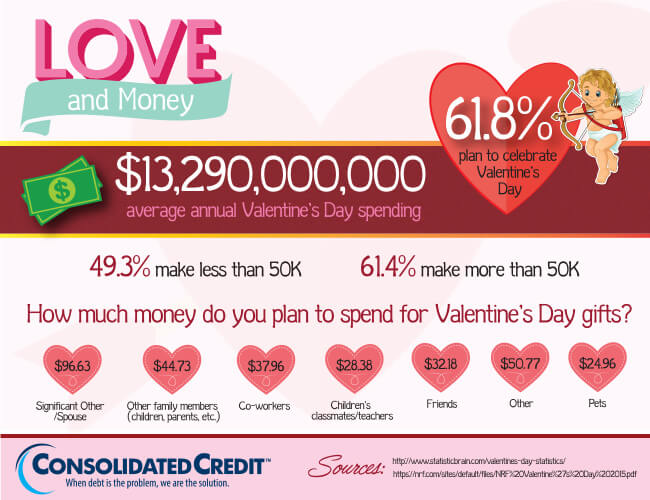 Each week, Consolidated Credit searches for financial research that can help you deal with your debt and budget. This week…
The interesting study
Each year the National Retail Federation puts out an annual consumer spending expectations survey for Valentine's Day. Total spending this year will hit a record high at $19.7 billion.
The big result
While total spending is up overall this year, spouses and sweethearts are being strategic about their Valentine's budgets. So 90.8 percent of survey respondents will buy a gift for their significant other, but the average expenditure is less than $100 – $89.96 to be exact. Roughly four in ten (38.8%) will also head out for a date.
The fascinating details
When it comes to gifts, here's what Americans are spending on gifts for their Valentines this year:
$1.7 billion on candy
$4.5 billion on date nights
$4.4 billion on jewelry
$1.1 billion on greeting cards
$1.9 billion on flowers
Interestingly, the survey also says people will spend $2 billion on apparel – no word on whether that's buying your girlfriend her dream pair of Jimmy Choo pumps or if that's apparel to make the person look sharp on their date.
In addition to spending on significant others, Americans also plan to shell out a little cash for others too. The average American will spend…
$27.79 on family (children / parents)
$7.08 on children's classmates and teachers
$5.83 on co-workers
And, of course, we'll spend $681 million on our pets to show them our love.
What you can do
It's no secret that Valentine's Day is a highly commercialized holiday. Jewelry commercials abound this time of year with the latest gimmicky diamond designs that you can't live without if you really want to express your love.
Still, when it comes down to it, moments are usually the thing that we remember about special occasions. Your Valentine probably won't remember that you bought a particular ring design that year because it symbolized that they're your true love and their best friend (because saying, "I love you" with one diamond is so last year). On the other hand, write them a song that expresses the same thing and they'll remember it forever – whether you can sing on-key or not.
So if you've not finished nailing down your Valentine's Day date plans for this weekend, take note. Going out to grab that planned out 3-course meal for two might be romantic – assuming you don't get seated next to a screaming toddler. On the other hand, spending Sunday cooking a 3-course meal together that has meaning for you as a couple is cheaper and more noteworthy for making memories. You'll have a day of shared experiences to look back on plus the cash that you saved in your pocket. And who doesn't love that?