Visa Marks 10 Years Financial Literacy Innovation
Financial Literacy Summit 2016 commits to education and action.
Yesterday, international government agencies, financial institutions and nonprofit consumer groups from around the world all came together at the Federal Reserve Bank of Chicago to talk about financial literacy. The event, hosted by Visa, is one of the biggest events that occurs within National Financial Literacy Month in April every year. This year marked a decade of innovation and education initiatives that evolve out of this landmark annual event.
The panels this year focused heavily on technology and the evolution of finance as the result of technological innovation. Participants and webcast viewers were challenged to find new ways of using technology and integrating financial education tools into new mediums like social networking. This will allow more people to access and use financial literacy resources that are critical to improve people's financial knowledge so they can take the right actions to achieve stability.
With technological innovation in mind, Visa provided a free webcast that was watched by interested viewers around the world, while a taking live questions from the worldwide Twitter conversation that was occurring at the same time under the hashtag #FinLitSummit.
Here are some of our favorite tweets and quotes from the event: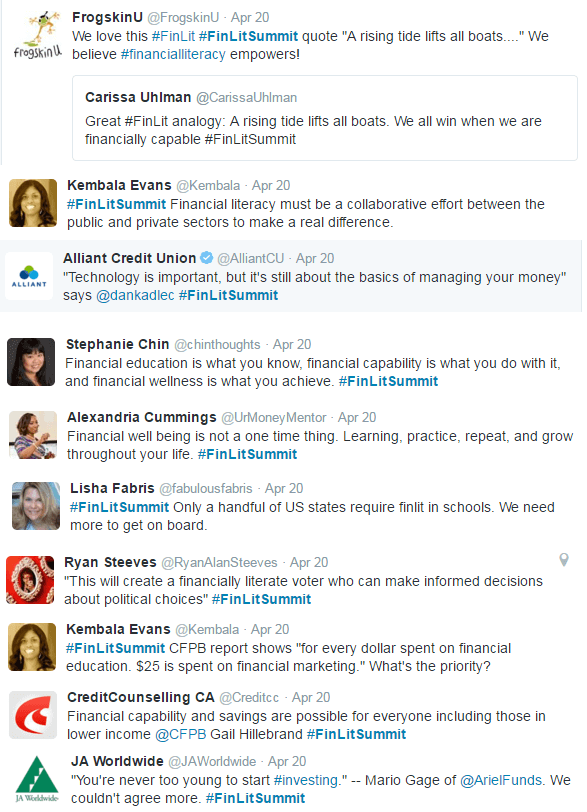 Speakers at the event who you see quoted above include keynotes speaker Canadian Finance Minister Francis Moreau and Gail Hillebrand of the Consumer Financial Protection Bureau.
Start your own journey
Financial literacy is critical in the journey to achieve stability that allows you to reach your financial goals. In finance, what you don't know CAN hurt you, so it's important to continue building knowledge throughout your lifetime in order to be successful.
If you want to test your financial knowledge, take Consolidated Credit's Financial Literacy Test. It can help you see what you know and where you might be weak so you can make a plan to learn and grow. Also, if you're a parent, remember that the earlier financial literacy starts, the more successful your children can be later in life. Start Talking Money with Your Kids early and teach them how to budget. If you need additional resources, log on to Consolidated Credit's free Financial Education Center to find a range of resources you can use.