What are Grandparents Good for?
For today's young adults, they're good for financial advice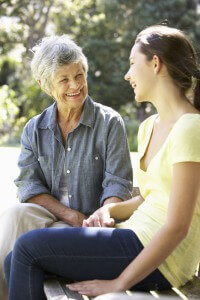 The stereotype goes back generations: Grandchildren just want their grandparents' money.
For the current generation, it's a little different: Today's young adults want their grandparents' money advice. Unfortunately, most grandparents don't seem to know that.
"Only 8 percent of grandparents say they are likely to start a conversation with their grandchildren ages 18 and younger about money and the importance of saving for college," reveals a study released yesterday by TIAA-CREF. "However, 85 percent of young adults say they are open to talking with their grandparents about money and saving."
The study concludes, "Grandparents have a big opportunity to make a positive impact on their grandchildren's future financial success by simply talking to them about money."
How they did it
The financial services company polled 1,000 grandparents with grandchildren 18 to 24 years old. They didn't just call them on the phone, however. Researchers sat with the both young and old in focus groups.
What they learned
Paying for college is the key issue for both grandparents and grandchildren.
Even though 66 percent of grandparents felt no obligation to help pay for their grandchildren's college, 23 percent felt compelled to do it, anyway – if those young adults were "mature" about money and had good spending habits.
"In our focus groups, we found grandparents are willing to help their grandchildren financially, but they want some assurance that their grandchildren have 'skin in the game,'" says Joseph Coughlin, an MIT researcher who assisted on the study. "Grandparents need to know their grandchildren are serious about achieving future success through advanced education by using their own money to help pay for at least part of it."
Why young adults need help
When researchers spoke to the grandchildren, they learned 30 percent have nothing at all saved for college – even though nearly all (97 percent) were concerned about it. They're looking for advice, and they want it from someone they know has been through it all before.
"Young adults are surprisingly open to talking with their grandparents about money, regardless of the generation gap," Coughlin says. "When it comes to saving for college, most young adults feel unprepared, and grandparents aren't fully aware of how they can help. Conversations about money over time could help young adults more than their grandparents realize."