What's Keeping You from Owning?
How income stagnation is keeping Americans out of homeownership.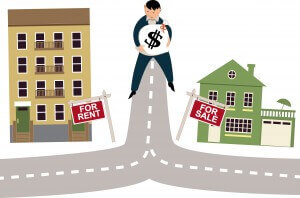 Most financial and economic news coming in at the start of 2015 has been positive. For instance, America ranks sixth on the list of the optimistic economies according to a recent survey of business leaders. According to Gallup Daily this is also the first time since 2008, where at least half of the consumers in the U.S. really believe the economy is getting better.
In addition, the housing market is in full recovery. Home prices are up, mortgage interest rates are down. At the same time, rent payments continue to increase, and in many places a renter will pay more per month than a homeowner on a comparable property. So if that's the case, then why according to Fannie Mae's latest National Housing Survey are consumers so cautious about becoming homeowners?
According to Doug Duncan, Senior VP and Chief Economist at Fannie Mae, "Our survey results show that consumer housing sentiment has, on average, been moving sideways amid some improvement in the general view of the economy. It is not surprising that the housing sector continues to lag behind the rest of the economy given the long-term financial commitment that getting a mortgage represents. Many prospective homebuyers want to be certain that their personal finances can withstand potential downside risks to the economy."
Two challenges holding potential homeowners back
Basically, the experts believe the reason more people aren't moving down a path toward home ownership comes down to two things.
The first is income stagnation. Only 25 percent of consumers report their household income is significantly higher than it was 12 months ago. Without added income, consumers may not be able to save up a sufficient enough sum of money to make a down payment on a home. Any down payment less than 20 percent of the home's purchase price means the monthly payments on the mortgage will be higher, because of things like added mortgage insurance costs.
The second challenge really comes down to fear. While 52 percent of people believe it would be easy to get a mortgage and 64 percent believe it's a good time to buy, the responsibility of such a significant asset (and debt) is scary – especially after many consumers just escaped the financial issues brought on by subprime mortgages given out before the market collapse in 2008.
"It's unfortunate that a lack of pay increases and fears caused by the recent collapse are keeping current renters from achieving the goal of homeownership because over the long-term it's actually the better option for housing in today's market," says Maria Gaitan, Housing and Business Development Manager for Consolidated Credit. "Not only do you get the benefit of holding a significant asset, but in many places the monthly budget impact of a mortgage is less than rent payments on comparable properties."
Of course, while the payments may be lower, there is still the challenge of generating the money necessary to make a down payment. For most consumers with current savings levels, their households just don't have that kind of money on hand.
But Gaitan encourages these consumers to explore their options for lending alternatives that don't require the full 20 percent needed for a traditional fixed rate mortgage. "The Federal Housing Administration has solutions to help people – especially first-time buyers – get the financing they need, without taking on the dangerous subprime mortgages that got so many consumers into trouble after 2008.
"There are also things you can do to offset the added monthly cost of mortgage insurance if you decide to make a down payment that's less than 20 percent," Gaitan continues. "For instance, the FHA offers certain incentives, such as insurance reduction, if you take an accredited and HUD-approved homebuyer education course."
If you're currently renting and need more information on how to successfully achieve homeownership, we can help. Call to speak with a member of our HUD-approved housing counseling team at 1-800-435-2261 to learn about our free first-time homebuyer workshops,or you can sign up to take the course online for $99.