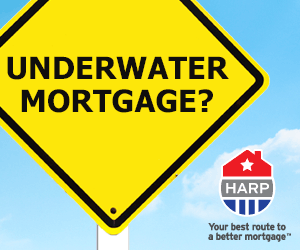 FHFA Director Mel Watt recently stated that over 800,000 homeowners are eligible to refinance their existing mortgage under the Home Affordable Refinance Program, including 100,000 in Florida.
Despite a reduction in interest rate and average payment reduction of $200 per month, consumers are not taking advantage of this program. Why not?
For those consumers with a mortgage originated prior to May 31, 2009, who have remained current over the last year, and who have a loan to value of greater than 80%, the HARP refi seems to be a simple decision. In fact, many homeowners have used the HARP not to reduce their monthly payment but to reduce the term of their mortgage, ensuring a quicker payoff and savings over their existing mortgage.
These refis are also a great solution for borrowers who are underwater, since no appraisal is necessary under the program. Anyone with an ARM (adjustable rate mortgage) would likely stand to benefit as well with a move to a stable fixed rate mortgage.
Despite the benefits to borrowers, many consumers are not taking advantage of this program. The reasons we find consumers are not taking advantage of the program are:
Unaware of the program
Not sure they would qualify due to being "underwater"
Unsure how to proceed
Told by their lender that they do not participate in the HARP program
Don't want to refinance to another 30 year loan
Unaware that there is a program to reward "on time" responsible borrowers
All of these reasons are easily addressed, and the industry needs to promote the message that there is an effective way to refinance many mortgages to a more favorable rate, with potential monthly savings of hundreds of dollars, and thousands of dollars over the life of the loan. With the revised HAP rules, even more borrowers stand to save with this refi method.
FHFA has suggested the three simple steps to "get HARPed:"
STEP 1: Gather your basic financial information before you contact your mortgage company. You'll need:Your mortgage statements, including information on a second mortgage (if applicable); and your income details (paystub or income tax return).
STEP 2: Contact your mortgage company online, in person or by phone. Ask if they are an approved HARP lender. If they are, be prepared to provide the information necessary to verify your current source of income. If they are not, shop around by using these lists of approved HARP lenders to see who is offering HARP near you: Fannie Mae list of approved lenders at https://knowyouroptions.com/find-resources/mortgage-assistance/helpful-contacts/contact-a-harp-lender.
STEP 3: Go through the application, approval and closing process. If your lender determines that you qualify for HARP, they will guide you through the process.
Director Watt has embarked on a national "road tour" of those areas with the highest concentrations of HARP eligible borrowers, hosting roundtables with representatives of Fannie Mae, Freddie Mac, FHFA, Department of Treasury, select mortgage Servicers, and local HUD housing counseling agencies. The next effort to "get the word out" will occur on Friday, December 5, 2014 at Miami Dade College.
As Director of Housing at Consolidated Credit Solutions, I am pleased to serve on the upcoming panel with Director Watt and the other participants. More information about the event can be found at: https://www.harp.gov/Default.aspx?Page=364.