Where's the Financial Love?
More and more, money is a key factor in finding a partner… and keeping your relationship healthy.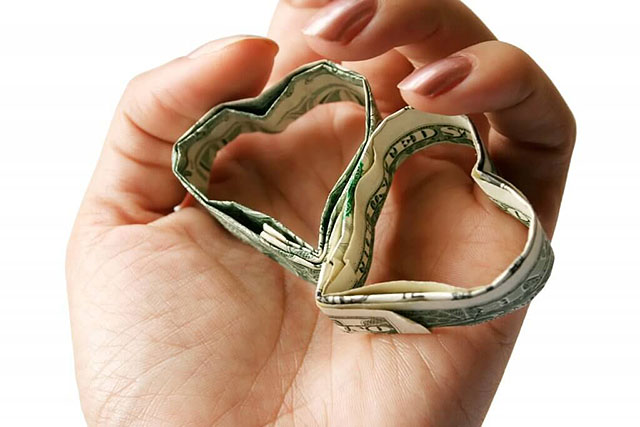 Fights about money are known to be a leading cause of divorce. But that's not the only way money plays a key factor in your love life.  As couples get ready to celebrate Valentine's Day tomorrow, media outlets are rife with studies of how money affects your ability to find (and keep) a partner. Here are some of our favorites…
#1: Having more income than debt makes you attractive
A LendingTree survey featured on CNBC shows that having more income than you have debt makes you more attractive. And the more money your prospective love interest makes, the less they want a partner in debt. Income earners with an annual salary of $75,000 or more are particularly.
One positive note if you're in debt and looking for love, not all types of debt necessarily make you look bad. If you have more student loan debt than high interest rate credit card debt, there's a good chance your partner will cut you some slack.
The report also quotes a TransUnion study that finds good credit makes you more attractive to potential love interests. The results show roughly one quarter of Americans believe a good credit score makes someone more attractive.
#2: Your Valentine wants you to scale it back
A LearnVest article quotes a 2016 study they conducted on Money Habits & Confessions.
One third of people want their Valentine to cut down on dinners out
16% say they wish their partner would dial it down on gift giving
The survey also found over half (51%) of people wanted their partner to focus on paying off debt this year. Freedom from debt is definitely the gift that keeps on giving.
#3: 13 million Valentines admit to hiding money
Forbes recently published an article featuring a study from CreditCards.com. It reveals 13 million Americans have a hidden bank account or credit card that they keep hidden from their spouse or live-in significant other.
Even if your true love isn't hiding a whole account, you may want to check your monthly statements:
Roughly 4 in 10 people have spent more than $100 without telling their partner
Almost 1 in 5 (19%) spent more than $500
And if you think all of that secret shopping is caused by women, think again. Men are twice as likely as women to shell out over $500 on a secret expense.
Oddly, the report points out, people aren't as bothered by secret spending as you'd think. Almost one quarter of people say "their spouse or partner should be able to spend more than $500 without letting them know."
"It's amazing to me that people don't think $500 of cash disappearing is a big deal," admits Gary Herman, President of Consolidated Credit. "For the average American household, that could cover one or two bills. Spent at the wrong time, $500 or more could easily send your budget into the red."
3 Tips for Getting on the Same Financial Page
Herman argues that both partners need to be fully informed at all times on where the household finances stand.
"The more both of you know, the more you talk about it, the easier it will be to maintain stability and achieve your goals together," Herman explains. "Honesty is crucial to avoid fights about money that can end your relationship. But beyond that you both need to lean in when it comes to creating the financial future you want together."
#1: Set up weekly money chats
Discuss upcoming bills and expenses, as well as savings goals you'd like to reach. Together, you can check your accounts to see where you stand. It's also a good idea to check your spending against your budget to make sure you're on target for the month.
#2: Make better credit a goal as a couple
Whether one person's score is high and the other is low or you're both low, talk about steps you can each take to improve your credit. This often starts with paying down existing debt. Prioritize debt repayment as a couple so the highest interest rate debts like credit cards get paid off first, and then you can move on to debts like your student loans.
#3: Set some annual goals together
Talk about what each of you would like to accomplish over the coming year. Do you want to pay off debt, establish emergency savings or start investing? Talk about those goals and prioritize them; then map out a strategy together that will allow you to achieve it.