Who's Behind on Credit Card Debt?
New statistics show the Top 10 states where consumers are behind.
Each week, Consolidated Credit searches for unreported financial research that can help you deal with your debt and budget. This week…
The interesting study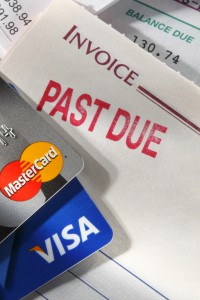 The credit experts at Experian Intelliview release a new report that details the credit card delinquency rates by states for the third quarter of 2014. This report outlines the states with the highest consumer delinquency rates on credit cards. Delinquency rates measure how many credit cardholders are more than 30 days behind on their credit card payments.
The big result
The national credit card delinquency rate is 1.7 percent. So basically, for every 100 cardholders (i.e. people who use credit cards) about 1-2 of them are more than 30 days late with at least one credit card payment. This includes people who are more than 60 or 90 days late as well, but does not include anyone who's had their account moved to charge-off status by the creditor due to nonpayment.
The fascinating details
The report also broke down delinquency rates by state, showing which states have the most consumers struggling with past-due credit card debt.
Here's the Top 10:
Mississippi      2.82%
Louisiana        2.27%
Arkansas         2.24%
Alabama         2.23%
West Virginia 2.15%
Georgia           2.13%
Kentucky        2.04%
Tennessee       2.03%
Oklahoma       2%
Nevada           1.96%
These numbers are encouraging, because they show that consumers are continuing to make progress in getting ahead of credit card debt. While other types of debt like student loans have high default rates, the delinquency and default rates for credit card debt continue to improve. The 30-day delinquency rate is now equal to the 60-day delinquency rate from August 2012, which means consumers are having an easier time keeping up with their payments and – when they fall behind – they are catching up faster.
What you can do
Missing a credit card payment by 30 days doesn't just incur penalty APR and added fees. If your payment is more than 30 days late, the credit card issuer will notify the credit bureaus. This means the late payment gets logged on your credit report as a negative remark, which in turn can drag down your credit score.
As a result, consumers who are struggling to keep up with credit card debt payments often end up performing a financial juggling act, where they try to stay just ahead of allowing their bills to lapse beyond 30 days, or they juggle to keep them out of default after 6 months of nonpayment. However, this is not a sustainable system – eventually, something is going to fall off.
We can help. A debt management program often helps consumers who are starting to fall behind to consolidate their debt so they can finally get ahead. As long as your debts haven't been moved to a charge-off status after 6 months of nonpayment, you may be able to include your debts in a customized program to simplify your payment schedule and lower your total payments by 30 to 50 percent.
If you'd like to learn more, call us at 1-888-294-3130 or complete a request for a Free Debt Analysis through our online application system. Even if a debt management program can't help you, a certified credit counselor may be able to help you identify the best solution to address your issues with debt.