Why top income earners buy in bulk
You may think warehouse clubs are only for shoppers on a strict budget, think again.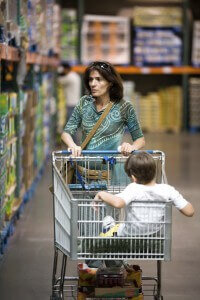 High-income shoppers don't always choose name brand items from specialty stores or boutiques. In fact, recent research by Mintel confirms that 44 percent of households earning $150,000 or more think "store brand or private label brands at warehouse clubs" have similar quality when compared to name brand products.
That may turn traditional thinking about who shops at warehouse stores on its head, but here's the real kicker – 46 percent of households earning $150,000 or more believe warehouse clubs stock quality products, but only 32 percent of those making less than $25,000 think the same way.
Additional information includes:
Forty-one percent who make between $50,000 and $74,900 believe warehouse stores stock quality products
Forty-two percent with incomes between $100,000 and $149,900 believe the same thing
Sixty-three percent have shopped at warehouse locations in the past six months
Merely twenty-five percent have shopped online during the same time period
The reason why so few people shop online is explained by Ali Lipson, category manager—retail, apparel, technology and automotive at Mintel. "One deterrent to online shopping in this channel could be that stores offer bulk- sized packages so the cost of shipping large items could prove prohibitive," Ali says. "Additionally, part of the appeal of warehouse club shopping is the 'treasure hunt' aspect, or discovering unique items throughout the store."
Be wary of impulse buying
Gary Herman, president of Consolidated Credit, thinks warehouse clubs have their place for bargain shoppers, but the "treasure hunt" appeal can be a budget-buster.
"If staying on budget is your goal, don't go treasure hunting," Herman says. "Although these types of stores can save money, they also deliberately offer special products at reduced prices 'for a short time only.' That stirs up the impulse buyer in many consumers. And if that impulse wins you over, the objective to save money goes up in flames."
If you want to build a better budget or improve your money management skills, use these free financial tools or contact a certified credit counselor for a one-on-one budget evaluation.