Women, Low Earners Missing Out on Retirement Benefits
A recent survey points out that women and low earners are not taking advantage of employer savings match programs.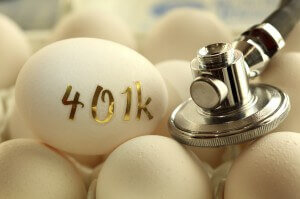 If an employer offers to match the contributions you make to your 401(k) – wouldn't it make sense to take advantage of it?
Currently, only 72 percent of women and 64 percent of employees earning less than $35,000 a year give enough to get the full employer match benefits, according to a new survey by TIAA-CREF.
Additional data includes:
Seventy-eight percent of Americans contribute to employer-based retirement plans
Forty percent who do not give enough to get the matching money receive reminders from their employers to do so
Thirty-two percent don't get reminders but would like to
"An employer match is a very compelling factor in determining whether employees contribute to a defined-contribution retirement plan, but just offering it is not enough," says Teresa Hassara, executive vice president of TIAA-CREF's Institutional Business. "Plan sponsors must ensure they are communicating the benefits of the match to employees, particularly those who are not currently reaching the full match. Their communications should be targeted to various groups' unique financial needs."
The value of planning for retirement
The survey gives great examples of how much a personcan save over the years, even if the percentage that the employer is matching seems insignificant. If you were 30 years old making $50,000 a year and your employer matched your contribution by 3 percent, the end result would be an extra $72,518 by the time you turned 65, not including the interest and gains made on the investment amount.
"Planning for retirement sooner rather than later is extremely important for everyone," says Gary Herman, president of Consolidated Credit. "It doesn't matter if you are a low wage earner, a woman planning for retirement or a person making over $150,000 a year. Taking advantage of what your employer is offering you, no matter how measly you think the percentage amounts to, is paramount to retiring comfortably. Otherwise you'll have to go on working while others are enjoying their golden years."
Do you know what plans your employer offers?
If you're not making the proper contribution to your employer-based plan, or don't even know if your employer offers such a plan, speak with your human resource department, or at the very least ask your manager.
"There's no reason why employees should be unaware of these programs," says Herman. "Usually, companies provide packets to new hires and the necessary information regarding employer retirement planning is included. It's up to the employee to read the information. If a person doesn't recall receiving anything about retirement, they need to ask about it as soon as possible."
Need help?
If you require assistance with your financial planning, or just want to learn about how to build a better budget, contact Consolidated Credit today at 1-888-294-3130. One of our certified credit counselors will be happy to give you a free consultation.