Women Redefine Employment Goals
Female workers opt for traditionally male STEM jobs, not so much for CEO.
Each week, Consolidated Credit searches for financial research that can help you deal with your debt and budget. This week…
The interesting study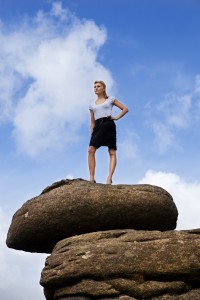 This week we've compiled the findings from two key studies just released that focus on women's employment goals. The first study by global PR firm Weber Shandwick investigated why more women who are already senior executives aren't making a push to become CEOs.
Meanwhile, a second study was released by CareerCast.com that overviews the best jobs for women in 2015. This study finds women are making strides to enter some top fields in STEM (science, technology, engineering and mathematics) that have traditionally been dominated by men.
The big result
Weber Shandwick found only 23% of women who currently hold top executive positions in their companies desire to make the jump from executive to CEO. Interestingly, it's not just women who don't want to take the reins – overall, 29% of executives are happy at their current level (32% of male executives).
On the other hand, while women are not taking a path towards corporate leadership positions, the CareerCast.com study reveals women are jumping into traditionally male-dominated STEM fields… which are also some of the top-paying and best careers available in 2015. So for example, women made up 39% of the biomedical engineers graduating this year and 40% of the enrollees in statistician programs.
The fascinating details
Here's a quick list of the top jobs CareerCast.com has uncovered for women this year:
Actuary – median salary $93,680 with 26% projected job growth
Advertising / Promotions Manager –  $115,750 median salary, 12% projected growth
Biomedical Engineer – median salary $86,960; 27% projected job growth
Dental Hygienist –  $70,201 median salary with 33% projected job growth
Education Administrator – median salary $86,490 with 15% projected growth
Event Planner – median salary of $45,810 and projected growth of 33%
Human Resources Manager – median salary of $99,720; projected growth 12%
Market Research Analyst – salary $60,330 (median); 32% projected job growth
Occupational Therapist –  $75,400 median salary with 29% projected growth
Public Relations Manager – median salary $95,450; 13% projected growth
Statistician – median salary $75,560 with projected job growth of 27%
What you can do
Planning your career path is important no matter who you are or how far along in your career you happen to be. It's not something you set as you graduate and just forget because your life goals can change over time to alter the path your career should really take.
So as a first step, every person (woman or man) should take some time to consider where they are in their careers and where they really want to be.
Check online to see what the median salary for your position. Use government websites like the BLS or use websites like Payscale.com that make it easier to search by occupation or keywords.
If you're making less than the median, make a plan to ask for a raise. Just make sure you follow tips for getting the salary increase you want, like the four dos and don'ts Consolidated Credit offered earlier this year.
If you can't get a raise, consider if it's time to look for a new job.  As we reported earlier this year, you can't allow your income to stagnate because what covered your expenses a few years ago may not cut it very long with yearly price increases.
Of course the Weber Shandwick study reveals salary isn't the only consideration you should have as you decide if it's time to move on to bigger and better things. For example, 64% of female executives and 54% of male executives don't want to take CEO positions because they want to keep working for the great CEO who's above them. In other words, they're happy in upper management without having helm control.
This is where work/life balance comes into play. If you work for an employer that has a solid benefits project and have a great boss who gives you things like flexible hours and room to control your work, moving up the ladder to a position with more stress may not be worth it for the extra pay. So as you consider leaving a steady job, make sure you're not sacrificing too much. That bigger salary may not amount to much if you have to spend all of that extra cash combatting all of the extra stress a different or higher paying position might bring with it.
One final note if you're a parent with a daughter who hasn't chosen her major yet then you may want to encourage her to look into STEM jobs. These four career fields have seen significant growth that's forecasted to continue well into the next decade or more. Aiming for these fields that have been traditionally male may give your daughter an edge that may set her up for healthy income that often promotes long-term financial stability.