Women Take Business by the Horns
Roughly 1 in 3 U.S. businesses is owned by a woman with $1.5 trillion in revenue.
Each week, Consolidated Credit searches for financial research that can help you deal with your debt and budget. This week…
The interesting study
OPEN by American Express recently released their fifth annual State of Women-Owned Business Report. The report is based on U.S. Census data obtained from their yearly Survey of Business Owners (SBO) that's conducted every five years.
The big result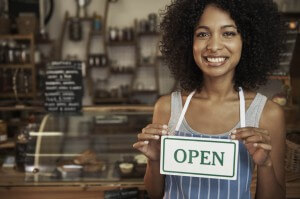 Women own 30 percent of the businesses in the U.S. and those 9.4 million enterprises generate $1.5 trillion in total revenue. That means roughly one in three businesses or services that you use these days are likely under the helm of a woman.
The fascinating details
Not surprisingly, the number and profit potential of women-owned businesses is increasing with each passing year. Here are a few more stats that show this trend:
The amount of revenue generated by businesses owned by women has increased by 79% since 1997
Businesses owned by women now employ 7.9 million workers – that's basically one out of every seven jobs in privately-owned businesses.
Since 1997, women have launched roughly 608 new enterprises every day; over the past twelve months women have started 887 businesses every day
The fastest growing industries for women-owned businesses are health care and social assistance, educational services, and administrative support and waste management services.
The following states have the fastest growth rate of women-owned businesses since 1997:
Georgia – 132%
Texas – 116%
North Carolina – 98%
North Dakota – 89%
New York – 89%
The following states have the lowest growth rates of women-owned businesses since 1997:
Alaska – 14%
West Virginia – 26%
Iowa – 27%
Kansas – 32%
Maine – 36%
What you can do
"It's great to see so many women jumping at the chance to start their own enterprise," says Gary Herman, President of Consolidated Credit, "but regardless of gender you have to make sure your finances a really ready for a new venture. That means making sure you can start the business without getting into problems with personal debt, as well as making sure your budget and savings can handle limited income as you get the business up and running."
Essentially, entrepreneurs face two levels of financial challenges when starting a new business. The first challenge comes when the owner dips into their savings to generate the capital needed to start the new venture. You need to have savings to take the steps you'll need to take to get off the ground. Putting all startup expenses on your personal credit cards or taking out a loan are both higher risk options than using savings – especially on credit cards, where the debt comes with high interest charges.
The second challenge of opening a new business comes with the temporary loss of income you can expect as the businesses gets started. This is especially true if you're quitting a full-time job to strike out on your own. Not only will you need capital to start the businesses, but by and large any profits that you make will be put back into the business. You may find yourself with little to no income until you start to turn a profit. You need a streamlined budget and healthy savings to face this kind of uncertainty without going into debt.