To live longer, Americans are willing to work longer.
While nearly half of American adults wished they started saving for retirement when they were younger, a new study says they're now willing to save longer – seven years more than current retirees.
HSBC Bank says family and financial security are top priorities among "pre-retirees," but most are financially supporting others – and one-third have stopped saving for retirement due to financial problems.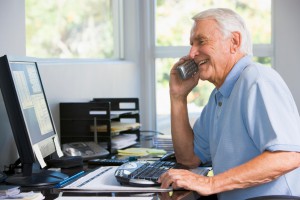 According to the study of more than 18,000 people worldwide, Americans are already planning on working longer than those in other countries. It turns out they also lean on family less than their global peers. Only 3 percent of American retirees rely on their children for support, while those in Hong Kong (41 percent) depend on their children's help when they get older.
This could be because they're used to supporting their children. According to Pew Research Center, middle-aged Americans face huge financial hurdles as they age: The responsibility of caring for their parents while also supporting their children into adulthood means that there isn't much more money to put toward retirement. Pew says many adults (48 percent) 40-59 are providing some sort of financial support to their children while one-in-five are supporting a parent financially.
Despite the many financial responsibilities, HSBC says only 14 percent of working-age people haven't started saving for retirement yet.
The circle of financial life
The older you get, the more likely you're helping others with money. Most people over 70 are financially supporting others (64 percent) while the vast majority of those 25-69 years old are borrowing money, according to the survey.
It also turns out that American retirees believe cash savings are going to be a big contributor to retirement.
"Over half of retirees in the US are using cash savings to fund retirement (56%), the third highest amount globally," the HSBC study said.
When is it time to downgrade?
Most people don't expect to stay in the same home once they retire. Fifty-four percent of respondents are planning to move to a smaller home and 40 percent are planning to move to a retirement home when they get older. Roughly one-fifth of middle-aged people who have already started saving for retirement believe downsizing their homes will help fund their retirements.
Chances are, many retirees don't want to feel like a burden on their adult-aged children, which explains why only 15 percent of respondents said they would live with children in the future. However, 12 percent of respondents expect their children to move in with them when they retire.
Other key findings
Almost one in seven middle-aged workers admit they haven't started saving for retirement yet.
While 86 percent of working age people have started, more than one-third have stopped due to financial challenges.
One-in-five pre-retirees have never received retirement information, but those who have admit they get advice mostly from friends and family.
If they could have, 35 percent of respondents admit they would have started saving for retirement at an earlier age, and saving more.
Men are more likely to save for retirement sooner than women: men start around 29 years of age while women wait until 34.
For more information on how to enter retirement without the burden of debt, visit Consolidated Credit's Debt-Free Retirement Guide so you can start making plans that allow you to reach your retirement goals.