Your Employer Cares about Your Future
Companies increasingly offer

"automatic 401(k) features" to help employees save.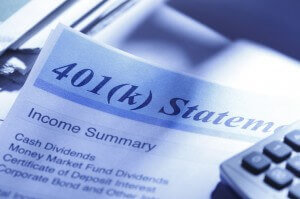 Every month more than a quarter-million people turn 65 – the traditional retirement age. Unfortunately, many of these Americans are simply not ready to retire. No surprisingly, most reasons are financial. Many are delaying retirement because they feel underprepared and are afraid of outliving their money.
In fact, sixty-two percent of middle-income Boomers doubt they will have enough money to live comfortably in retirement. Fifty-two percent on the cusp of retirement regret not saving and investing more aggressively earlier in their careers.  
To help workers help themselves and by extension alleviate this fear, Congress enacted a law that allowed companies to automatically enroll employees in their 401(k) plans as soon as they're eligible.
A recent survey of 100 companies by AON Hewitt, a global talent, retirement and health solutions company, found 70 percent of companies with defined contribution (DC), are improving automatic features in their 401(k) plans to help workers increase their savings.
They also found:
29

 percent of employers automatically enroll participants in the plan at a savings rate at or above the maximum the company is willing to match.

Another 27 percent of employers automatically enroll individuals below their full match rate, but automatically increase contributions over time so that workers will eventually be saving enough to receive the full company match.

8 percent of companies automatically enroll participants below the full match threshold and have contribution escalation as an opt-in feature.
This automatic feature is good news for employees who may find the rules of the plan complicated, or those who may find filling out the paper work daunting which can inhibit them from taking full advantage of their accounts. It can also serve as a motivation to push procrastinators along.
Data from another surveyshows when automatically enrolled, 82 percent of employees participate in their company's 401(k) plans versus 62 percent who do when left to enroll on their own.
A 401(k) is a great way to help employees kick start their retirement savings and plans into gear,
Gary Herman, Consolidated Credit's president says. "Whether an employer offers a 401k or not, people need to do their due diligence and begin saving for retirement early on in their career. Too many seniors are staying in the workforce longer which to some degree has ramifications on the jobs market. For instance some experts argue that Boomers who stay in the workforce longer are holding up jobs, leaving fewer opportunities for young adults who are just entering their careers."
Whether you plan to stay put and enjoy your grandkids or trek the globe in retirement you'll need money to sustain your lifestyle. These little steps will give your retirement savings a real boost so you can live the life you dream in retirement.
Bolster your retirement savings
Take full advantage of your company's 401(k) offerings. To help you determine how much to contribute, consider your age, retirement goals and how much you will need to maintain your current lifestyle in retirement. Enroll the minute you are eligible – the sooner you start contributing the better prepared you will be for retirement. If you leave your employer, you can roll over your contribution into an individual retirement account so you can continue saving for your retirement.
Save on your own. Regardless of whether your company offers a 401(k) or not you should have a budget that includes saving for retirement. The earlier you start saving, the easier it will be to build your nest egg.
Open an IRA account.  An IRA is a tax-deferred retirement savings account that allows you contribute up to $5,500 a year or $6,500 if you're age 50 or older.
Open a Roth IRA. Only the original amount of money you put in a Roth IRA is taxed. So essentially the interest you generate is tax free so long as the account is open for five years. There are no age limits for contributions to a Roth IRA and as long as you have earned income, you're eligible.
IRA accounts generally are easy to open and can be opened at all major financial services companies – such as banks, brokers, insurance, and mutual fund companies. Remember to do your research.
Pursue investment opportunities. Take advantage of both high and low risk investments so all of your retirement money isn't in risky stock options. Doing so will keep money coming in throughout your retirement years.
Pay down your debt. Being in debt can delay your retirement even further. Pay down credit card debt and take steps to pay off your mortgage if you haven't done so already. You may also want to enlist the help of a financial planner to help you along. And, if you're wondering how much debt you're in, dial 1-888-294-3130 or take a free Debt & Budget Analysis online to find out.