"You're Hired" Said Less to 2015 College Grads
Your location may increase your chances of getting hired.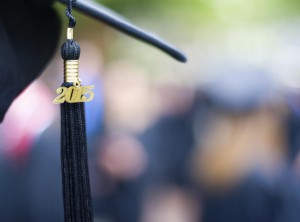 Each year scores of college grads leave college campuses and universities to begin their 'adult' lives, armed with their diplomas and mounds of student loan debt. With each passing year especially since the recession, they face the same challenges – difficultly finding a job.
According to data from Simply Hired, a job search engine, last year 11 percent of all job openings were geared towards college graduates. This year fewer jobs await the graduating class of 2015, but the prospects of landing a full-time high paying gig have increased more than 20 percent. The luckiest subset of the 2015 graduating class will be grads from Denver, Atlanta and New York City. These cities, according to the data, have the most full-time job openings for new grads. The average salary for these positions is $43,000 per year.
"The Class of 2015 is entering a post-recession job market where good opportunities have been growing over the past few years," James Beriker, President and CEO of Simply Hired says. "There are significantly more real entry-level jobs available this year, which we define as full-time permanent employment rather than part-time, contract or internship positions."
Unlike 2014 when more grads were hired but on a temporary basis, this year fewer grads will get hired but majority will be full time. Based on year-over-year trends, there is hope for more grads as the year rolls on.
"Companies tend to post even more jobs targeted to new grads later in the year," Beriker says. "In 2014 Simply Hired saw an uptick in July postings with a peak in October, even when adjusted for seasonal and retail hiring. So the number of positions is likely to grow over the months to come."
While this is great news for the class of 2015 who can get hired, there will be stiff competition for the few jobs that are available. Demographics and grades alone may not be sufficient to put one ahead of the pack.
"What will give these grads an edge is internships and volunteer work to get their feet wet. Although it may be a little too late for those who've already graduated, the upcoming class should take note," President of Consolidated Gary Herman says. "Take advantage of scholarships, grants and minimize the amount of loans you accept so by the time you graduate if the jobs are hard to come by, student loans will be one less stress to worry about."
Amidst this good news, there may also be some news that's a tinge disconcerting for grads saddled by student loan debt. The Simply Hired data shows more and more employers are accepting applicants who do not have a college degree. During this same period last year 17 percent more employers posted jobs that did not require an undergrad degree. Considering that annual tuition at a private college is $31,000 and $9,100 at the public university and tuition increases each year, one can't help but wonder whether going to college is even worth it.
The data shows, there has been a surge of openings in occupations and industries including electronic equipment installers, tractor/trailer drivers, and manufacturing that does not require a college degree. As for office jobs that have not historically demanded an undergraduate degree, a college diploma is increasingly becoming a requirement. Simply Hired says the demand for a college degree has actually increased by 5 percent in roles like non-retail sales reps, customer service agents, receptionists and data entry workers.
Choosing to incur the cost of higher education
So do you or do you not pursue higher education? The answer lies in your future goals and career choice.
"Census Bureau data indicates that approximately two-thirds of Americans don't have a college degree," Beriker commented. "The good news is that opportunities here are growing – and that demand is high for those on the trade or middle-skill path. At the same time, it may be harder to break into corporate America as jobs such as receptionist or data entry clerk increasingly demand a 4-year degree."
While we can't tell you whether to attend college or not, we can however offer suggestions on ways to navigate your first job, how to stave off student loan debt and how to make ends meet in the interim of finding a job.
If you do decide to go to college, before heading out, take a look at Consolidated Credit's Debt Learning Center on how to pay for college.  For you lucky grads that have already landed a job, whether it's your dream job or just a something to hold you over, check out this Budgeting 101 section to help you manage your money.
If you're a recent college grad having trouble finding a job and ultimately delaying paying off student loan debt, don't hesitate to contact Consolidated Credit today to speak with a certified credit counselor. Or request help online by filling out this form.