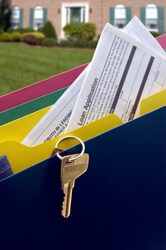 Once you understand how mortgages work and the types of mortgages you can get, it's time to decide what type of mortgage will work the best for your financial situation. Getting the right type of mortgage can help you pay less money each month, build equity faster or save money on interest over time, depending on your financial goals. Even if you are planning on selling the home in just a few years, the mortgage you choose today can have a lasting impact on your finances.
If you're not sure which mortgage option is right for you or you'd like the unbiased opinion of a HUD-certified housing professional about which mortgage will be best for you, call Consolidated Credit today at 1-800-435-2261 to speak with a HUD-approved housing counselor for free. We can help you choose a mortgage that will support your financial goals.
What You Need to Secure a Loan
The first step in securing a loan is to complete a loan application. To do so, you will need the following information:
Pay stubs for the past 2-3 months
W-2 forms for the past 2 years
Information on long-term debts
Recent bank statements
Tax returns for the past 2 years
Proof of any other income
Address and description of the property you wish to buy
Sales contract
During the application process, the lender will order a credit check on your credit reports, as well as a professional appraisal of the property you wish to purchase. The application process typically takes 1-6 weeks.
Choosing the Right Lender
You need to choose your lender carefully! You want to look for financial stability, as well as a reputation for customer satisfaction. Do research and ask family, friends and your real estate agent for recommendations. You may also wish to check online for information about specific lenders, to make sure they did not have any class action lending lawsuits brought against them following the real estate market collapse in 2008. This may help ensure you can have more trust in your lender.
Always be sure to choose a company that gives helpful advice and that makes you feel comfortable. A lender that has the authority to approve and process your loan locally is preferable, since it will be easier for you to monitor the status of your application and ask questions. Plus, it's beneficial when the lender knows home values and conditions in the local area.
Prequalifying vs. Preapproval
Prequalification is an informal way to see how much you may be able to borrow. You can be 'prequalified' over the phone with no paperwork by telling a lender your income, your long-term debts, and how large a down payment you can afford. Without any obligation, this helps you arrive at a ballpark figure of the amount you may have available to spend on a house.
Preapproval is a lender's actual commitment to lend to you. It involves assembling the financial records mentioned above without the property description and sales contract. Essentially, you are going through a preliminary approval process. Preapproval gives you a definite idea of what you can afford and shows sellers that you are serious about buying.
Choosing the Best Loan Program for You
Your personal financial situation will determine the best kind of loan for you. By asking yourself a few questions, you can help narrow your search among the many options available and discover which loan suits you best.
Do you expect your finances to change over the next few years?
Are you planning to live in this home for a long period of time?
Are you comfortable with the idea of a changing mortgage payment amount?
Do you wish to be free of mortgage debt as your children approach college age or as you prepare for retirement?
Your lender can help you use your answers to questions such as these to decide which loan best fits your needs.
The Best Way to Compare Loans
Your first step should be to devise a checklist for the information from each lending institution. You should include the lender's name and basic information, the type of mortgage, minimum down payment required, interest rate and points, closing costs, loan processing time, and whether prepayment is allowed.
Speak with multiple lenders either by phone or in person. Be sure to call every lender on your list on the same day, as interest rates can fluctuate daily. In addition to doing your own research, your real estate agent may have access to a database of lender and mortgage options. Though your agent may primarily be affiliated with a particular lending institution, he or she may also be able to suggest a variety of different lender options to you.
Loan Origination Costs & Fees
It's important to note that there are certain costs and fees associated with applying for a mortgage. When you turn in your application, you'll be required to pay a loan application fee to cover the costs of underwriting the loan. This fee pays for the home appraisal, a copy of your credit report, and any additional charges that may be necessary. The application fee is generally non-refundable.
Understanding RESPA
RESPA stands for Real Estate Settlement Procedures Act. It requires lenders to disclose information to potential customers throughout the mortgage process. By doing so, it protects borrowers from abuse by lending institutions. RESPA mandates that lenders fully inform borrowers about all closing costs, lender servicing and escrow account practices, and business relationships between closing service providers and other parties to the transaction.
For more information on RESPA, visit the RESPA website or call 1-800-569-4287 for a local counseling referral.
Obtaining a Good Faith Estimate
When you apply for a new mortgage, the lender is required to provide a good faith estimate. This is an estimate that lists all of the fees paid before closing, all closing costs and any escrow costs you will encounter when purchasing a home. The lender must supply a good faith estimate within three days of your application so that you can make accurate judgments when shopping for a loan.
Understanding Mortgage Insurance
Mortgage insurance is a policy that protects lenders against some or most of the losses that would result from defaults on home mortgages. It's required primarily for borrowers making a down payment of less than 20%.
Like home or auto insurance, mortgage insurance requires you to pay a premium. It is for protection against loss and is used by the lender in the event of an emergency. If you can't repay an insured mortgage loan as agreed, the lender may foreclose on the property and file a claim with the mortgage insurer for some or most of the total losses.
You will only need mortgage insurance if you plan to make a down payment of less than 20% on the purchase price of the home. The FHA offers several loan programs that may meet your needs. Ask your lender for details.
You may also be able to receive a discount on an FHA initial mortgage insurance premium. Ask your real estate agent or lender for information on the HELP program from the FHA. HELP is the Homebuyer Education Learning Program; it is structured to help people begin the home buying process. It covers such topics as budgeting, finding a home, getting a loan, and home maintenance. In most cases, completion of this program may entitle you to a reduction in the initial FHA mortgage insurance premium from 2.25% to 1.75% of the purchase price of your new home.
Mortgage insurance may also be offered as PMI insurance. PMI stands for Private Mortgage Insurer. These are privately-owned companies that provide mortgage insurance. They offer standard programs, as well as specialized programs to make mortgage insurance more affordable for borrowers. PMI companies provide guidelines to lenders that detail the types of loans they will insure. Lenders use these guidelines to determine borrower eligibility. PMI's usually have stricter qualifying ratios and larger down payment requirements than the FHA, but their premiums are often lower and they insure loans that exceed the FHA limit.