Consolidated Credit Guide: How to Build Good Credit Step by Step
Learn how to overcome common challenges to achieve the score you want.
Come on down! You're the next contestant on the Game of Good Credit!
Achieving good credit is a game of strategy. You have to play tactically if you want to win.
Let's begin with the basic gameplay of how to go from the starting point to winning the game of good credit so you can maximize your credit score. The overall goal in the game is to move forward from the starting point, taking the right steps to reach your credit goal.
Each step you take can have a positive, negative or neutral effect. You want to make smart moves that boost your score, while avoiding traps that set you back. Positive actions like making payments on time and keeping your credit utilization low help move you forward. And doing things like paying off a credit card in full can give you a big jump up the board. But actions like paying late or allowing an account to go into collections can set you back and put you farther away from your credit score goal.
As you play the Game of Good Credit, keep in mind that even if you have to make a really bad move it doesn't mean you'll have bad credit forever. You may just have to start again to begin moving forward toward the score you want. Most negative actions set you back for 7 years. Although some things like Chapter 7 bankruptcy can set you back longer. But if you have a setback, you can start to move forward immediately!
The BEST move you can make is to pay your bills on time – this is the biggest factor in calculating your score. Each time you pay a credit card or loan on time it's a positive action that lets you move forward. If you've had setbacks, start making payments on time to move forward again. But keep in mind that the amount of credit you use affects how quickly you can move up the board.
Credit utilization is the second biggest factor in calculating credit scores – that's the amount of debt you have relative to your total available credit. The less debt you have, the faster you can advance towards better credit. So by keeping your debt low and making payments on time you can forward to get closer to your credit goal.
Length of credit history is the third biggest factor in your score – creditors believe people who have been playing the game longer are better at it. So don't close your oldest accounts or let creditors close them due to inactivity, because this can actually set you back. Keep accounts in good standing and you'll get an extra boost on your way to a winning credit score.
The number of times you apply for new credit within a six month period is a factor in your credit score. If you try to take too many new credit moves at once, you can actually get set back. Only draw a new loan or credit card when you really need it, and don't apply for credit cards in quick succession. That way getting new credit will be a neutral action that doesn't set you back.
The type of credit and number of accounts you have also has an impact on your ability to win the game. If you pick up a diverse variety of debts along the way like a mortgage and other loans along with a credit card or two, you'll have an easier time reaching your goal.
We have a few tips that can help put the big win within reach. Be aware that you can be penalized paying late as well as for moves that you didn't actually take. This happens when negative items appear in your credit report by mistake – the credit bureaus think you made a bad move when you really didn't. If this occurs, you have the right to dispute the item to have it removed. If you're successful with a dispute, you'll move up the board.
Additionally, players often think asking for help will set them back from reaching a winning credit score. But using services like credit counseling if you're having trouble can actually help you move forward faster instead of setting you back. Completing a debt management program helps you eliminate credit card debt and may aid in helping you build a positive payment history. It can also help you avoid major setbacks on the board like debt settlement and bankruptcy. So you can get the help you need and still reach your ultimate credit goal, allowing you to win at the game of good credit to improve your financial standing overall.
Make the move to Consolidated Credit and let us help you develop a winning strategy to help you eliminate debt so you can achieve your credit goals.
Good credit is essential for financial stability and your ability to achieve long-term goals.  You need a good score to purchase a home, buy a car and even sign up for basic services, like utilities. Of course, maintaining a high score isn't always easy.
The information in this section is designed to help you build good credit without paying for expensive repair and monthly monitoring services. You will learn how to:
Review your reports each year
Correct mistakes and errors for free
Rebuild after a period of financial hardship
| | |
| --- | --- |
| If challenges with credit card debt are keeping you from achieving the score you want, we can help. Talk to a certified credit counselor today! | Free Evaluation |
What is a credit report?
It's a comprehensive profile of your life as a credit user. It shows:
What types of accounts you have
The status and payment history of those accounts
Other related public information, such as collections and court-ordered payments
Each bureau (there are three) maintains their own proprietary version of your report. So, you actually have three reports, instead of just one. However, they should all basically say the same thing.
Creditors use your report to judge your creditworthiness when you apply for a loan or new account. They essentially look at your report to see how likely you are to repay the new debt.
Learn how to read your report »
What is a credit score?
It's a number that tells a lender how much of a risk you are as a borrower. Different agencies and bureaus have different scores that they use. However, FICO is the main score used in 90% of financing decisions. So, for instance, if you apply for a mortgage, they will generally look at your FICO score first. They look at your score in addition to reviewing your reports. These two tools basically help the lender decide if they will approve you for the loan.
There are five basic factors used to calculate your score. Each factor has a different "weight," so they affect your score at different levels.
How to Get a Good Credit Score
In order to get and maintain the score you want, you must continually take four basic steps:
Review your reports annually
Dispute mistakes to keep your reports clean
Take positive actions that build good credit
Avoid negative actions that damage your score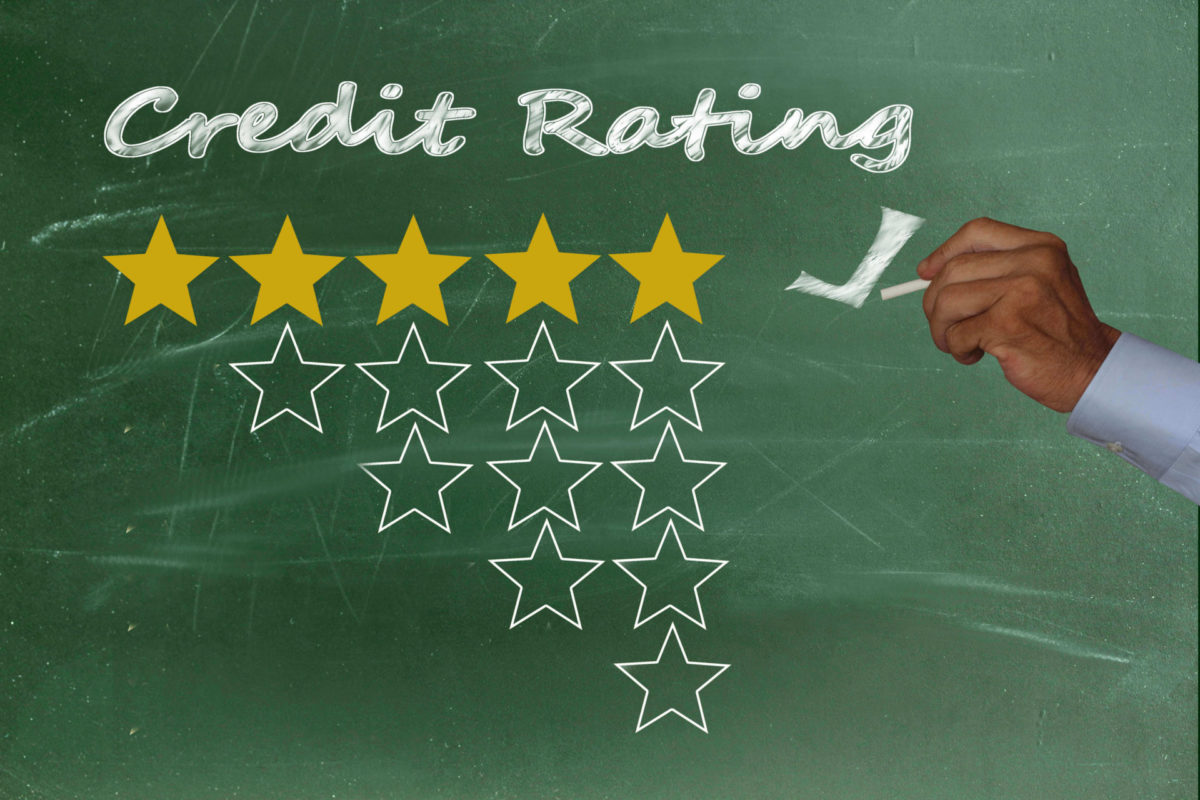 Step 1: Reviewing your reports annually
By law, every consumer is allowed one free copy of their credit report once every twelve months. You simply go to annualcreditreport.com, answer a few security questions and you can download your reports directly from the bureaus. This is often confused for paid monitoring websites that offer free reports when you sign up for their service. However, the website listed about is really and truly free with no strings attached.
Once you have your reports, you want to look for:
Negative items that may decrease your score
Mistakes and errors that you need to correct
Information you don't recognize that could be a sign of identity theft
Featured Video:
Negative Items in Your Credit Report
Learn what counts as a negative item in your report and how long these items stick around to drag you down.
Welcome back, contestants, to the Game of Good Credit!
Do you have the right strategy to win? The game of good credit is easy to win with the right moves. And winning means you achieve a good credit score that helps you get approved with low rates. But some actions you take can set you back.
By law, filing for bankruptcy hits you with a penalty that sets you back 10 years from the date of filing. Except if you file for Chapter 13 – the bureaus stop the penalty after 7 years. This minimizes the setback so it's easier to recover.
Things that happen outside your credit file can also affect your game – civil suits, court judgments and records of arrest can come up. These public records remain for 7 years from the date of entry OR as long as the current governing statute of limitations allows – whichever is longer.
Unpaid taxes can also set you back. A paid tax lien sets you back seven years from the date the lien was paid. On the other hand, if you leave a lien unpaid it can stop you in your tracks and remain indefinitely until you pay it off. That is, except in Experian's game where the penalty for unpaid tax liens ends after 15 years.
Every time you pay on time it creates a positive space that stays on your credit forever and pushes you ahead. But each time you pay more than 30 days late, it sets you back 7 years from the date the payment was missed. And the longer a debt goes unpaid, the more it sets you back. If you let it go unpaid too long, the creditor writes off the account and changes the status to charge-off. Charge offs also set you back 7 years.
There is one exception to that rule… If you default on a federal student loan and then bring it current, any negative actions from the late payments disappear. But for all other debts, charge-offs are usually sold to collections, which creates ANOTHER trouble space that causes issues for 7 years. So, letting a debt slip into default is almost a double or triple whammy to your game.
However, don't believe a collector if they say they have ways of ruining your credit game forever. That's just not true. Nothing you do can get you kicked out of the credit game forever. Any penalty you encounter will only set you back. But you can offset these setbacks by taking positive actions that help you move forward. So even if your period of financial distress puts you back at Square One, you can start again and get right back in the game.
For more information on winning the Game of Good Credit, visit ConsolidatedCredit.org
Step 2: Disputing mistakes to keep your reports clean
Correcting mistakes and errors that can appear in your report is a process known as credit repair. You dispute a mistake with the bureau that issued the report. If they can't verify the information within 30 days, the item must be removed.
This is a legal, legitimate process that you can do yourself for free.
However, you can also pay a state-licensed attorney to dispute mistakes on your behalf. The problem with these services is that many times, they don't have a state-licensed attorney on staff. That means they aren't legally allowed to provide the service, so it could be a scam!
Learn how the repair process works and how to avoid getting scammed »
Step 3: Taking positive actions that build good credit
Once you correct any errors that could decrease your score, building good credit becomes a gradual process. You small, measured steps to improve your score. These include:
Making all payments on time to maintain a clean payment history
Keeping revolving debt minimized to avoid over-utilization
Opening accounts only when you need them
Maintaining all accounts in good standing
The amount of time it takes depends on where you start. If you've never used credit and are just starting out, it generally takes about 6-12 months to achieve a fair to good score. .
On the other hand, if you've had challenges with debt or faced financial hardships like bankruptcy or foreclosure, you must take steps to rebuild your score. This involves gradually building a positive history and offsetting any damage you already caused.
Learn how to rebuild if you have a bad score »
Step 4: Avoiding negative actions that damage your score
If you're working to achieve a good score, then you don't want to take any actions that set you back. One mistake is often enough to set you back significantly. Instead of one step forward, two steps back, it's almost one step forward, ten steps back.
This makes it crucial that you actively work to prevent new damage. To do this, you must:
Avoid any late payments that are more than 30 days past due
Don't run up credit cards to their limits
Never allow bills to slip into collections – especially medical bills!
Pay all court fines and court-ordered payments, such as child support
Don't open too many new accounts within a six-month period
Don't close old accounts, which affects the length of your payment history
If excess credit card debt is keeping you from achieving the score you want, make a plan to eliminate your debt today.
Good Credit FAQ
Featured Video:
Question of the month: Can I have a credit score with no credit card?
It's possible to have a credit score even if you've never opened a credit card. Learn how it happens and what you can do if you prefer to avoid credit cards.
Hi, I'm April Lewis-Parks, Director of Education at Consolidated Credit. And we have a consumer question today, and it is, "Can I have a credit score without having a credit card?"
And the answer is yes. If you have any type of financing whatsoever ever extended to you, you probably have a credit score. But that doesn't mean a credit card. If you have a car loan, a mortgage, student loans you certainly have a credit score. And there's probably three, because there's three credit reports and then there's FICO.
So you should always check your credit score even if you don't have any credit cards.
What is a good score?
FICO scores range from 300-850. Any score above 700 is usually considered a good score and above 750 is excellent. If you have a score below 600, you may struggle to get loan approvals; you will also pay higher interest rates.
What's the cost of bad credit?
A bad score increases the cost of borrowing. With good credit, your card APRs should be around 16%. However, with a bad score, those rates are likely to be more than 20%.
Your score also affects the rates you receive on loans, including your auto loan and mortgage. A higher rate of just a few points on such a large amount financed can be significant. You can use the calculator below to assess the cost of a low score. You can also see the savings from a high score.
How long does it take to build?
The time it takes to achieve the score you want depends on where you start and what score you want. In general, it takes at least 6 months to see any notable improvement in your score. You can generally go from fair to good in about a year if you take the right steps.  However, if you want to go from good to excellent, this takes a more concerted effort.
It's worth noting that the "weight" of negative items decreases over time. A missed payment from 6 years ago has much less impact than one missed last month. This means that even with negative items like bankruptcy or foreclosure, you can take steps to rebuild even before the penalties expire.
This publication reveals proven strategies for building better credit. The fundamental purpose of this publication is to help those who have had credit problems. This document includes strategies and concepts that can be used to improve one's overall credit rating.
Does my score affect my insurance premiums?
In the case of auto insurance, yes; depending on where you live, it can also affect homeowner's insurance. Your score is one factor used to determine your policy and premiums. Insurers use something known as a credit-based insurance score in states that permit this type of scoring. It's intended to help them assess the likely that you will make a claim.
This insurance score can only be used in some states. In addition, it can't always be used for every type of insurance.
Learn how insurance scores work »
What is "subprime credit"?
Subprime is basically another name for bad credit . Most lenders consider a FICO of 500-600 to be subprime. Any score between 300-499 is considered deep subprime. In general, subprime consumers have a hard time qualifying for traditional loans and credit cards. A subprime borrower may have to rely on adjustable rate loans or alternative no-credit-check financing like payday loans. These types of financing are riskier and harder to manage.
This basically means that bad credit can become a vicious cycle. You can't qualify for good loans with low fixed interest rates. So, you turn to alternative financing that often leads to more problems with debt, which drag down your score even more. Ideally, you want to find a way to fix your score before you borrow again.
| | |
| --- | --- |
| Don't let high debt levels and subprime credit hold you back! Join the over 6.5 million people who have found relief with Consolidated Credit. | Get Started |
What is a credit limit?
A limit is the maximum amount of financing extended to you on a revolving credit line, like a credit card. Revolving means you can borrow against an available line as needed. For instance, if you open a card with a good score, they may offer you a limit of $1,000.
You never want to run up an account to the limit. This is bad for your score.
What is credit utilization?
This is a ratio that measures how much credit you're using versus the total amount you have available. If you have 5 cards that each have a $1,000 limit, then your total available limit is $5,000. If you have $500 balances on two of those cards, then your utilization ratio is 20%.
In general, lower utilization is always better. You should maintain your ratio at 30% or less to maintain a good score. There is no penalty for 0% net utilization; in other words, you can pay off purchases in-full every month and not damage your score.
If I just moved to the U.S., what's my credit score?
Scores don't carry over from different countries. So, even if you immigrated from another country that uses scoring, your score won't come with you. Instead, you need to build in the new country from scratch.
And be careful! The rules for scoring from your home country can be significantly different! Take some time to familiarize yourself with the system here so you can avoid a bad score as you transition to life in your new home.
Still have questions? Visit our Ask the Experts section or call to speak directly to a certified credit counselor!