Don't be overwhelmed by the credit repair. Consolidated Credit is here to help.
Repairing your credit is not as difficult as you've probably heard, but it takes time and diligence. Simply use this guide and follow the steps to analyze your credit report, find the mistakes that could be damaging your score, get tips on how to dispute those mistakes and avoid scams.

Step 1. Get a copy of your report
The first thing to do is order your free credit report from the big three bureaus. Here is the information for your convenience or you can visit annualcreditreport.com. All three bureaus TransUnion, Experian and Equifax offer the same address and phone to contact them regarding a free report:
Mail to: Annual Credit Report Request Service, P.O. Box 105281 Atlanta, GA 30348-5281 Phone: 877-322-8228
Step 2. Review your report for errors
Once you receive your reports from each credit bureau, review them carefully. The reports will be different for each bureau so this takes some time. Look for:
Mistakes in personal information, including name (and variations), Social Security Numbers or addresses
Mistakes in account listings look for late payments that aren't correct, outdated balances, duplicate listings of the same account, or other credit mistakes
Negative items including bankruptcies, judgments, liens, collection accounts or late payments that are either incorrect or outdated
Inquiries from companies you don't recognize. When a company reviews your credit report, it creates an inquiry. Inquiries into your report from companies you don't know can sometimes indicate fraud
Use this worksheet to list any problems you found on the three credit reports. If you have any questions, contact the bureau using the toll free numbers.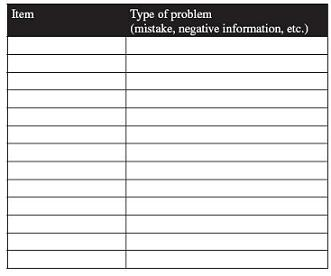 It's important to note that if there are legitimate negative items on your reports, you can't change them. What you can do is not make the same mistakes again and wait out the penalty period. Late payments, collection accounts, charge-offs and other public record items, normally stay on your report for seven years.
Chapter 7 bankruptcy remains on file for 10 years and unpaid tax liens for up to 15 years. The major credit bureaus may remove Chapter 13 bankruptcies (where some of your debts are paid off) seven years from the date of filing.
The older negative information becomes, the less damage it has on your score. Current positive credit information, such as timely payments, can enhance your score, even if the negative items still haunt your report.
Step 3. Disputing mistakes
This is the hard part it's almost an art form because you need to be so meticulous. All your complaints must be in writing (letter form). You can either write the credit bureaus or the creditor that provided the negative information. You can also place a phone call prior to writing the creditor to try to quickly resolve the problem.
If that doesn't work, The Federal Trade Commission offers a sample letter for your convenience. Include copies (never originals) of documents that confirm your position along with the letter. State only the facts in your letter and why you are disputing the information. Send the letter by certified mail, with a "return receipt requested" so you can verify that the credit bureau received it. Keep copies of everything.
The credit bureaus have to act within 30 days of receiving your information and send all data you provided to the credit card company or other lender that provided the information in dispute. After the information is received the lender must review, investigate and report back to the credit bureau. If you are right and the information in dispute is inaccurate, the lender must notify the credit bureau allowing them to correct the problem.
Once the review is finished, the bureau is responsible for giving you the results in writing and a free copy of your report with the disputed item (items) removed from the report if the information can't be verified. You can also request that the credit bureau send out notices to anyone who inquired about your report in the last six months. And, you can ask for a copy sent to any employers who checked out your report in the last two years.
If the dispute is not resolved in your favor, you have the right to add a 100-word statement to your credit file explaining your side of the story. This may not be very helpful, however, since most creditors won't see or read that statement. You may be better off hiring a consumer law attorney or contacting the Federal Trade Commission.
Step 4. Avoiding Credit Repair Scams
When your credit score is low, tensions run high and it's easy to become desperate to fix the situation quickly. That's when scammers show up with guarantees such as "we can erase bad credit" or "we can remove bad loans or liens from your credit." It's not true.
The Credit Repair Organization Act (CROA) makes it illegal for credit repair companies to lie about what they can do for you, and to charge you before they've performed their services. The CROA is enforced by the Federal Trade Commission and requires credit repair companies to explain:
your legal rights in a written contract that also details the services they'll perform
your three day right to cancel without any charge
how long it will take to get results
the total cost you will pay
any guarantees
Trying to resolve credit disputes is a long and arduous job, but it can be done. Just take your time, keep everything in writing, and don't fall for the quick fix. It will come back to bite you.
Don't Let Bad Debts Hold You Back
If you're struggling with your debt payments and you've fallen behind, it's important to catch up before you start to repair your credit otherwise, you're just creating more work for yourself. Take care of your debt problems first, then focus on building a better credit score.
If you need help to get started, call Consolidated Credit today at to speak with a certified credit counselor now. You can also take the first step online with a free Debt & Budget Analysis.