How to avoid credit card debt problems that bust your budget during the holidays.
Although the holidays are a joyous time of the year, they can also be a big problem for your finances. If you want to steer clear of end-of-year money problems and avoid a holiday debt hangover, you need to make a plan.
Start shopping early to reduce the burden of extra costs
It's a matter of simple math – the average total price tag for the winter holidays ranges from around $800 to $1,300, depending on the size of your household and how big you go for the holidays.
Even the low end of that estimate is still a big burden if you're making all of those purchases in a single month – or worse, in a single pay cycle if you're a last-minute shopper. That's why starting early is such a big advantage in preventing holiday debt – the more you can spread the cost out over multiple pay cycles, the less of a burden you're placing on the free cash flow in your budget.
That's why it's so encouraging to see more and more consumers start their holiday shopping early: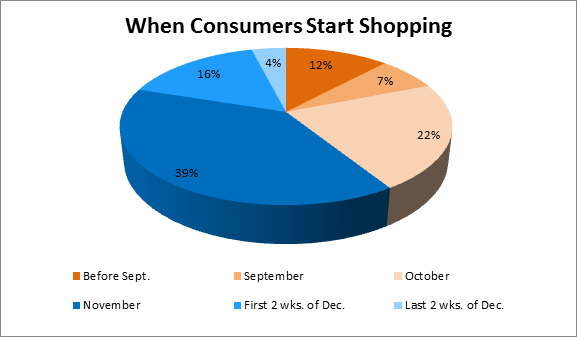 Helpful resources to help you avoid holiday overspending
Even with an early start, it takes careful planning to avoid amassing significant credit card debt during the holiday shopping season. All of that shopping can also have other repercussions on your financial outlook. The following resources can help you maintain stability and financial security during the holiday shopping season:
More tips to help cut holiday costs
Even with a solid holiday spending plan, you may find yourself going overboard and pulling out your credit cards to cover added costs. The following tips can help you stay on the right path:
GENERAL
Reduce regular budget expenses during holiday shopping.Cut discretionary expenses in your budget. Everything you cut frees up more cash for the holidays.
Always shop with a list.The chances of making impulse buys are reduced this way. Take your Planner with you wherever you go and don't deviate from your list.
Leave the credit cards at home. Having close to exact cash for the purchases you need to make that day also prevents impulse purchases.
GIFTS
Reduce your gift list.Personal gifts for everyone you know is expensive. Limit individual gifts to immediate family and give everyone else homemade gifts or holiday cards.
Consider bulk gift options.For example, buy inexpensive baskets at a craft store and colorful raffia, and then make gift baskets with holiday candy, homemade cookies and small items you can buy in bulk, such as holiday towels. This works especially well for friends, neighbors and co-workers.
TRAVEL
Make travel arrangements early.Early reservations usually reduce costs on air fare and accommodations.
Bundle up.Combine flight, hotel reservations and car rental together to save money.
Combine pet-sitting / house-sitting.If you're going to pay someone to take care of your house, water the plants, get the mail, etc., you should also get the same person to take care of your pets. Paying for separate services may double your costs.
DECORATIONS
Don't waste money on new decorations.Home and office decorations don't need to be different every year. Reuse existing decorations and take the time to find the bulb needing replacement on a string of lights, instead of buying a new string.
Mix it up.If you're bored with your decorations, try moving them around and using them in different places or doing different arrangements and displays to give your home a fresh look.
Decide if you really need a live tree.If you get a tree at the holidays and you always buy it live, consider the value of a one-time cost for a tree you can use every year.
GUESTS
Ask guests to chip in.If your house resembles a hotel at the holidays and you have friends or family who stay for a few days or more, don't feel bad asking them to con-tribute money for increased grocery and utility costs. Remember that you're saving them the expense of a hotel, so it would be nice if they could help you cover your in-creased costs.