Small Business $ense: Business Readiness Certification Training – Riviera Beach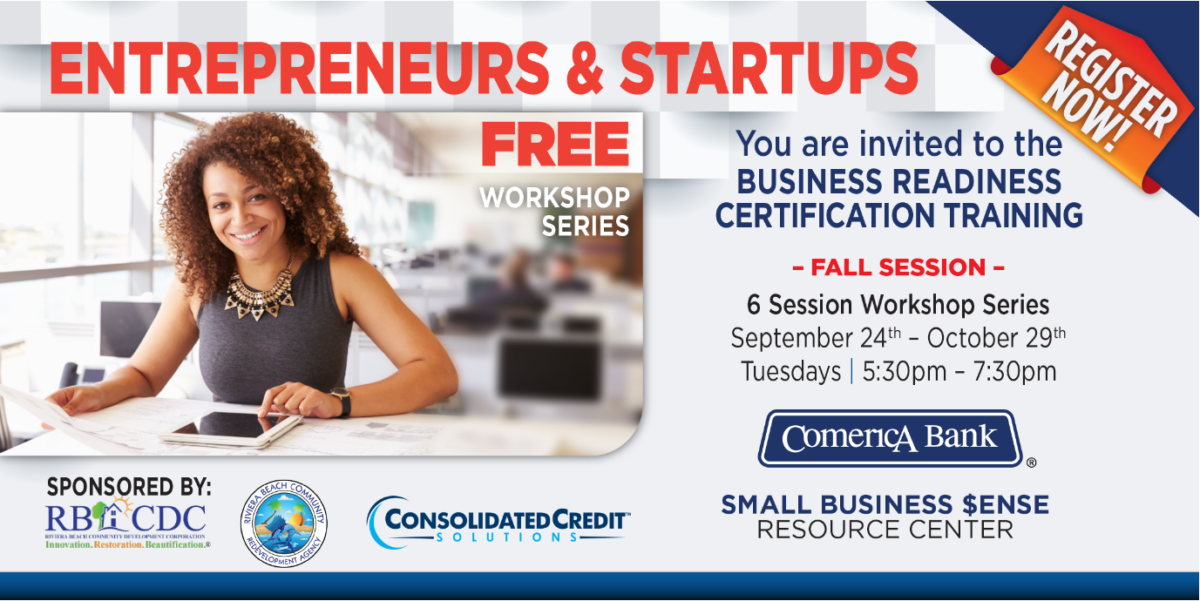 Entrepreneurs & Startups FREE workshop series You are invited to the Comerica Bank Small Business $ense Business Certification Training 6-Session Workshop Series May 28th – July 2nd Tuesday 5:30pm -7:30pm Sponsored by: RBCDC Riviera Beach Community Development Corporation. Innovation. Restoration. Beautification. Riviera Beach Community Redevelopment Agency Consolidated Credit Solutions Comerica Bank Small Business $ense Resource Center
This 6-session business program provides education and business preparation for small business owners and startups. Participants will learn how to develop a business plan and how to secure funding. They will become knowledgable in business essentials, such as finance, marketing, business plans, accounting, credit, business operations, certification, negotiating, insurance and more.
6-Session Workshop Series
Tuesdays | 5:30pm – 7:30pm
Workshop Dates and Topics
Session 1: September 24th
Start Smart: What Every Startup Business Should Know | Business Planning Basics
Session 2: October 1st
Business Expert Panel – Legal Accounting, Insurance & Banking
Session 3: October 8th
Marketing and Social Media Strategies
Session 4: October 15th
Contracting with Corporations and Government
Session 5: October 22nd
Credit as an Asset | Business Funding Alternatives
Session 6: October 29th
Business Plan Review | Business Pitch Competition & Graduation Ceremony
Questions?
Please email [email protected]