Halloween Spending Statistics
One-off expenses for holidays like Halloween have a way of busting budgets.
Each week, Consolidated Credit searches for unreported financial research that can help you deal with your debt and budget. This week…
The interesting study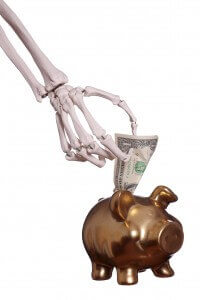 Each year, the National Retail Federation puts out a Halloween Consumer Spending Survey that assesses what consumers plan on spending for a good scare. It breaks down what consumers will buy and how they plan on contributing to the estimated $7.4 billion total price tag for Halloween this year.
The big result
Just as we've seen in previous years, consumer spending has inched a little higher for 2014. The average person should spend around $77.52 (up from $75.03 last year).
Over the 11 years that the NRF has been doing this survey, spending has almost always crept higher with each passing year – with a minor exception during the toughest years of the recession.
That's concerning, because "one-off" expenses like holiday costs tend to cause problems for consumers because they don't really fit into a normal monthly budget. While an increase of $2.47 may not seem like much, it represents a larger negative trend. That's a 3.3 percent increase year over year.
The fascinating details
When we delve deeper into the survey numbers, we find that people seem to be spending more on costumes and parties…
About 2 out of every 3 people (67.4 percent) will purchase costumes this year
Total costume costs should equal about $2.8 billion

$1.1 billion of that is for kids
$1.4 billion is for adults
$350 million is for pets

One third of consumers will either throw a party or attend one (33.4 percent) – this is higher than last year's numbers at 30.9 percent
$2.2 billion will be spent on candy this year
And another $2 billion will be spent on decorations
What you can do
A $77.52 price tag for Halloween hopefully won't cause a nightmare for your budget, but there's a bigger message buried under the added expense – holiday costs have a way of creeping up to cause budget problems.
You spend a little extra on Halloween, then follow that up with extra expenses for Thanksgiving and the winter holidays. Suddenly, your balanced budget isn't so balanced anymore. It's even more problematic if those holiday expenses were put on credit, because this can increase your monthly payments and mean even more money spent on added interest charges.
So you need to approach every holiday as frugally as possible. Get crafty and enlist the help of your kids and other family members to make decorations and even costumes. Reuse as much as possible from previous years and even consider things like costume swaps with other families in your circle of friends or your neighborhood. You have from now until next year to figure out how to minimize the price tag for next Halloween.
And whatever you do, keep holiday purchases off of your credit cards! Putting one-off purchases that don't fit in your budget on plastic only increases your monthly payments to cause problems for your budget down the road. If you decide to spend anything for a holiday, only spend cash that you have in your budget.