Homebuyer Education and Counseling
Consolidated Credit is approved by the U.S. Department of Housing and Urban Development (HUD) to provide housing counseling services. Whether you are a first time homebuyer or you simply want to get more information to make sure you understand how the home buying process works, we can help. Call Consolidated Credit today at 1-800-435-2261 to speak with a HUD-approved housing counselor.
Pre-Purchase Housing Education & Counseling
Purchasing a home is the fulfillment of a dream; it's also likely to be the most significant financial commitment you make. Consolidated Credit offers education and counseling programs that help you navigate through the home buying process. We can also help prepare you to manage the responsibilities of homeownership.
Our programs are valuable for anyone considering a home purchase and may be required for individuals participating in a down payment assistance program, neighborhood stabilization program or other FHA home purchase programs.
If you are taking our counseling and/or education program as a condition of your lender, it is important that you confirm all requirements to satisfy your program, including the length of program (if specified).
Designed to meet the requirements of the US Department of Housing and Urban Development (HUD), our education and counseling programs include:
6 hours of Pre-purchase Education
2 hours of Pre-purchase Counseling
Grants from the Federal government, as well as from various financial institutions in the U.S. enable us to offer these counseling courses free of charge to consumers.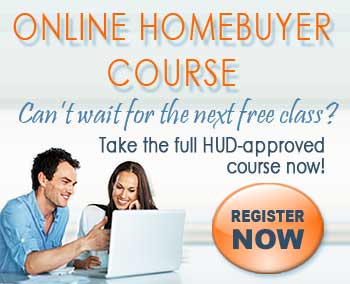 Useful Homebuyer & Mortgage Information
This section provides helpful information for what you need to do before you actually start looking for homes. Learn how to assess your finances and prepare for the home buying process to help ensure the process runs smoothly once you start looking. We'll also tell you how to evaluate your finances to find your optimal mortgage payment.
Searching for a new home is an exciting time as you look to the future and find the perfect place to fit your needs. However, you have to be careful that you don't fall in love with a home that really won't fit your needs once you move in. Learn what to keep in mind as you look for your dream home to help ensure you can really love the home you choose.
Once you find your dream home, you want to make sure the home buying process proceeds as quickly and smoothly as possible. Learn what you need to know when you make an offer on a home, as well as what you should focus on during the inspection process, to help ensure you make it from submitting an offer to closing without a lot of hassle.
A mortgage is one of the most significant financial agreements most consumers sign. We help you understanding the mortgage lending process, starting by building a solid foundation of understanding about how mortgages work and what you need to know before you sign anything. Learn what types of mortgages you can get to suit your unique financial needs.
Learn what you will need to secure a mortgage so you can have any documentation in order once you are ready to buy. Learn how prequalification and preapproval can help make it easier to make a serious offer on a home, as well as speed up the mortgage lending process. We'll show you how to get the right loan for your situation for lasting financial stability.
Closing can be a great time in the home buying process. You're effectively one step away from owning a new property, but nothing is guaranteed yet and the deal could still fall through if you aren't prepared. Learn what to expect from your final walkthrough to closing day, as well as what closing costs you need to plan into your home buying budget.
The U.S. Department of Housing and Urban Development (HUD), along with the Federal Housing Administration (FHA) offer a variety of programs that can make the dream of homeownership a reality for more Americans. Learn more about HUD and FHA programs that can help you get a mortgage and secure your dream home.
The last thing you need when you buy a new home is to become the victim of some kind of real estate fraud or predatory mortgage lending scam. Learn how to protect yourself from unethical and fraudulent real estate practices that could prevent you from getting your dream home or get you into a mortgage that isn't right for your financial situation.
Additional resources for homebuyers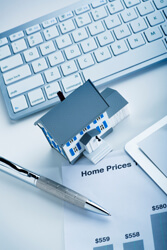 There's no class offered in school that tells you how to buy a home and what you need to know. As a result, when it comes time to buy a home, most consumers have to rely on real estate agents, appraisers and mortgage lenders to really know what's going on. However, wouldn't you feel better if you completely understood the home buying process so you could have peace of mind that you're making the right choices as you move forward?
The resources below can help you better understand the home buying and mortgage lending process, as well as help you along the way to find the right home for your needs. If you still have questions or you need more information, call Consolidated Credit today at 1-800-435-2261 to speak with a HUD-certified housing counselor for free.
Property Valuation Links
The following links can help you get a clear picture of the current property values of different homes you are considering, so you can have a better idea of how much homes are worth. You can start focusing your search; the first two links also allow you to search for homes in your area:
Flood Zones
Flood insurance can be a major expense, depending on where you live. High-risk areas will cost a significant amount of money per year. High flood insurance costs could mean that a home that seems affordable would actually be outside of your means. As such, it's important to know if a property is in a high-risk flood area. You can learn more about flood zones and check specific addresses throughout the country through the FEMA website. Read about zone designations and click "Map Search" to enter a specific address.
Mortgage Calculator
Our free online mortgage calculator can help you determine a target loan amount and terms for your new mortgage. This will help you set a price range for your new home. Using a mortgage calculator once you find a home and start the mortgage lending process can help you avoid purchasing more property than you can afford. Use our free mortgage calculator.
Housing & Mortgage Glossary
Not sure about one of the terms used in this section of the website? Access our free Housing and Mortgage Glossary to find an easy reference to common mortgage and housing terms, including terms related to the home buying process.