Consumer Credit Counseling
What to expect when you work with a certified credit counselor.
Consumer credit counseling services exist to help consumers who are struggling to get out of credit card debt. When a person can't get out of debt on their own but wants to avoid bankruptcy, counseling is there to provide solutions. Consolidated Credit is one of the nation's largest nonprofit credit counseling services. We've counseled over 10 million people since 1993. This guide can help you understand how the process works and how it can help you.
Featured Video:
How Credit Counseling Helps You Get Out of Debt
Consolidated Credit's president Gary Herman explains how counseling started in the U.S. and how it helps consumers who get overextended with credit cards to find relief. He reveals how most Americans end up with debt problems and why debt management is often the right solution to solve them.
[On-screen text] Interview with Aizer: Gary Herman ­– President, Consolidated Credit
Dave Aizer: Consolidated Credit has been helping Americans get out of debt for nearly three decades and Gary Herman has been there since the beginning, even though he only looks 25. So, what has he learned over the years that can help you get out of debt? Let's ask him.
Gary, we all know that Americans are more deeply in debt than ever. Credit card debt is now well over a trillion dollars in this country. What happened?
Gary Herman: The main thing that happened is time. Debt is a creeping problem, that you don't start off on Day One owing $20,000 – or with five or six credit cards. You start with one card and then you go to a store and to get a discount, you get another card. And you start off with $100 on each card and you only have to pay $25 a month.
So, it seems easy – owing money, making minimum payments. The debt gets a little bigger and a little bigger, And as long as people are comfortably making their minimum payments, they're really not paying attention to how much interest is accumulating or whether the balance is going up, and up, and up.
And when you have multiple cards, it's hard to keep track of what your total debt is. The bills are coming in at different times of the month. And if you don't pay attention to it, after the course of three, four, or five years, you wind up owing twelve, fifteen, twenty thousand dollars. It is not uncommon for us to see people owing over $30,000.
Aizer: And then you hear and you see all these ads ­– "We can make your debt go away." How do debt consolidation and debt management work?
Herman: Speaking specifically about nonprofit credit counseling agencies, despite what you may think, credit card companies want to help you get out of debt. But the average person struggling with debt owes five, six, seven credit cards. And the credit card companies aren't allowed to work together to help you get out of debt. So, they need an intermediary.
Back in the 70's they created a program for people who qualify for nonprofit debt management or credit counseling programs, where the company will do a budget, see what options the consumer even has – not everyone can qualify for debt management, it doesn't help everyone. You have to need it, you have to be able to afford it, and it has to help you. You have to save money, time, or both before a credit counseling agency would put you on the program.
Consumers make one payment. They get a lower interest rate, and it's usually around nine or ten percent, which is significantly better than the twenty percent or higher, especially if you've fallen behind or are about to fall behind. They [credit card companies] risk price you and you're typically paying in excess of twenty percent interest.
Aizer: So, if you qualify, it sounds like a debt management program can actually be really helpful.
Herman: It's really helpful, if you can make the payments. It's a commitment. It does take around four years. You have to be able to afford the payment. It saves a lot of money in interest. It can help you avoid bankruptcy for people who really can't afford to pay their debts off on their own.
Aizer: What should people look for in a nonprofit credit counseling agency? After all, they're entrusting their financial futures with these companies.
Herman: That's actually a really good question. For the most part, the programs that credit counseling agencies are the same because they come from the credit card companies. But it really makes a difference, the level of sophistication, the level of service, and the quality of the people who work there.
You should also make sure that the company has been in business since at least the early 2000's, and make sure they're licensed and/or registered in the state where you live. You can check the website to make sure that they're properly registered, properly licensed. Check social media for reviews, and do research also with the Better Business Bureau. [It] has also credit counseling agencies scored. Consolidated has an A-plus rating and we've been doing this for a very long time.
Aizer: Can't do much better than A-plus.
Herman: That's right.
Aizer: Gary, thank you so much.
Herman: Sure. My pleasure.
Aizer: If you are in debt and you don't know how to get out, call one of Gary's certified credit counselors today for a free assessment.
What is credit counseling?
A credit counseling service is not a debt solution in and of itself. It's a service intended to help you identify the best possible debt solution for your needs. In that sense, counseling is essentially a consumer advocacy service. A credit counselor is there to help you make informed choices on the best way to get out of debt, based on your unique financial situation.
Credit counseling doesn't have to be so confusing. Here's a super-easy 60-second explanation of how credit counseling works.
If you're facing financial distress because of debt, you have a few options when it comes to finding relief. Credit counseling helps you zero in on the right option to use in your situation. That way, you can rest easy knowing your debt solution is actually going to work.
You start the process with a free debt evaluation to see where you stand. A certified credit counselor looks at your debts, budget and credit score to help you decide which solution will work for you.
If a debt management program ends up being your best option, then your credit counselor can also help you enroll in the program. They can tell you how much you'll pay on the program and how long it should take versus what it would typically take on your own.
So if you're struggling to get ahead of your debt, we can help! Call Consolidated Credit today for a free debt evaluation with a certified credit counselor. Together, we can find the best solution so you can finally beat your problems with debt.
| | |
| --- | --- |
| Don't spend another restless night stressing about your debt. Talk to a certified credit counselor to find a solution. | Free Consultation |
How does credit counseling work?
Step 1: Make a free, no-obligation, toll-free phone call
Almost all counseling sessions occur over the phone. This allows you to speak directly with a certified counselor, so they can ask questions and understand your situation.
First, they will also ask about how you got into debt and what financial challenges you're facing. This is crucial because it helps the counselor understand the root cause of your financial challenges. That way, they can help you make effective plans to get out of debt – and to stay that way.
Step 2:  Get a free debt and budget evaluation
Next, you and your credit counselor will dive into your financial situation with a full debt and budget analysis. This takes about 30 minutes to an hour to complete.
The counselor will ask for details about your debt – how much you owe, who you owe, and what your interest rates are.
They'll also gather information about your income and expenses. This is necessary, so the counselor can understand how credit card debt may be factoring into the financial difficulties that you're facing
They'll also ask for the last four digits of your Social Security number, so they can do a soft credit pull. This means they'll check your credit report to see where your credit stands. This soft pull doesn't affect your credit score.
Step 3: Customize a plan to get out of debt
Finally, the counselor will help you understand your options for getting out of debt. Credit counseling services can help you set up a debt management plan. However, as long as you work with a nonprofit credit counseling agency, they won't push you into that solution. By law, if there are other solutions that would work better in your situation, they must recommend it. They can advise if you'd be better with a debt consolidation loan or if you may be better off filing for bankruptcy.
If a debt management program is your best option for getting out of debt, the credit counselor will help you find monthly payment that works for your budget. Then they get to work with your creditors to reduce or eliminate the interest rates applied to your debt and stopping penalties and fees. This makes it faster and easier to pay off your balances.
This map shows how many people we counseled in 2019 and how many of those went on to enroll in a debt management program:
Connect with a certified credit counselor now for a free debt and budget evaluation.
How much does credit counseling cost?
How much does credit counseling cost?
You won't believe how much, because the counseling is free.
A certified credit counselor gives you a free debt analysis because it doesn't make sense to pay money to find out if you can get out of debt.
You'll learn about your debts, your credit, and your budget. You might be eligible for a debt management program. A DMP can cut your total credit card payments by up to 30 to 50 percent.
But there is a fee involved for most DMP clients, and that ranges from $0 to $79 a month. This depends on your debt amount, state regulations and your budget.
Even if you don't want to sign up for a DMP or you find out it's not really the best solution for you, you can always use the free debt analysis to save you money. The only cost? About 30 minutes of your time.
| | |
| --- | --- |
| First credit counseling session | Free |
| Debt management program | Fees vary by state, capped at $79 nationwide |
With nonprofit credit counseling services, the initial counseling session is always free. You are not obligated to sign up for anything. That means you can get an expert opinion on your debt and the best way to get out of it without incurring another bill.
Once you decide to enroll in a debt management program, there are setup and monthly administration fees. Nationwide, those fees are capped at $79, but most people end up paying about $40. These fees are relatively low compared to other solutions, like debt settlement.
How consumer credit counseling impacts your credit
As long as it's done correctly, credit counseling and enrolling in a debt management program should not negatively impact your credit. The credit check done during your free counseling session is a soft pull, so the credit inquiry will not have any negative effect.
Even if you decide to enroll in a debt management plan, it should still have a positive or neutral effect on your credit. Since your creditors agree to accept reduced payments through the credit counseling agency, you build a positive payment history on your credit report with each monthly payment you make. Paying down your balances also improves your credit utilization ratio, which is the second biggest factor in calculating your credit score.
What to look for to find the best credit counseling service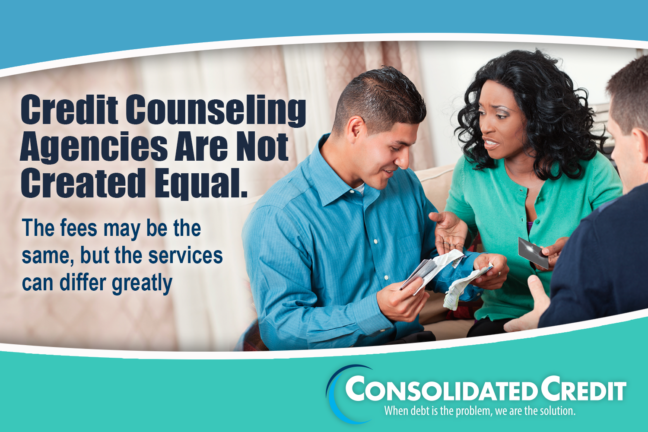 Make sure the agency is rated highly by the Better Business Bureau.
Check consumer reports and independent third-party reviews online.
Make sure the organization is a member of an accredited trade association. Consolidated Credit is a proud member of the Financial Counseling Association of America (FCAA), formerly the Association of Credit Counseling Professionals (ACCPros).
Find an agency that has a proven track record of working with the creditors that you have accounts with.
Ask what financial education materials they offer. A good agency will help you learn better money management skills, so you can avoid challenges with debt in the future.
Then get a feel for the company in your free credit counseling session. If you don't feel comfortable and confident in the service, remember that you're under no obligation to sign up for anything
FAQ
Can I complete a counseling session online?
You can start the process online by completing a free debt analysis form. This will provide all the basic information that the counselor will need to complete your free session. However, after that, you will need to talk directly to the credit counselor. That's easiest over the phone.
After you enroll in the program, you'll be able to track your progress and communicate with the client services team through Consolidated Credit's online members portal.
Does credit counseling work for debt collections?
Yes. Although it's primarily intended for debts that are still with the original creditors, this service can help with collections. It may also be able to help with unpaid medical bills, unsecured loans including debt consolidation loans, and even some payday loans. The program does not work for debts that have collateral, such as your mortgage or auto loan, or for student loan debt.
Featured Video:
Can credit counseling help with collections?
Credit counseling can help with credit card debts that are already in debt collections. Consolidated Credit President Gary Herman explains how credit counseling works when a debt is already with a third-party collector and why a debt management program may be less beneficial when debts are already charged off.
Debts in collections absolutely can be included on a debt management program. If it's with the original creditor, even if it's not with the original creditor, in a lot of cases we're able to get the original creditor to accept the payments back again. Any card that's closed and you're still carrying a balance – any payments that you make directly to the creditor will be applied 100% to the balance. The only thing that may vary by account is whether there's still late fees or interest being applied.
Most of the benefits from a debt management program come before accounts get charged off – basically before an account gets closed is when we can have the biggest effect on saving you money and helping you get out of debt sooner. Once an account's closed, it's charged off – the bank has already written it off, but you still owe them the money, it still shows up on your credit report, and you're still obligated to make payments.
If it's sold to a collection agency and now someone else owns it, we can still attempt to help you with them, although it's not a credit card company and it may be a collection agency that we don't have a relationship with, it's included in our service for us to reach out to them and try to work out a payment plan for our clients. The major benefits of the program really come when you're working with the credit card companies because they have an interest in seeing you rehabilitated, educated, and they want you back as a customer.
BONUS QUESTION: Credit counseling agencies, in general, do not help with removing things that are accurate from a credit report. And, in fact, if you did owe the money and you were behind on it, and even if you make an agreement to pay it, the credit card companies are obligated to report – not why – but if something happened.
Do my spouse and I have to go through counseling together?
That depends on your accounts. If you hold accounts jointly, then you would need to go through credit counseling and debt management program enrollment together. If you maintain separate accounts and only wish to enroll your debts, then you can complete the process without your partner.
Featured Video:
Are Spouses Required to Enroll Together?
President Gary Herman explains when a husband and wife would be required to enroll in a debt management program together and when they can enroll individually if one person wants to enroll without the other.
Ok, you're asking a very good question about do a husband and wife need to be on a credit counseling account together, and the answer is it really depends on your situations. There are reasons why you would want both people on the program and reasons why you may not want both people on the program, and it would really involve me getting to know more about what your individual situation is outside of the debt management program. The only people who are obligated to participate in the debt management program are the people who are the actual signers on the accounts. These are the people who have signed the loan application, promising the credit card companies that they're responsible for making the payments. This is different from an authorized user. You may have a credit card and you could ask the credit card company to give you another card in your husband's name, and then he's just an authorized user – he never signed a piece of paper saying that, "If neither of us pay, I'm still responsible for paying." If that card is with a bank that you're also including another card from that bank on the program that's just in your name, you would have an issue that would affect that card. The simple answer is, if want to just put your cards on the program you can, we can do the budgeting work just on you, we can do it on you and your household, or we can do both. But in the end, if your name's on the card you're the only one who has to join the program.
Get more information on financial counseling for couples »
Is credit counseling the same as bankruptcy counseling?
No. When you file for bankruptcy, you are required to go through a specialized counseling program known as pre-bankruptcy counseling. Pre-bankruptcy counseling is a required 60 to 90-minute session that has a fee of around $50. Fees vary by state and may be waived if you can't afford to pay. But this is different from the free credit counseling session that you receive through this service.
| | |
| --- | --- |
| Still have questions about credit counseling? Ask our certified financial coaches, so you can make an informed decision about what to do with your debt. | Ask a Question |