Certified Consumer Credit Counseling
Credit counseling services make it easy to identify the best way to eliminate credit card debt.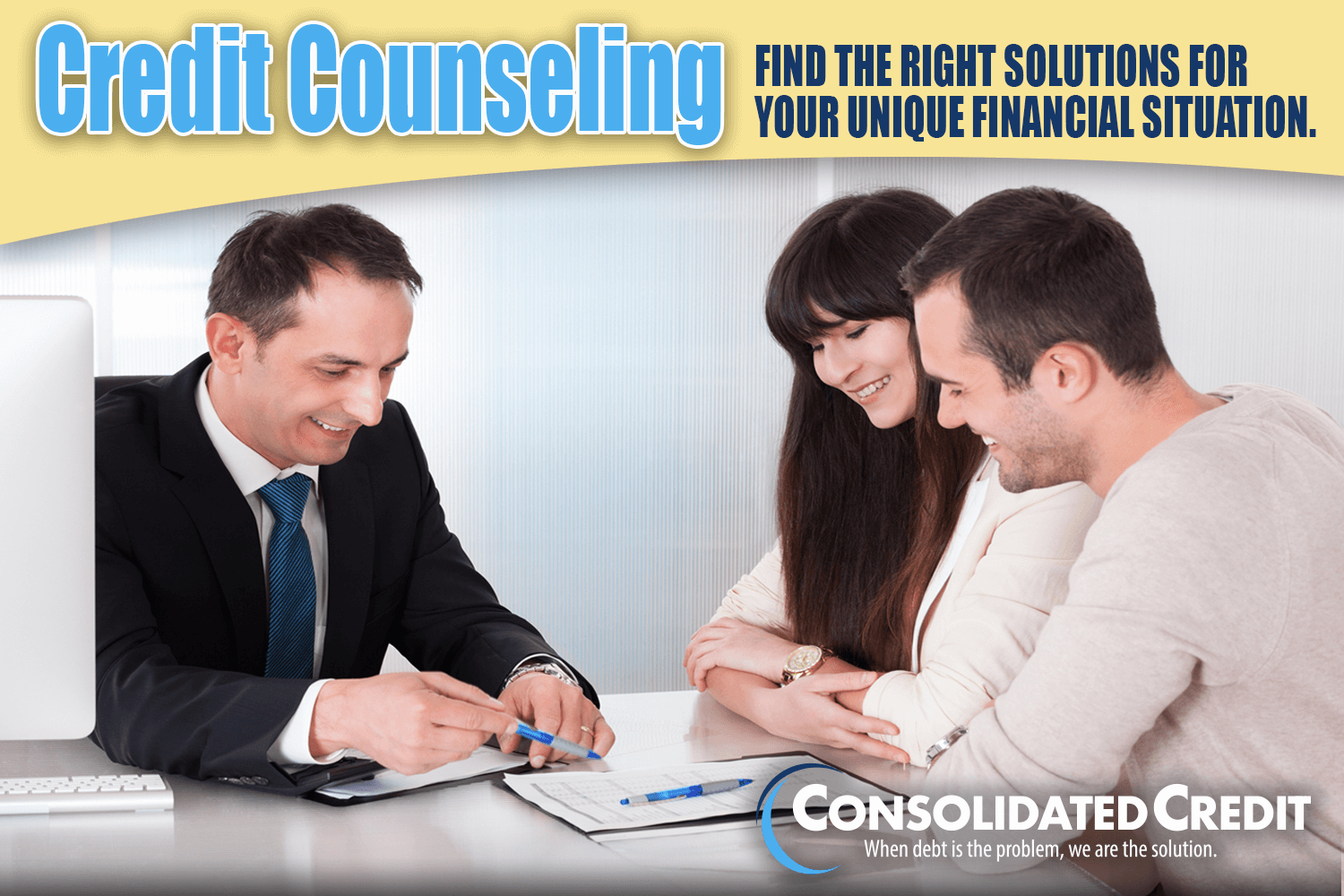 Getting out of credit card debt isn't easy. High interest rates make traditional payments ineffective. You pay diligently month after month, but your balances never seem to go down. And while there's no shortage of solutions that can provide debt relief, most people don't know about any of these options until they need to use them. As a result, many people struggle to identify the best solution to get out of debt given their unique financial situation.
That's where consumer credit counseling services can come in and make a big impact. A certified credit counselor is an expert at helping people zero in on the best solution for their needs. But there's a lot of misconceptions about credit counseling. This page is designed to help clear them up, so you can decide if consumer credit counseling is right for you.
What is credit counseling?
First, it's important to understand that credit counseling is not a debt solution in and of itself. It's a service that's intended to help you identify the best debt solution for your needs. In that sense, credit counseling is essentially a consumer advocacy service. It's there to help you make the best possible plan to get out of debt in order to meet your goals.
Credit counseling doesn't have to be so confusing. Here's a super-easy 60-second explanation of how credit counseling works.
If you're facing financial distress because of debt, you have a few options when it comes to finding relief. Credit counseling helps you zero in on the right option to use in your situation. That way, you can rest easy knowing your debt solution is actually going to work.
You start the process with a free debt evaluation to see where you stand. A certified credit counselor looks at your debts, budget and credit score to help you decide which solution will work for you.
If a debt management program ends up being your best option, then your credit counselor can also help you enroll in the program. They can tell you how much you'll pay on the program and how long it should take versus what it would typically take on your own.
So if you're struggling to get ahead of your debt, we can help! Call Consolidated Credit today for a free debt evaluation with a certified credit counselor. Together, we can find the best solution so you can finally beat your problems with debt.
| | |
| --- | --- |
| Don't spend another sleepless night stressing about your debt. Speak with a counselor to find a solution. | Free Analysis |
How credit counseling works
There are two key parts to the counseling process:
Free debt evaluation and budget counseling
Debt management program enrollment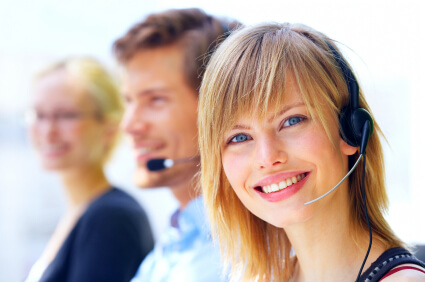 Step 1: Free evaluation
Credit counseling always starts with a free evaluation. A certified credit counselor reviews your debt, credit, and budget to see where you stand. This allows them to make recommendations on your best options to get out of debt, given your unique financial situation. This first counseling session is typically done over the phone.
| | |
| --- | --- |
| Cost | Free |
| Time spent | Usually half an hour to one hour |
| Result | Identify the best option for debt relief in your situation |
It's important to note that Consolidated Credit is a nonprofit consumer credit counseling service. This means we don't drive you into any specific solution. Even though nonprofit credit counseling companies administer debt management programs for some clients, only about one in ten people that go through the first step of the credit counseling are a good fit for the program. For the other nine, the credit counselor recommends other solutions that are a better fit for each individual situation.
A credit counselor may recommend any of the following solutions, based on your situation:
A reputable credit counseling agency will only recommend a solution when it's the right one to use in your situation. They'll also help you compare solutions and answer any questions you have, so you can make the most informed decision possible for how to get out of debt.
If you are eligible for a debt management program, the credit counselor will be able to tell you what your new monthly payment would be during this initial consultation. However, there's no obligation to sign up immediately, so you can take your time and decide what's best for you before you enroll.
Step 2: Enrolling in a debt management program
If it turns out that a debt management program is your best option, then you will sign up for the program through the credit counseling agency once you decide to enroll. At this point, your credit counseling team really become your advocates. They contact each of your creditors to negotiate a repayment plan that works for your budget. This negotiation:
Reduces or eliminate interest charges applied to your debt
Stop future penalties from being applied to your debt
Negotiate for the creditor to accept reduced monthly payments as part of your debt management program
Essentially, the creditor gives their blessing for that debt to be included in the program. Then they also agree to minimize interest charges as much as possible and stop any penalties. Once all your creditors sign off, your program officially begins. You make one payment to the credit counseling agency, which they distribute to your creditors on your behalf. You still owe your original creditors.
The credit counseling team is just there to make sure everything goes smoothly and to help you troubleshoot any challenges that may arise along the way.
Ready to find the best option for debt relief to fit your needs? Talk to a certified credit counselor today to get your free debt and budget evaluation.
How much does credit counseling cost?
How much does credit counseling cost?
You won't believe how much, because the counseling is free.
A certified credit counselor gives you a free debt analysis because it doesn't make sense to pay money to find out if you can get out of debt.
You'll learn about your debts, your credit, and your budget. You might be eligible for a debt management program. A DMP can cut your total credit card payments by up to 30 to 50 percent.
But there is a fee involved for most DMP clients, and that ranges from $0 to $79 a month. This depends on your debt amount, state regulations and your budget.
Even if you don't want to sign up for a DMP or you find out it's not really the best solution for you, you can always use the free debt analysis to save you money. The only cost? About 30 minutes of your time.
| | |
| --- | --- |
| First credit counseling session | Free |
| Debt management program | Fees vary by state, capped at $79 nationwide |
The first part of the process is 100% free and you're not under any obligation to sign up for anything. You can talk to a credit counselor at no charge to get an expert opinion on your best option to get out of debt. That way, you don't incur another bill you can't really afford to find a solution for your challenges with credit card debt.
If you decide to enroll in a debt management program, there is a setup fee and monthly administration fee. Fees are regulated by the state where you live. Nationwide, fees are capped at $79. But most people end up paying about $40. These fees are relatively low compared to other solutions. For example, debt settlement program fees can run into the thousands because you end up paying a portion of the original amount you settled.
The reason fees are low is because Consolidated Credit – like many credit counseling agencies – is a nonprofit service. Credit counseling companies are funded by grants, so they're not out to make a profit from getting you out of debt. The fees are there to cover the administrative costs of a debt management program.
Free financial education and free access to financial coaches
Another part of Consolidated Credit's mission is to provide free financial education to anyone who needs it. That's why we have so many free financial education resources on our website. Whether you need to learn how to budget, save or manage your credit more effectively, we have tools that can teach you everything you need to know.
We also provide an easy way to ask questions directly to Consolidated Credit's certified financial coaches. Ask the Experts allows you to ask a question and get a simple, straightforward answer from a certified financial coach. This helps minimize the guesswork that often goes into personal finance because, let's face it, most of us didn't get a class in financial education in school.
| | |
| --- | --- |
| Have a question about debt or your credit, ask our certified financial coaches now so you can make informed choices for your financial future. | Ask a Question |
What do credit counselors do?
Certified credit counselors are experts in credit card debt relief. They have a thorough understanding of all the possible solutions that a consumer can use to get out of debt. And they know when those options are best (and when they're best avoided). So, a credit counselors primary job is to help you identify the best solution for your needs.
In addition, credit counselors are expert debt negotiators. Credit counseling agencies have established relationships with most major creditors and retailers. They also have proven records of helping credit users get out of debt. So, this makes them perfectly suited to negotiate with your creditors while they're setting up your debt management program.
Even if you've tried to negotiate lower interest rates or a repayment plan with your creditors on your own and failed, a credit counselor can have success. Working with a credit counseling agency shows the creditor that you're serious about getting out of debt and willing to do what it takes. So, they're often willing to give you a better deal during negotiation than they would if you called to negotiate on your own.
Consolidated Credit's counselors are here to be your advocate
Our credit counselors are here to help you get out (and stay out) of debt. This takes more than simply providing a single debt solution. It's about teaching you better financial habits, so you can avoid challenges with debt in the future and achieve your financial goals. This involves three basic things:
Debt analysis to solve your immediate crisis with debt
Free financial education to help you build financial literacy
One-on-one financial coaching to answer any questions you have
The goal is to help you learn how to become financially stable and maintain that stability long-term. That way, you can build the right financial strategy that will allow you to address any new challenges you may face in the future on your own.
Meet Consolidated Credit's Certified Credit Counselors
We ask our certified credit counselors to tell us about their most memorable calls with clients.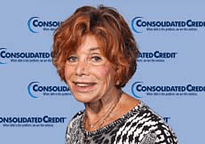 "I got a call from an executive with a major company. He was a big earner with high income, but he also had close to $200,000 in credit card debt. It moved me because it shows no matter how much money you earn, it doesn't mean you don't have problems. This man and his family had an autistic child who was severely brain damaged at birth. They used credit cards to cover schooling and medical procedures. Financial challenges don't discriminate, even if you have money." Sheila, Certified Credit Counselor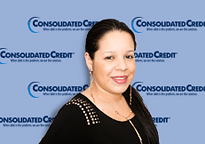 "One day a client started telling me about her situation: She was facing problems with the IRS and about to lose her car. She only had 4 months left on the program, but she wanted to give up. I said, "You still have a home, you have a place to live, so stick with it and you will be OK." Once she completed the program to eliminate almost $100,000 in debt, things did get better." Lilisbeth, Customer Service Representative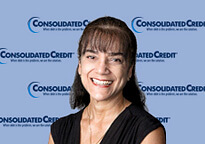 "There was a lady who walked into our office requesting to speak to someone. She had a shopping addition so bad she rented a little warehouse to store all the stuff that she was buying. She said, "Sometimes I don't even wear the stuff. There are shoes in there that I bought and just stuck in there."
Hope, Customer Service Representative
The truth about consumer credit counseling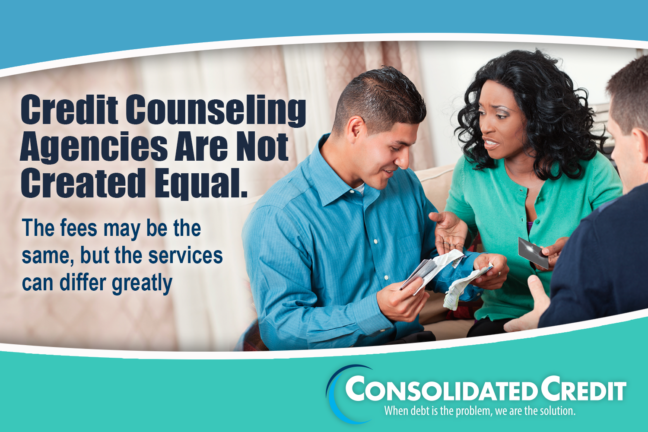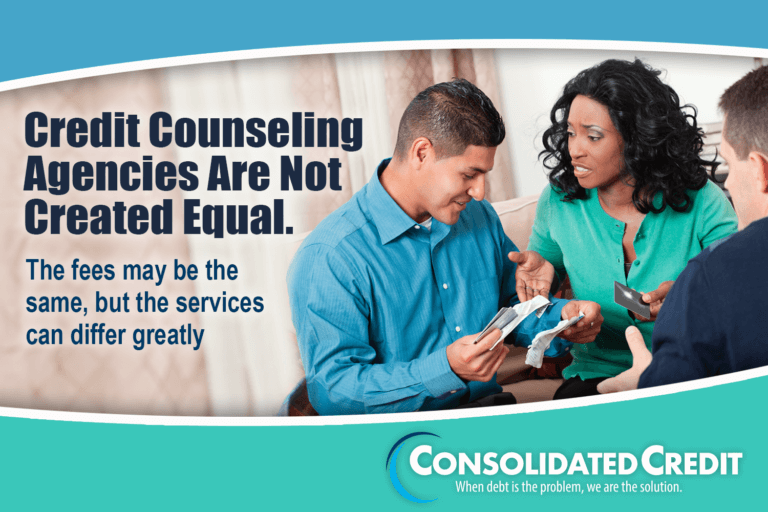 Since credit counseling agencies are nonprofit and fees for debt management programs are set by the state where you live, choosing the right credit counseling agency really isn't about price. There should be little difference in price from one agency to the next, and the first credit counseling session should always be free.
But this doesn't mean that there's no difference between one credit counseling service and another. Although the cost is roughly the same, the service you receive can be vastly different.
What should you look for to find a reputable credit counseling service?
First, you want to make sure that the agency you work with is rated well by the Better Business Bureau. You always want to work with companies that have an A-rating or higher with the BBB.
You should also check consumer reports and independent third-party reviews online. Don't just trust the reviews on a company's website, because they're only going to show you their best reviews.
You also want to ask about their relationships with creditors. Do they have established relationships with your creditors? If not, some creditors may not agree to have your debts with them included in the program.
Ask about what resources and financial education materials they offer. While you're enrolled in a debt management program, you'll want to take full advantage of these resources to build your financial literacy.
Get a feel for the company in your first credit counseling session. At the end of your debt evaluation, you should feel comfortable and confident that you've found the solution you need. If you don't get a good feeling about the service in that initial call, try another agency. You should have peace of mind, not more anxiety.
Credit counseling FAQ
Debts in collections absolutely can be included on a debt management program. If it's with the original creditor, even if it's not with the original creditor, in a lot of cases we're able to get the original creditor to accept the payments back again. Any card that's closed and you're still carrying a balance – any payments that you make directly to the creditor will be applied 100% to the balance. The only thing that may vary by account is whether there's still late fees or interest being applied.
Most of the benefits from a debt management program come before accounts get charged off – basically before an account gets closed is when we can have the biggest effect on saving you money and helping you get out of debt sooner. Once an account's closed, it's charged off – the bank has already written it off, but you still owe them the money, it still shows up on your credit report, and you're still obligated to make payments.
If it's sold to a collection agency and now someone else owns it, we can still attempt to help you with them, although it's not a credit card company and it may be a collection agency that we don't have a relationship with, it's included in our service for us to reach out to them and try to work out a payment plan for our clients. The major benefits of the program really come when you're working with the credit card companies because they have an interest in seeing you rehabilitated, educated, and they want you back as a customer.
BONUS QUESTION: Credit counseling agencies, in general, do not help with removing things that are accurate from a credit report. And, in fact, if you did owe the money and you were behind on it, and even if you make an agreement to pay it, the credit card companies are obligated to report – not why – but if something happened.
Can I complete credit counseling online?
Although you can start the process online by completing our debt analysis form, you'll need to speak with a credit counselor directly for your free evaluation. You and the counselor need to talk one-on-one, so you can discuss your financial situation and review your options for relief. This is easiest over the phone.
That being said, if you just have basic questions about the process or our service, you can click the chat icon in the bottom right corner of your screen. A credit counselor will be happy to answer any questions you have so you can decide if you want to call for the free evaluation.
How can I spot a credit counseling scam?
Debt relief scams are, unfortunately, all too common. There are companies that prey on people's desperation and need to find a fast solution to get out of debt. While most of these scams center around debt settlement, credit counseling scams do exist.
The easiest way to spot a debt relief scam is through the fees they charge. A nonprofit credit counseling agency will never charge a fee for your initial debt evaluation. And they can't apply any fees on a debt management program over and above the fee caps set by your home state.
So, if you see exorbitant fees – anything over $79 – then that's the first sign you may be dealing with a scammer. For the record, fees are also the way that you can spot a debt settlement scam. Federal law prohibits debt settlement companies from charging ANY fees until they settle at least one debt on your behalf. If a settlement company tried to charge fees upfront, that's a sure sign of a scam, too.
Who financially supports a consumer credit counseling service?
Nonprofit consumer credit counseling agencies are supported through grants provided by major credit issuers. Companies like Capital One, for instance, award grants to agencies that fund their free financial education and counseling services.
The reason credit card companies provide these grants is because it's in their best interest to provide assistance to help their customers overcome challenges with debt. They don't want you to default and let your debts go to collection, because that represents a loss in profits for them. So, they fund credit counseling agencies which provide the means for their customers to rehabilitate their credit.
Additional resources to help you decide
At Consolidated Credit, we understand the decision to reach out for help can be tough. We've developed a selection of articles that can help you decide if it's time to get counseling yourself.