Contests by Consolidated Credit
Get rewarded for showing your financial savvy!
Let's face it, managing your finances and doing the right thing for your money isn't always fun, but it's necessary. With that in mind, Consolidated Credit holds regular contests, raffles, and sweepstakes to make getting out of debt and budgeting a little more existing. We're happy to offer people a little extra incentive to be financially savvy and successful.
On this page, you can find information and rules on all of our current contests. Simply follow the instructions to get in on winning.
Take a survey, win a $100 gift card
Everyone who takes our current survey will be automatically entered to win.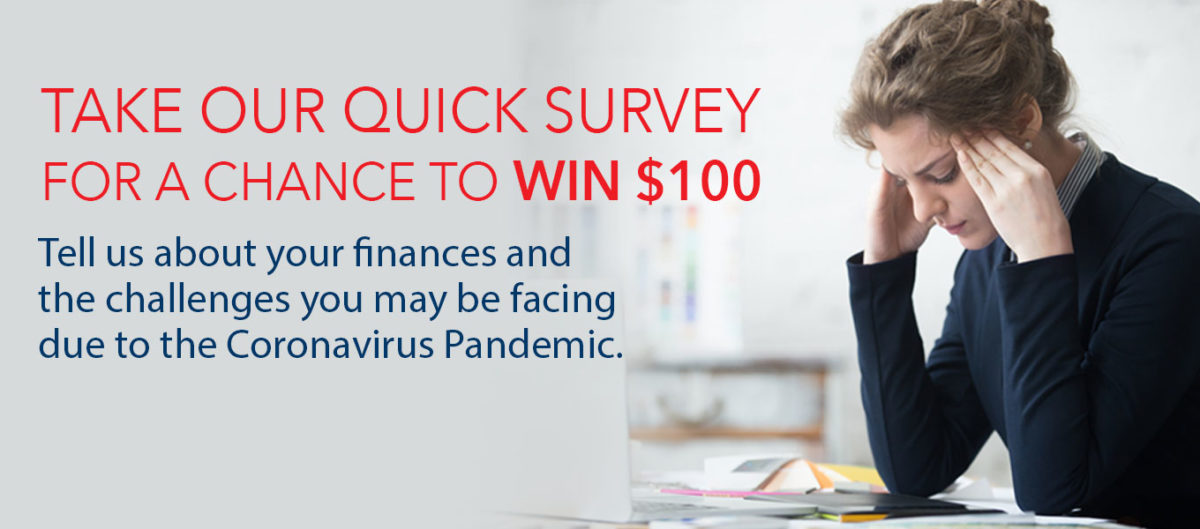 Consolidated Credit is giving you an easy way to win a little extra cash to help your budget. All you need to do is take a quick, 1-minute survey.
You can take the survey anonymously, but in order to be entered in the $100 gift card drawing, you must provide all contact information requested at the end of the survey. To win, simply click on this link to go to the survey, answer all the questions honestly and then provide the required contact information. Your name will be entered into the drawing. The winner will be emailed their gift card redemption instructions that day.
The winner for our current survey will be selected on May 15, 2020, at 12:00 PM (EST). You don't need to be a client of Consolidated Credit to participate in this contest.
Share our Tip of the Week to win!
Win a $50 gift card for sharing our personal finance tips on your favorite social network!

Each week, Consolidated Credit offers a personal finance tip on our social networks (Facebook, Twitter, Instagram, and Pinterest). These tips are designed to help people learn smart ways to budget, save, build credit and manage debt.
And we're giving you a chance to win a $50 gift card just for sharing a tip. Simply go to Facebook, Twitter, Pinterest or Instagram and find Consolidated Credit's Personal Finance Tip of the Week. Share it, tweet it, repost it or pin it and you'll be entered automatically to win.
We select a new winner each month and the winner from the previous month will be announced on our social networks on the first. Make sure to check back around the first to see if you won!
This contest is open to everyone, so you don't need to be a client of Consolidated Credit to win.
YouTube Subscribe to Learn & Earn
Clients and alumni can win $250 just for subscribing to our YouTube Channel.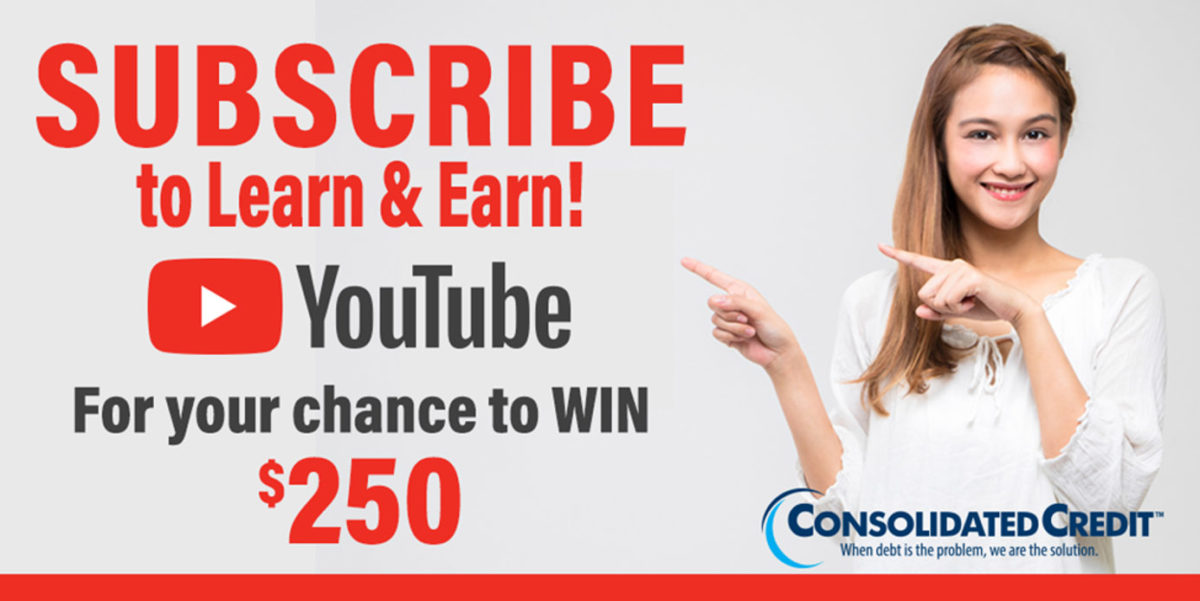 You can win $250 simply by hitting the SUBSCRIBE button on Consolidated Credit's YouTube Channel. Then, fill out this form. Each quarter, we'll choose one subscriber to the channel and they win a $250 gift card. It's that easy!
The winner is selected on the last day of each quarter:
March 31st
June 30th
September 30th
December 31st
We will announce the winner on our social media channels and send an email to the email address you provided. Good luck, everyone. Happy subscribing!
Money Mantras Contest
NOTE: THIS CONTEST IS CURRENTLY CLOSED
What is a money mantra?
A money mantra is a personal financial truth that you hold dear, that drives what actions you take in your financial life. It's the core financial belief that lies at the center of your philosophy – a life lesson that you've learned which can benefit others in similar situations if they follow it, too.
Credit Dojo: Train with the Credit Ninja to Win!
NOTE: THIS CONTEST IS CURRENTLY CLOSED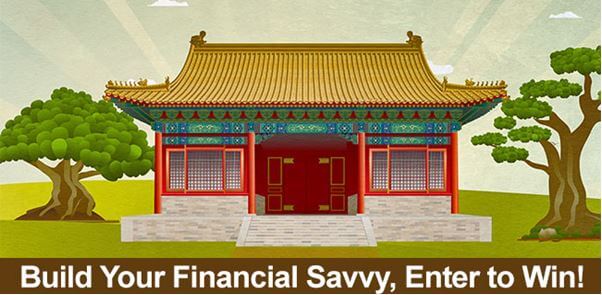 Consolidated Credit has launched a fun, new, interactive financial education course series called Credit Ninja and we're giving Consolidated Credit clients and alumni a little incentive to try it out!
Bret C. from NY won $250 for passing the first test in the course series. Now it's your turn!
What you need to do to win: You must be a current or past client of Consolidated Credit in order to participate. You should have received an email from Consolidated Credit with an invitation to try the courses out. Use the link provided in the email to log onto the course website and create your account. Then pass the first five tests before 1/11/2016 at 12:00 AM (EST) to be entered into a drawing for a $250 gift card. The winner will be emailed on January 16th to confirm the email address to send the gift card. If you've already passed the first five tests, then you're already entered in the drawing.
Note: If you are currently a client or alumni of Consolidated Credit, but you have not received your Credit Ninja invitation, just email us at [email protected].
Thankful Photo Contest
NOTE: THIS CONTEST IS CURRENTLY CLOSED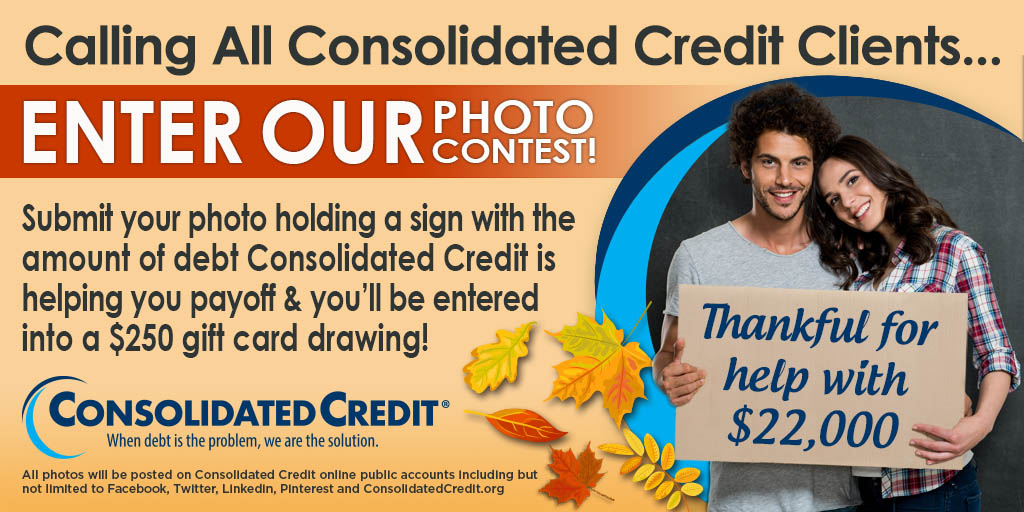 Calling all Consolidated Credit Clients… Enter Our Photo Contest. Submit your photo holding a sign with the amount of debt Consolidated Credit is helping you payoff & you'll be entered into a $250 gift card drawing. All photos will be posted on Consolidated Credit online public accounts, including but not limited to Facebook, Twitter, LinkedIn, Pinterest, and ConsolidatedCredit.org
There's plenty of reason to be thankful when you achieve freedom from debt. Consolidated Credit is giving you one more reason with a chance to win a $250 gift card to help you enjoy a debt-free winter holiday.
To enter in the contest, like our Facebook Page and just submit a photo holding a sign with the amount of debt that Consolidated Credit is helping you pay off. Email the photo to us at [email protected] for your chance to win.  Keep in mind that we'll be posting these photos to our social networks like Facebook, Instagram, and Twitter.
Click here to see a gallery of thankful clients
Photos must be received by 11:59 PM on 11/28/2019 to be entered in the drawing. For contest rules and regulations, please read the "General Contest Rules" provided below.
Holiday Story Contest
NOTE: THIS CONTEST IS CURRENTLY CLOSED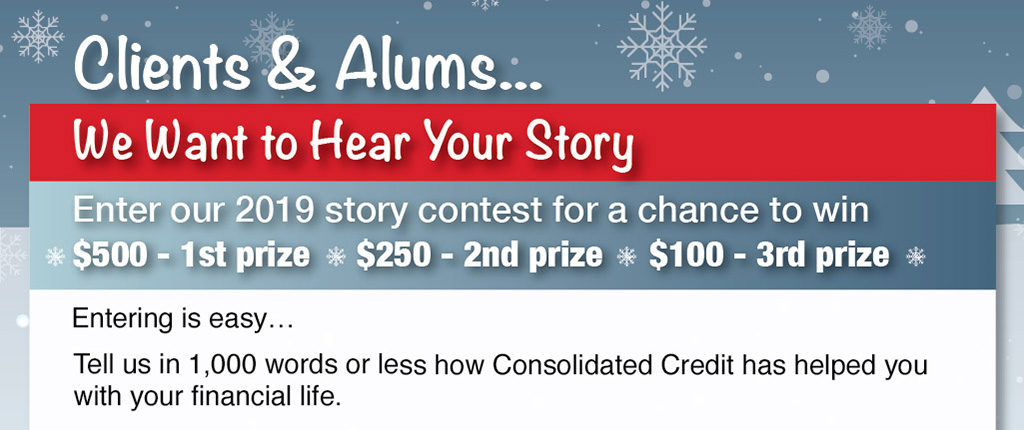 Clients and Alums, we want to hear your story. Enter our 2019 story contest for a chance to win $500 – 1st price, $250 – 2nd prize, $100 – 3rd prize. Entering is easy. Tell us in 1,000 or less how Consolidated Credit has helped you with your financial life.
In the spirit of the holiday season, we'd love to hear your story of how Consolidated Credit helped you get your budget on track and assisted you in tackling your debt. Stories have the power to inspire, motivate, and elevate! Three lucky people will win $500, $250 or $100 for their story submission.
The contest rules are simple:
Your story can offer hope to people who feel alone and isolated with their debt. These stories provide people with the courage and motivation they need to start their own journey to become debt-free. So, please take some time this holiday season to pay it forward and help other people facing similar situations with debt!
100 Days, 100 Ways to Save Money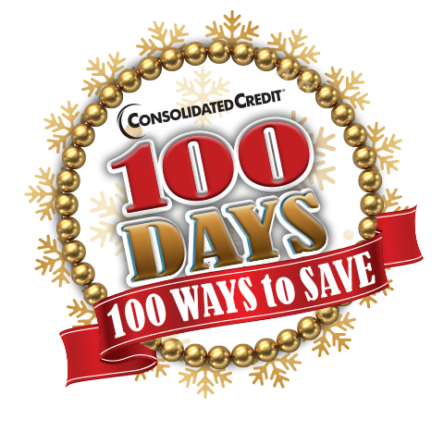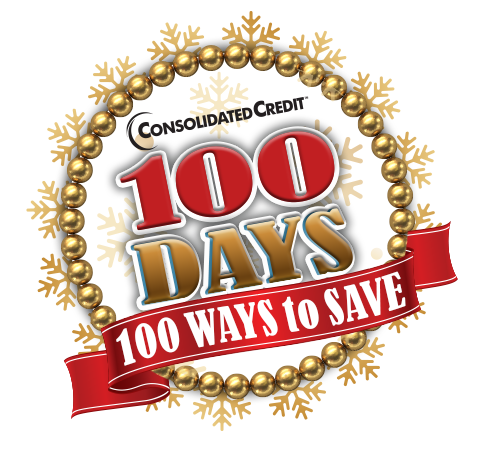 September 16 marks the official start of the holiday shopping season, with exactly 100 days to shop before Christmas Eve. As the busiest shopping season of the year, the holidays often wreak havoc on family budgets. Consolidated Credit is here to help you stay on track and avoid overspending.
Every day on Twitter, Facebook, Instagram, and Pinterest, we will post a new daily tip for how to save money and avoid debt during the holiday shopping season. These posts will include the hashtag #100Days100Ways. To get entered, simply follow us on our social media platforms and then retweet, repost, like, and share those daily tips with the hashtag included. You don't even need to be a current or former client of Consolidated Credit to win. Anyone can enter!
Each retweet and share earns you one entry into the monthly raffle drawings for a $100 gift card.
First drawing: Wednesday, October 16th, 2020
Second drawing: Monday, November 18th, 2020
Third drawing: Thursday, December 26th, 2020
For contest rules and regulations, please read the "General Contest Rules" provided below.
General Contest Rules
We will notify prize winners via email.
The names of all prize winners may also be announced on our website and posted on our social networks.
Prizes are not transferable or exchangeable; they cannot be redeemed for cash. The Promoter accepts no responsibility for any variation in prize value following the commencement date of the competition.
The Promoter and its associated agencies and companies will not be liable for any loss (including, without limitation, indirect, special or consequential loss or loss of profits), expense, damage, personal injury or death which is suffered or sustained (whether or not arising from any person's negligence) in connection with this competition or accepting or using any prize, except for any liability which cannot be excluded by law (in which case that liability is limited to the minimum allowable by law).
In addition, the promoter reserves the right in its sole discretion to take any action that may be available and to cancel, terminate, modify or suspend the competition. The Promoter also reserves the right to disqualify any individual who tampers with the entry process including if an automated entry or voting mechanism is used.
The promoter reserves the right to contact entrants via email about the promotion and a future promotion.
Each winner is responsible for any tax implication arising from winning a prize.
In the event of any prize not being accepted or claimed within 3 weeks of the winner's name being announced, the relevant winner's entry will be deemed invalid. The Promoter reserves the right to award the unclaimed prize to the next best Eligible Entrant determined by the Promoter in its sole discretion.
Except for any liability that cannot be excluded by law, the Promoter, their related entities and their officers, employees and agents, exclude all liability (including negligence), for any personal injury; or any loss or damage (including loss of opportunity); whether direct, indirect, special or consequential, arising in any way out of the Promotion, including, but not limited to, where arising out of the following: (a) any technical difficulties or equipment malfunction (whether or not under the Promoter's control); (b) any theft, unauthorized access or third party interference; (c) any entry or prize claim that is late, lost, altered, damaged or misdirected (whether or not after their receipt by the Promoters) due to any reason beyond the reasonable control of the Promoters; (d) any variation in prize value to that stated in these Terms and Conditions; (e) any tax liability incurred by a winner or entrant; (f) redemption of the prizes; and/or (g) participation in the Promotion.
If the Promoter, in its absolute discretion, considers an entry is in violation of any laws, the Promoter may report the entrant to the appropriate law enforcement authority and the entrant will have no claim against the Promoter, including for any loss or damage it may suffer as a result.
All entries will be the property of the Promoter and may be used by the Promoter in advertising the Promoter's products and services. All Eligible Entrants assign all copyright in their entries to the Promoter and expressly waive all of their moral rights under the Copyright Act 1968 in favor of the Promoter and all Eligible Entrants agree to do all things reasonably necessary to give effect to this term. The personal information entrants provide will be used by the Promoter for the purpose of conducting this competition. The Promoter may disclose entrant's personal information to its contractors and agents to assist in conducting this competition or communicating with entrants.
Where the prize is awarded in the form of a gift card, voucher or letter ("Voucher"), the Promoter will not be liable for any Voucher that has been lost, stolen, forged, damaged or tampered with in any way. Redemption of the Voucher is subject to the terms and conditions specified on the Voucher.
Failure by the Promoter to enforce any of its rights at any time does not constitute a waiver of those rights.