Retired vet fights a war against his $30,000 debt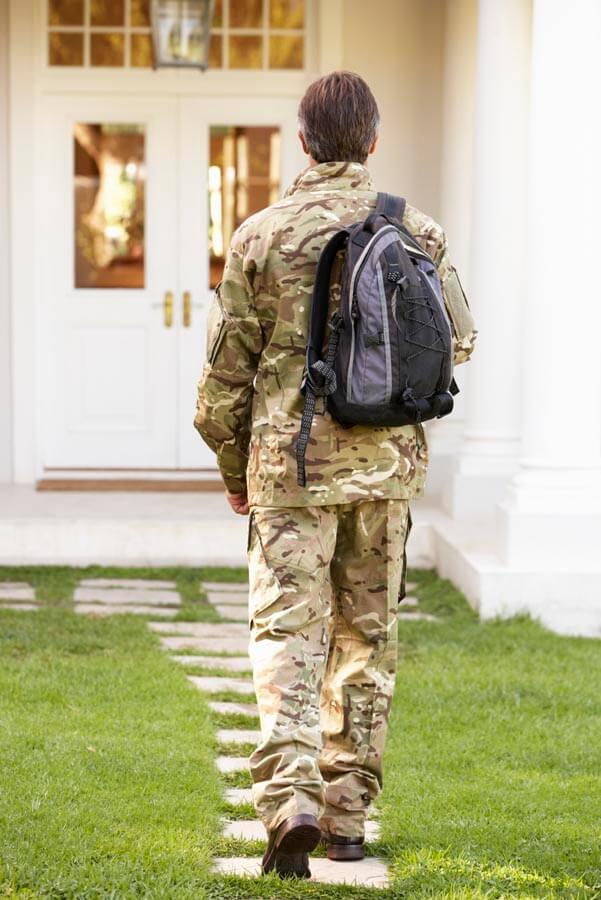 For eight years, Carlos E. fought on the frontlines in Iraq. After the last of three deployments that ended in 2012, he was diagnosed with depression and Post Traumatic Stress Disorder (PTSD). Even though the infantry sergeant is retired, he's still fighting – this time, it's a battle with debt. And before he came to Consolidated Credit, he was losing.
"I didn't know how to cope," he says, and that led to "irresponsible situations" like refinancing his 2000 Dodge Journey. Getting married and divorced for a second time added to his debts. Worst of all? Carlos blames his illness combined with "a steady income."
Yes, a steady income caused Carlos problems…
"Because I had a steady income, my bank and other local institutions kept on giving me loan after loan," he says. He accepted them all without thinking.
"I had about eight credit cards and five loans. I had all this stuff going through my mind. I just couldn't understand financially how I was getting into a dark debt hole."
His second marriage added to his debts…
"The biggest mistake for me was getting married for the second time. I spent a lot of unnecessary money on just shopping for things and taking her out. We simply didn't budget. I financed a $14,000 vehicle in my name just because she wanted a car. We did not eat at home, we bought no groceries, and would eat out almost every night. I supported her smoking habit, she would not work. I could go on and on."
The next biggest mistake…
"The second biggest mistake was refinancing my vehicle," he says. "I asked for a loan to buy the car and when they gave me that loan I spent the money on something else. In 2014 my car is worth $1,000 per blue book or any bank and I still owe $6,000 on it."
Carlos decided to seek financial help…
"I went to a financial advisor and the first thing they said, 'You need to talk to a debt consolidation company,'" he recalls. "I had the option of going with a military one, but I had seen the Consolidated Credit TV commercial and decided to go there instead. The counselor was straight up in telling me this is what they can and cannot do for me."
Carlos is on the path to financial freedom. Consolidated Credit was his saving grace…
"Consolidated Credit was like a miracle," he says. "When I was in the dark, they came with a light and showed me the way. After making that call, I felt there was a solution. I can start taking care of this rather than just sitting at home worried and thinking about how I'm going to pay all this debt for the rest of my life. It's been almost four years, and I don't regret calling. You could actually see the debt disappearing."
The debt management program taught Carlos a few financial lessons…
"I budget now. I buy all my clothes at thrift stores," he says. "The new way for me is saving more. I was throwing away money before, but now if I spend money in a good way and invest it in a good way, it will come back to me. I'm so grateful. I'm a different man today."
To those loaded with debt, Carlos says…
"Get out of the bad habits. Get to a consolidated program and see what they can do for you. I was in so much debt and now I'm so relieved."
Carlos has both his PTSD and finances under control…
"I was honored to serve in Iraq. I did three tours over there. Right now I feel up and down, it's stable, it's manageable, it's better than what it was," he says of his PTSD and depression. "Consolidated Credit helped me understand that no matter how bad my financial instability had been, I must keep my dignity and self-respect because I am worth it."
Carlos gives thanks…
"Thank you Consolidated Credit – from the heart of a very grateful U.S. Army veteran."
And thank you Carlos E. for your service from all of us at Consolidated Credit.
Are you at war with debt? Consolidated Credit can help you fight the good fight…
Does it feel like you're in a constant battle with debt? Like Carlos, seek the help you need to give you peace of mind. Consolidated Credit offers specialized assistance for military service members and veterans struggling with financial issues. Call us for free at (855) 534-5884. Our certified credit counselors will be happy to get you started. Or, to find out how much debt you're in, request a free Debt & Budget Analysis online.